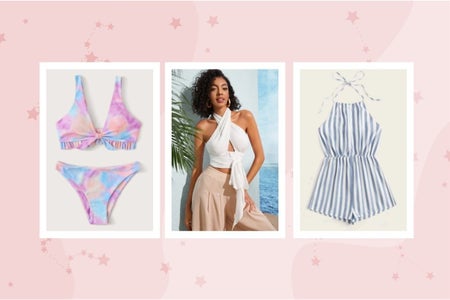 Summer Style Trends For Your Zodiac Sign
This is a sponsored feature. All opinions are 100% our own.
Summer is the best season, right? (Don't @ me, fall lovers). On top of the much-needed break from a semester of classes and the Summer Fridays, it's a time for fashion freedom and making your own dress code.
While it seems like there are so many chic trends this season that you don't know where to begin, here's a good starting point. Just like your Zodiac sign says a lot about your relationships and mood, the moon and the stars can have an impact on what will help you look and feel your best this summer too. Here, we've paired our favorite seasonal fashion looks for every sign to give you some inspiration to start building your summer wardrobe at SHEIN (psst use code "HCXO15" at checkout for 15% off your purchase!). 
Aries: One Shoulder Tops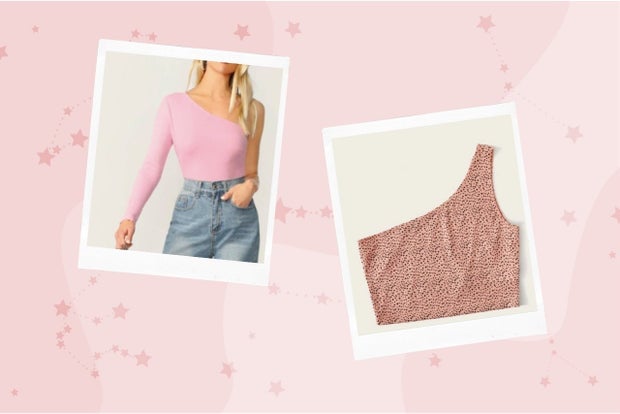 Photos courtesy of Shein
As a fire sign, you are courageous and passionate and these characteristics often shine through in your outfit choices. You can get frustrated with pieces that are too complicated, making button-fly bottoms and button-up tops simply not your cup of tea. So to stay on-trend without all the fuss, one-shoulder tops are here to help you look pulled together and feel fabulous.
Gemini: Rompers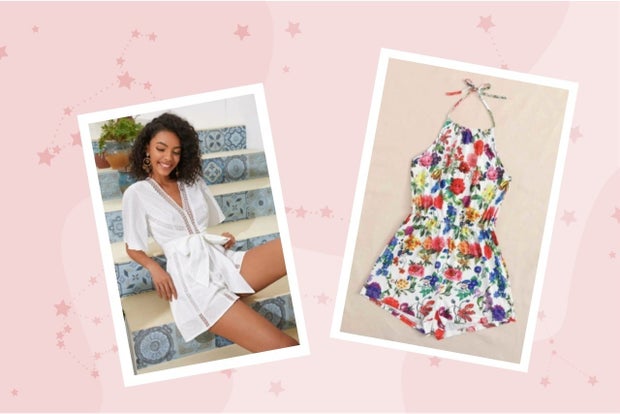 Photos courtesy of Shein
Let's face it, the two-personalities stereotype is a little overdone. But you can't deny sometimes it feels like you are being pulled in a few different directions when making decisions, even when it is as simple as choosing between pants or a skirt. Rompers are the easiest summer style to take indecision out of the equation, making you ready to dress up or down for any summer excursion without the stress. 
Leo: Patterned Pants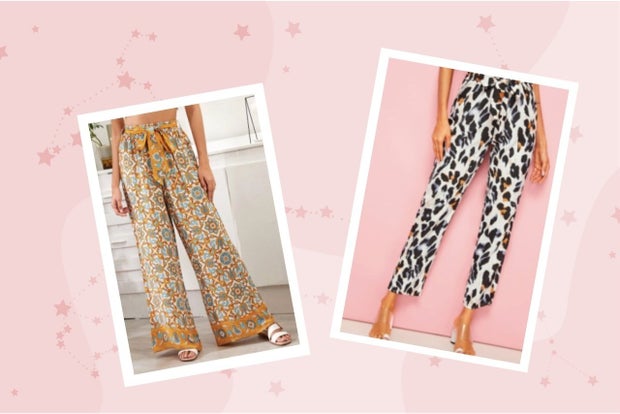 Photos courtesy of Shein
You're a born leader in all aspects of your life, including style. You love attention and you've often been rewarded for your risk-taking (racking up those likes on Insta with every #OOTD), and will surely be complimented for trying patterned pants this summer. We love how these bold and fun bottoms are total head-turners.
Cancer: Tie-Front Tops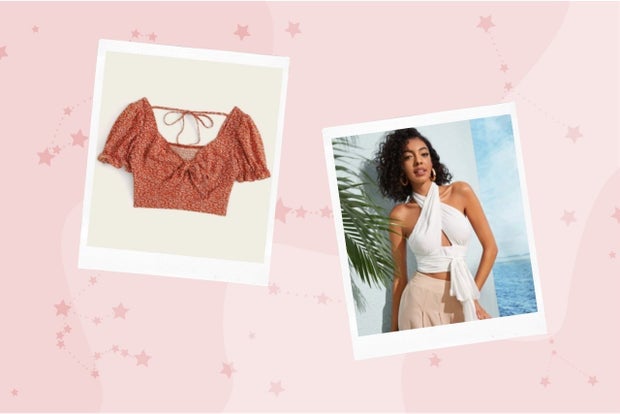 Photos courtesy of Shein
When you find a style you love, you stay loyal to it, just like you are to your friends. But this strong trait can make trying new trends feel a little out of your comfort zone. Tie-front tops don't feel like a far departure from your love of flouncy, feminine blouses. So from florals to stripes, short and long sleeve, there are so many to try, you're bound to find one you love at SHEIN. 
Virgo: Tie-Dye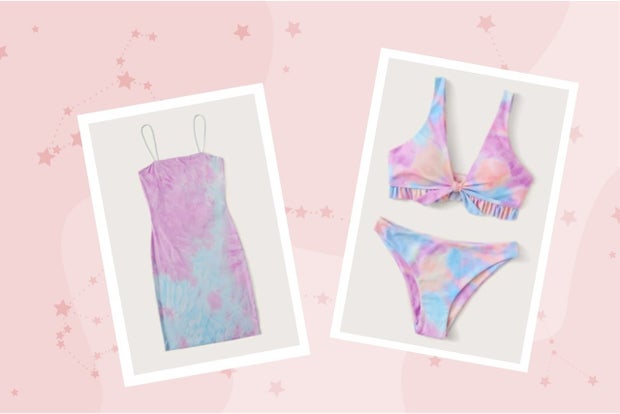 Photos courtesy of Shein
You take the time to smell the roses and pay attention to the little details in your life. You appreciate the unique qualities in your clothing, making tie-dye perfect for you. Paired with uniform accessories like white sandals or sneakers and basic jewelry, you can let the imperfect details of the dye treatment stand out all summer.
Libra: Matching Sets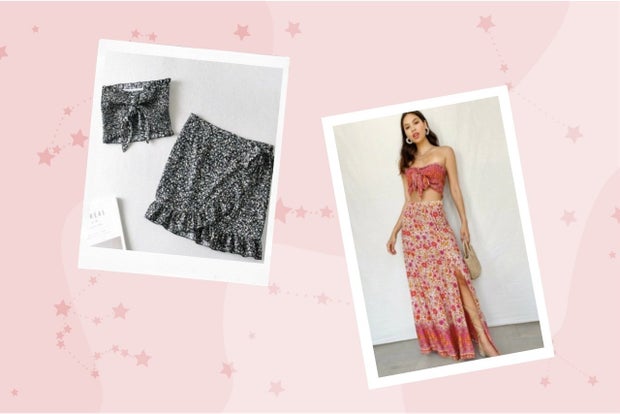 Photos courtesy of Shein
Since you find comfort in balance and symmetry, mixing prints and patterns is often out of your comfort zone. The matching set trend was probably initiated by a Libra and is such a perfect summer uniform for the coming months.
Taurus: Florals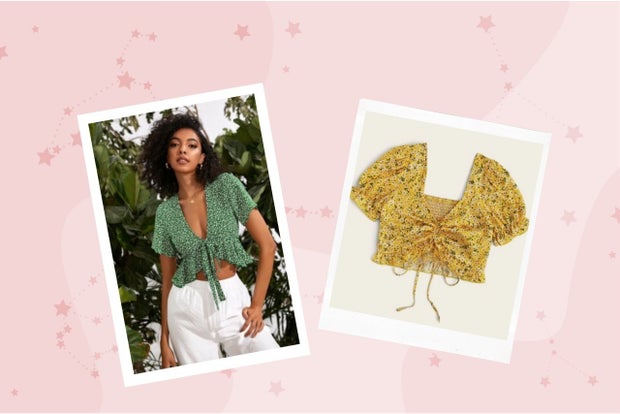 Photos courtesy of Shein
You feel the need to be surrounded by love and beauty, making florals a perfect pattern to fulfill that desire. Beauty beneath the surface is important to you too, and what's more beautiful than something that looks great but is also reliable. SHEIN has one of the most dedicated networks of shopper reviews online so you can see what other shoppers are saying before you click add to cart.
Scorpio: Two-Piece Bathing Suits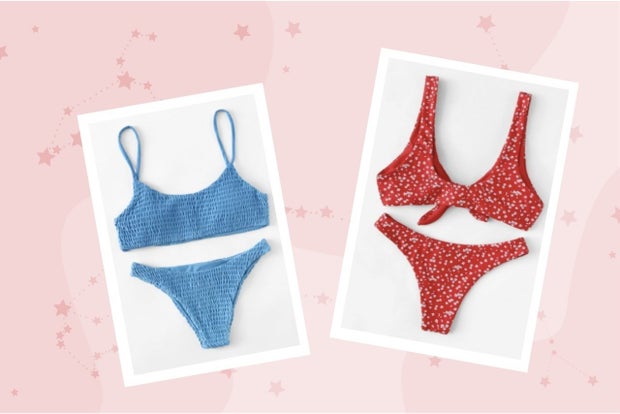 Photos courtesy of Shein
You're fierce, and no one is going to disagree with that. Summer is your time to experiment with new styles that make you feel like your best self. And lucky for you, you can find tons of *fire emoji* two-piece bathing suits on SHEIN, sure to make you stand out at every pool party this summer. 
Shop Two-Piece Bathing Suits Here
Sagittarius: Athleisure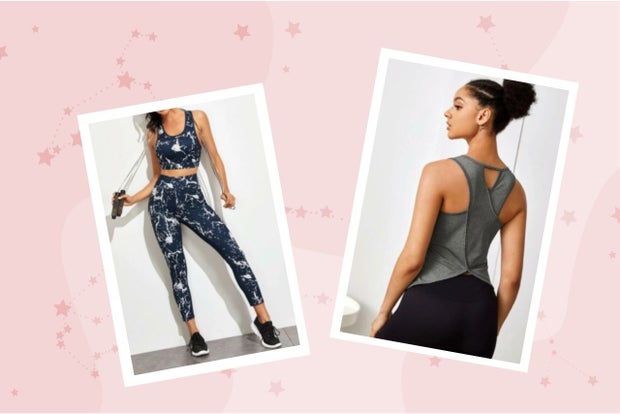 Photos courtesy of Shein
Being one of the most curious of the zodiac signs, you are always planning your next adventure or spontaneous excursion. Since you are often on the go, your style needs to be ready for anything, making the Athleisure trend perfect for your lifestyle, and lucky for you it's bigger than ever!
Capricorn: Midi Skirts & Dresses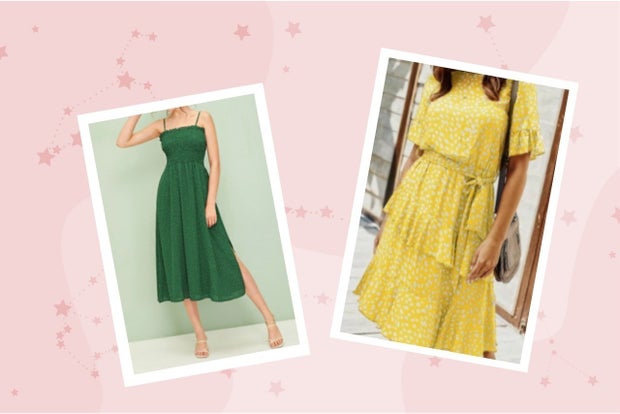 Photos courtesy of Shein
You love tradition and take everything seriously. You firmly believe that opportunity could be around every turn, whether you're at the beach or at the airport. The desire to dress on-trend but always represent yourself in a professional manner makes midi skirts and dresses perfect for you.
Shop Midi Skirts & Dresses Here
Aquarius: Graphic Tees 
Photos courtesy of Shein
You're the intellectual and overachiever of your friend group, reading multiple books at once and always reaching to learn new skills. You're outspoken and often wear your interests on your sleeve, making graphic tees the perfect extension to showcase your passions this summer.
Pisces: One-Piece Bathing Suits
Photos courtesy of Shein
As a water sign, you're likely to be found poolside or lakeside (or beachside!) this summer. Being a moderate spender, you look for reliable brands that are affordable and these one-pieces will check all of your summer priorities off the list without breaking the bank!
Shop One-Piece Bathing Suits Here
Happy shopping and happy summer!