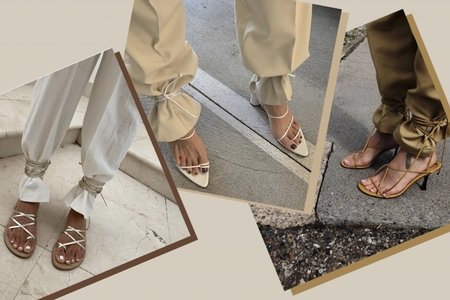 Instagram: @filis_pina, @rikkekrefting, @pernilleteisbaek
The Fashion Pros Have Figured Out How to Wear Strappy Sandals In The Fall — Here's How
The opinions expressed in this article are the author's own and do not reflect the views of Her Campus.
Don't store away your sandals too fast! I know you're already thinking, boots season is upon us. There's a whole new way to wear your favorite pair of lace-up sandals. Hear me out: sandals tied over baggy pants is this season's cool shoe styling trick. 
Italian high-fashion brand Bottega Veneta first introduced the concept in its Resort 2020 collection. Ever since then, the technique has become one of the must-try trends on Instagram. TBH, it's a genius way to slowly and fashionably transition into the next season. It's not too chilly to swap sandals for boot, but it's totally time to plan a lineup of trousers and jeans. The fashion pros are showing us how to rock the trend this season:
Golden hour but make it fashion. I know I love a good monotone ensemble. It's a bold statement without incorporating too many details. To tie the whole look together (like, literally), a vibrant pair of strappy heels will do the job.

Speaking of statement pieces, throw on a pair of colored skinny jeans with a neutral tone sweater. The combination is pretty casual, but some black lace-up sandals will take it from 0 to 100 real quick. Shoes can really elevate an outfit.

Flared bottoms are being tamed this fall. Lace up your sandals over your loose pants to add a little twist to a simple black and white look.

The styling technique is making its way to the office! When you're on the go, it will make your work attire more happy hour friendly. 
Catch me enjoying the final days of summer (and early days of fall) with my strappy heels laced up over my baggy pants. And, before you start getting the boots out, try out this shoe styling trick to revamp your outfits.
The Her Campus National Editors write about products we love and think you'll love too. Her Campus has affiliate partnerships, so we get a share of the revenue from your purchase.