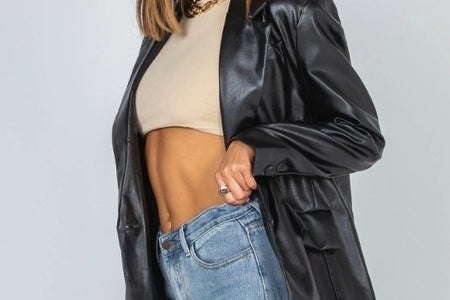 Your New Closet Must-Have: Split Hem Jeans
Millennials and Gen Z have finally come to a compromise regarding jean-fit. The countless pairs of skinny jeans in my closet are painfully awaiting their donation to Goodwill, and I'm making room for the denim trend dominating the spring season. While Gen Z has been rocking the mom-fit jean, I (as a 5'1, 2000-born in-betweener) feel as though another trend, the split hem jean, better fits my personal style and body type while still preventing Gen Z fashion ridicule. 
Split hem jeans put a trendy spin on traditional skinny jeans, leaving a split at the bottom of the boot cut, perfect for patterned booties or to show off a heel. Here's your guide to finding, buying and styling the look. 
Where to find them
Where to go but Zara for the latest fashion trends? Their Hi Rise Slim Jeans With Split Hems take the best of skinny jeans with a high-waisted light washed fabric, complete with inward slits to show off the ankle. Priced at $49.95, these are an affordable and essential part of your spring wardrobe that can be worn throughout the season. 
Aside from Zara, BooHoo USA offers looser-fit jeans that come in both light and darker washes. These High Rise Split Hem Straight Leg jeans offer a high waist, loose vibe while still getting the split hem look. Usually $56, BooHoo is offering these jeans at 60 percent off for their New Season sale, making them an even more affordable basic in your closet. 
Split hem jeans have also been spotted at Pretty Little Thing, Missguided, and Princess Polly. All offer a slightly different fit that's sure to suit any body type. 
How to style split hem jeans
Ankle booties are a must-have for this look. Blue jeans are a classic staple, but a printed shoe can add a bit of flair to a beloved basic. Kelly Kennedy, an aspiring fashion writer, paired her split hem jeans with snakeskin printed ankle booties and a basic coat. The heeled booties elevated the look from casual to classy and a knee-length coat adds trendy sophistication to the look.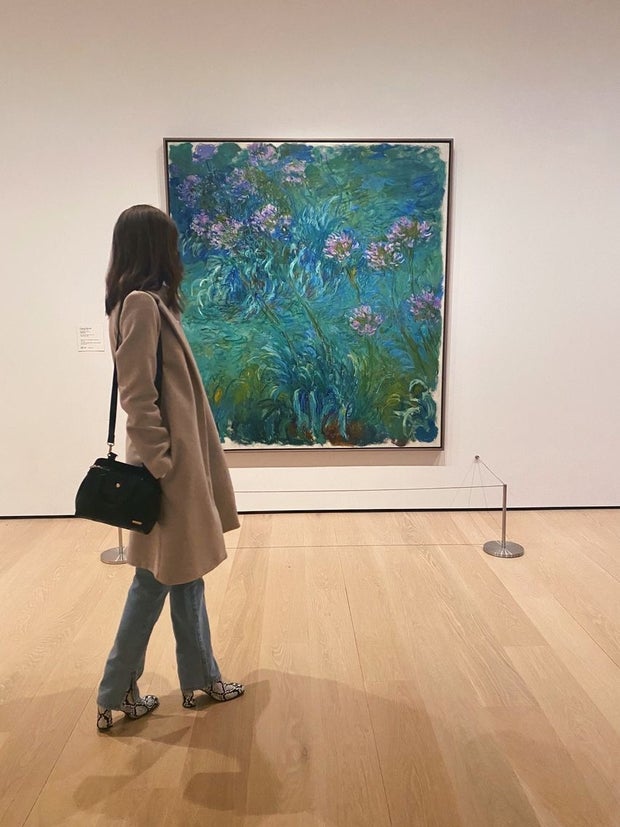 Original photo by Caroline McCarthy
"I really love the split hem look because it's such an easy way to elevate a basic pair of blue jeans," said Kennedy. "I've been wearing them for months and it's so simple but a great way to stand out and make a basic outfit look more stylish and put together."
Because of the high waistline, cropped shirts are vital to keeping a small shape to the outfit, especially if you are going with a straight leg option. 
Full-length loose shirts can also be worn as a casual option, paired better with sneakers (as seen below). I personally like the added leg length that a heeled boot gives, but it's totally a personal preference!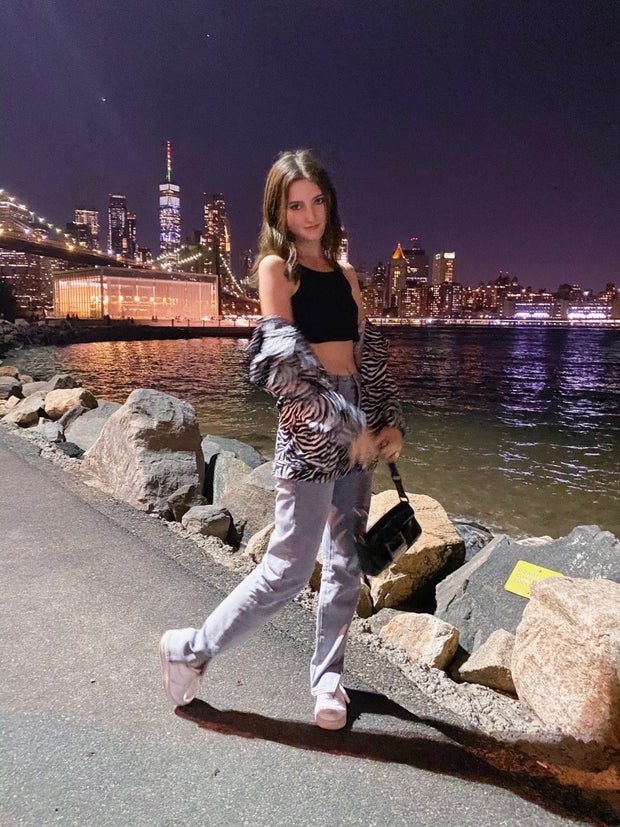 Photo by Kelly Kennedy
Here, Kennedy paired her split hem jeans with a basic crop top, white Air Force Ones, a small bag and a printed jacket for flair. The sneakers definitely create a more casual tone and she's ready for a night walking around the city blocks with friends. 
Kennedy mentions that her style is a form of self-expression. She adds her own unique outfit choices to trends to create her ensembles, something she has been doing since she was a kid.
"I've always been really into fashion," Kennedy says. "I used to dress so crazy and I would even make my own clothes! I've always used how I dress as a way to express myself and show my personality."
How to make your own split hem jeans
As I said before, countless pairs of skinny jeans are wasting away in my closet. A totally sustainable option would be to upcycle your outdated skinny jeans with just a few simple steps.
I found this step-by-step guide to repurposing your old jeans into split hem jeans from Queen-Beulah Official on YouTube! 
I am not the craftiest, but she explains everything from hemlines to length to how to properly stitch the cut pieces back together. I found it so easy to help make my old jeans trendy again and felt so good about being sustainable! Check out her page for more DIY upcycles and fashion trends.
But, if you're not confident in your upcycling skills, make sure to donate your skinny jeans or sell them to a secondhand store like Plato's Closet. Take my advice: hang on to at least one pair of skinny jeans. You never know when Gen Z is going to decide side parts and tight clothing are back and us in-betweeners are left in trend purgatory with nothing to wear. 
Just a heads up — this article may contain affiliate links. While a purchase through affiliate links doesn't impact the price you pay, Her Campus Media may receive a small commission. All products' prices and availability are accurate as of publication.