We know you're thinking about it. We're all thinking about it. Should I get bangs? Forget about sad girl fall; the universal end-of-year experience is the feral impulse to cut your bangs as soon as the first breeze of autumnal air touches your face. With celebrities like Gigi Hadid debuting new, bang-focused looks, it's hard to keep fighting the urge. It feels like the perfect time of the year to commit: you won't be sweating through your bangs as you would during spring or summer, and you also won't have any funny tan lines on your forehead.
We know that you've Googled "How to cut your bangs" before. You might've even gone so far as to memorize tutorials on YouTube, storing that knowledge away for a rainy day, or you may have taken a quiz to figure out which style will best suit you. So if you're still debating it, how do you decide whether or not to take the plunge? How do you choose the right style for your hair texture or face shape? And if you regret your decision, what kind of timeline do you have ahead of you? We spoke with Samantha Gradilone, an NYC stylist at Fabio Scalia Salon, to find out everything you need to know when considering getting bangs.
First thing's first: the long-term maintenance.
Bangs can appear to grow much more quickly than the rest of your hair when they're constantly growing into your line of vision, so if you want to maintain them, be ready for regular salon visits – which could be as frequently as every two weeks, depending on the style – or make sure to learn how to cut your bangs yourself. When you're prepared to let your bangs grow, patience is critical since it can take three to four months for your bangs to grow out fully.
You may need to spend time to style them every day, too.
Bangs take a lot more daily effort than you may realize. Gradilone suggests using a small round brush to style your bangs. Her go-to product to help style is texturizing spray — she likes using a little of Oribe's Dry Texturizing Spray or Kerastase's VIP Texturing Spray as a finishing spray. "Your bangs will look amazing," she tells Her Campus. If you're not using heat to style your bangs, Gradilone believes that a texturizing spray is almost miraculous.
Using heat on your hair every day to style your bangs isn't ideal, but if you choose to do so, Gradilone advises, "Style your bangs using a low heat setting on a blow-dryer and hot tool. Make sure to use products to protect the hair." And if your bangs aren't cooperating one day, don't attack them with the straightener over and over. "Instead, re-wet them and start all over with a low heat setting," she explains.
She recommends a blowout cream for heat protection when the bangs are wet — specifically, Oribe's Straight Away. If you use flat irons, Gradilone recommends Kerastase's Serum Therapiste as a heat protectant on dry hair to avoid breakage – especially if you have very fine hair.
So if you're up for the challenge, it begs the question: which style are you getting?
Curtain bangs work well on a number of face shapes.
It's important to know the different types of bangs to figure out which one suits your style. Gradilone believes that bangs are a bold move, so they can work in your favor, elevate your looks, and fit your personality. However, the opposite is also possible if you don't carefully consider which hairstyle works best with your style.
Curtain bangs can be long or short and frame the face on both sides. They've been prevalent over the last year, arguably most recently popularized by influencer Matilda Djerf, but they've also been spotted on Selena Gomez over the years, as well as Hailey Bieber.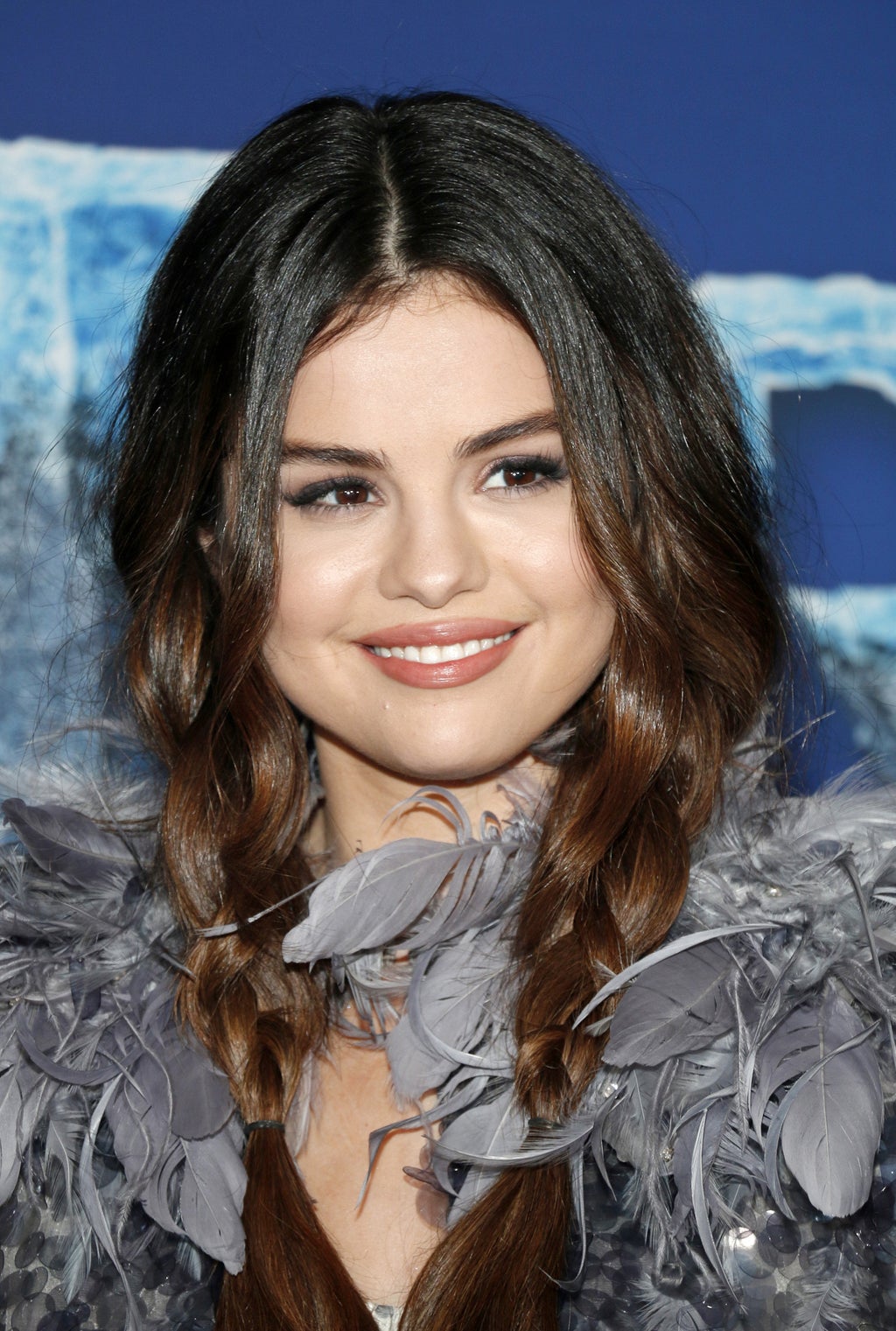 For a rounder face, medium to long curtain bangs are Gradilone's favorite, as shown off by Selena Gomez.
For a square face, Gradilone suggests curtain bangs of any length, which Hailey Bieber took to heart with her longer curtain bangs.
Straight bangs work best for longer faces.
Straight bangs, which can be heavy and blunt, are probably the most popular style of bangs. Think Taylor Swift, Zooey Deschanel, Billie Eilish, and, of course, Zendaya.
Considering your face shape is an essential factor when committing to bangs. For an oval or longer face, Gradilone recommends straight bangs, either heavy and blunt or wispy and textured. Gigi Hadid chose her new hairstyle carefully, opting for long, straight bangs.
Side-swept bangs are a popular choice, too.
Finally, we have side-swept bangs, which are slightly longer than straight bangs and can frame your face on either side.
Emma Stone kept this hairstyle for quite a while, as did Hayley Williams (though she also knows how to rock the straight bangs).
And yes, you can still rock bangs even if your hair is curly.
According to Gradilone, bangs are a lot more versatile than you may realize. The stylist believes that bangs work well with any hair texture. "In the end, what it comes down to is whether the client has the time every day to style them and care for them," she says. Considering this, she always asks her clients if their lifestyle would go well with bangs. "Once a client is aware of the daily time and effort it would take them. Then they can make an informed decision on whether they want to go through with the cut."
Between the amount of daily effort and the long-term maintenance bangs can require, you may find that it's not worth the time for you – even if you do look bangin' with them on your best days, they take careful crafting regularly to do what you want them to do). So if you're rewatching New Girl and obsessing over Jess' haircut, or if you've recently joined the Swiftie train and just noticed how perfect Taylor Swift's bangs are, rest assured, we've all been there. But if it causes that urge to take a pair of scissors and go right across your forehead with them, please, make sure you know what you're getting yourself into. It's all fun and games when you innocently decide on a new hairstyle until you realize you didn't account for the commitment it will bring or the length of time you'll be stuck with it when you're ready to move on.
Expert Sources:
Samantha Gradilone, stylist at Fabio Scalia Salon