In my opinion, swimsuit season is the best season. There's nothing I love more than donning my favorite bikini and heading to the beach for a long day lounging in the sun and sand. I also love to amass a wide selection of swimsuits. Although we're well into July and back to school season will soon be underway (sorry for reminding you), I'm personally still in full-on summer mode. And yes, that means shamelessly online shopping for *all* the trendiest swimwear of the season. 
When it comes to swimsuit shopping, there are seemingly endless options of where to shop. It's hard to know where to even start. That's where I come in. I spent an afternoon scouring sites like Zaful, Boohoo, Shein, and more to find you the best budget-friendly swimsuits on the market (you're welcome!). So keep on scrolling for my best finds on the internet right now and shop your favorites:
Trendy Prints
Snakeskin Print Bikini Set, Shein, $12, shop now
Make a splash in this fierce snakeskin bikini.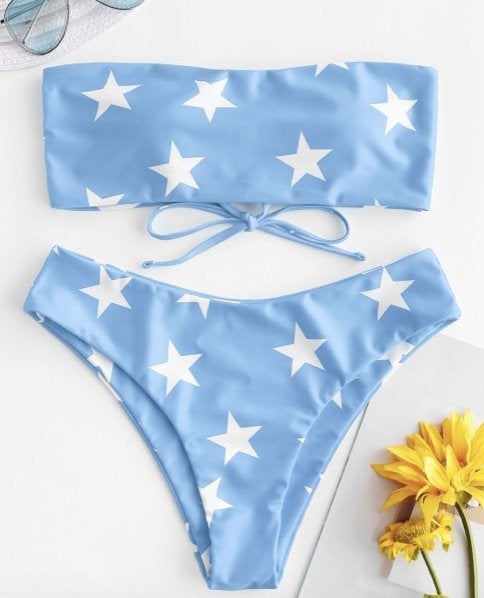 Star Lace-Up Bikini, Zaful, $16, shop now
We've seen star print everywhere from handbags to jeans. It's time to take the trend to the pool with this suit.
Tie Dye Triangle Bikini, Boohoo, $9, shop now
Nothing screams "summer" quite like bright pink tie-dye.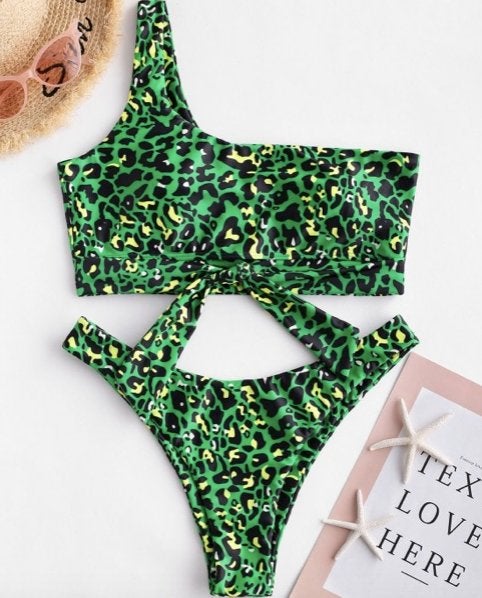 One Shoulder Bikini, Zaful, $17, shop now
The leopard print trend isn't going anywhere. 
Dot Print Bikini Set, Shein, $12, shop now
Knotted bikinis are definitely the move this summer. 
One Piece Wonders
Palm Leaf Swimsuit, Zaful, $20, shop now
Get the illusion of a two piece and the coverage of a one piece with this tropical swimsuit. 
Pool Party Season Swimsuit, Fashion Nova, $33, shop now
The cutout back on this floral suit is sure to turn heads. 
Gingham One Piece Swimsuit, Shein, $11, shop now
The sweet gingham print of this one piece is given a fun twist with cut outs.
Ripped Scalloped Swimsuit, Zaful, $19, shop now
Pair this pretty one piece with denim shorts and let it serve double duty as a bodysuit.
Floral Print One Piece, Shein, $12, shop now
This strapless one piece is equal parts sweet and sexy. 
Anything But Basic
Lace-Up Bikini, Zaful, $16, shop now
I am in love with the lace-up detail on the back of this long line bikini top paired with a high cut bottom. Plus, that color is everything.
Zip-Front Bikini Top, Forever 21, $18, shop now
Contrast Bikini Bottoms, Forever 21, $15, shop now
Get the surfer girl look (ahem, Cassie Randolph) in this color blocked bikini.
Neon Orange Bikini Set, Shein, $12, shop now
Neon orange is the color of 2019. Incorporate it into your next bikini Instagram with this suit.
Studded Push Up Underwired Top, Boohoo, $12, shop now 
Studded Tie Side Brief, Boohoo, $10, shop now
A basic white bikini gets a glam update with tiny metallic studs. 
Knotted Plunge Bikini, Zaful, $15, shop now
Channel your inner Elle Woods in this hot pink bikini. 
Expand your swimsuit wardrobe this summer without breaking the bank with a few of these cute swimsuits. You'll be the envy of everyone on the beach when you show up in a new suit every day. Happy summer!