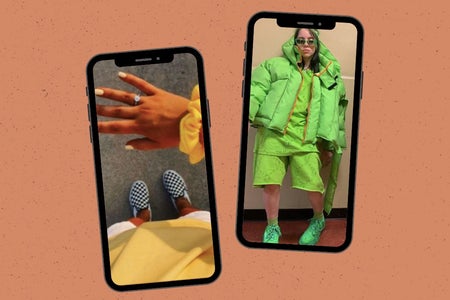 Pinterest, @billieeilish via Instagram
The Best Pop Culture Halloween Costumes of 2019 That Will Win You Best Costume
There have been so many incredible moments in pop culture this year: thanks to Lil Nas X, the yeehaw agenda is back on modern culture's radar. The VSCO girl has emerged as the new Tumblr girl, gaining a cult following of scrunchie and giant t-shirt wearers alike.
While, it can be hard to find a Halloween costume that is cute, comfy, and doesn't break the bank, these low maintenance costumes are perfect. Plus, you'll be most likely to win best costume at the Halloween party. Here are some of the best pop culture costumes to wear this Halloween:  
1. Sabrina Spellman from the Chilling Adventures of Sabrina 
This is the perfect low maintenance Halloween costume for spooky season! Pair a black turtleneck with a red and black plaid skirt and add a thick black headband to tie the look together.  
2. Cowgirl
The yeehaw agenda is thriving, so channel your inner cowgirl out this Halloween. Pair some bootcut jeans with a crop top and pointed-toe boots and complete your costume with a cowgirl hat. The best part about this costume is that you can dress it up as much as you want or keep it simple with a pair of jeans and a white t-shirt. 
3. Lizzo  
Lizzo is an icon for women in music and women everywhere, TBH. You can reinvent her outfit from the "Truth Hurts" music video by pairing a white lace dress with a white veil and a pair of white vans.  
4. Billie Eilish  
There are so many ways to create a costume based on Billie Eilish's style. She incorporates a monochromatic look to hone in on her street style and always wears baggy items. Start with a matching sweat set and add accessories like bulky chain necklaces to add to the dimension of the costume. Throw on some chunky Dad sneakers and you are good to go. When looking for inspiration check out the hype beast street style trend and go from there.  
5. A VSCO Girl  
The VSCO trend has been one of the most popular trends of 2019 and has taken the pop culture world by storm. You can achieve this easy, laid back look by pairing a tie-dyed or pastel t-shirt with athletic shorts or jeans and Birkenstock sandals or white sneakers. Add accessories like scrunchies and bracelets for extra details. And don't forget to bring your hydro-flask with you everywhere you go.  
Tag @hercampusstyle in all of your ~trendy~ Halloween costumes this fall.