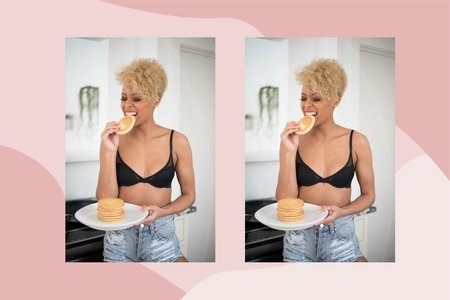 This Bra Brand is Reclaiming the Joke About Small Boobs by Offering a Discount on National Pancake Day
For waaay too long, women with small chests have spent years fighting annoying bra gaps. Bras that might fit in the cup, but literally suffocate you at the band. Bras that just plain don't even fit like they were meant for your boobs. 
But Pepper is redefining the bra for small-chested women with a body positive moment. Pepper is designed to be the perfect bra for women with smaller busts who have battled ill-fitting bras. With shallower cups, carefully curved underwire, and just the right amount of padding, these bras are changing the game for smaller chests. Pepper is also breaking down the misconception that cup size and band size need to be synonymous — AKA, the myth that plus-size women can't have smaller boobs. 
So, we gave Pepper a shot to see what they brought to the table for smaller-chested women. Spoiler alert: they brought their 'A' game (no pun intended). Keep on scrolling to see our thoughts on Pepper's All You Bra and Limitless Wirefree Bra, along with more info on how you can score a discount on all their bras during National Pancake Day.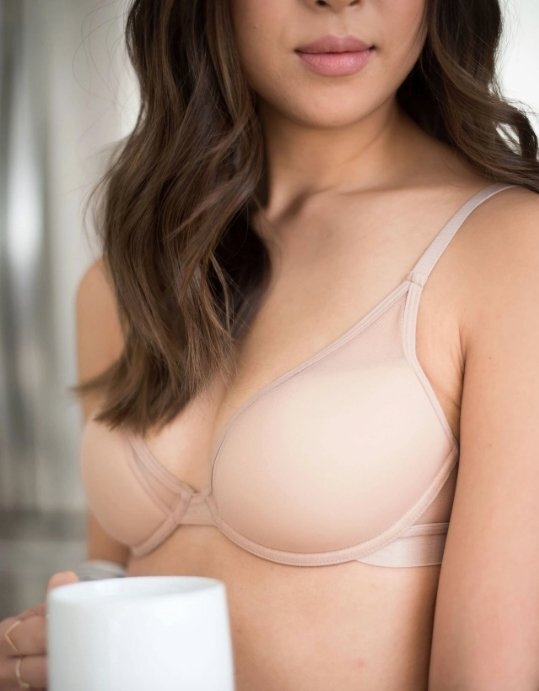 First impressions of the bra?
Aubree, Assistant Culture Editor: Initially, I was super impressed with the way the bra was designed. There seemed to be a perfect balance between mesh and cup padding. The bra's look was modern, and I didn't find myself worried about whether it would be detectable under any garment I owned. That's a big factor for me – I like to own bras that I know will coordinate with almost every outfit.
Felicity, Associate Features Editor: Okay, these aren't just soft. They're SOFT soft. You can immediately tell they have a silky, buttery texture. The almond (nude) and moonrock (gray) colors also look extremely sleek.
How would you rate the overall comfort of the bra?
Aubree: I loved the way the bra was able to give me enough support without restricting my chest. The band was appropriately snug enough to get the job done without digging into my sides or my back. I even tested out this bra at the gym, and it passed with flying colors.
Felicity: My favorite part about the bra is the material. The bras were definitely a little snug for my taste, but nothing that felt uncomfortable. The snug fit really helped to keep it all in place. 
Does the mission of a company drive your purchasing patterns? Does this affect your views on the Pepper bras?
Aubree: I will always respect a company that caters to the needs of different bodies as opposed to forcing those bodies to adjust because the resources aren't being provided. Although my size is always accommodated, it's really hard to find the perfect fit. Pepper made sure that these concerns were addressed and resolved.
Felicity: 100%. In 2020, I feel like I need to be aligned with the mission, the values, or the ethics of a company before I hit 'buy'. It's really cool to see Pepper continuing to push forward in the body positivity movement, proving all shapes and sizes are valid.
How did the bra fit differently from other regular bra brands? Was it better fitted to smaller chests?
Aubree: OMG, yes! With the Pepper bras, I didn't find myself swimming in a cup full of fabric and padding. The All You bra made sure to push up my boobs and didn't allow them to get lost in the bra's cups (like they usually do). I truly felt like I found the perfect fit without even being measured in-store.
Felicity: Yes, yes, and yes. There was no bowing at the top like I've experienced with other brands. The band was also super secure and stayed put no matter what, which is so rare. I most definitely feel like the bras were made with smaller chests in mind.
How do you like the style of the bra?
Aubree: The style of the bra was ideal. It had the perfect amount of padding, comfortable straps that didn't dig into my shoulders, and a firm band that allowed me to feel supported. The All You bra was cut to perfection due to how the cups were styled – leaving me without unnecessary spillage.
Felicity: The Limitless Wirefree Bra is very trendy, all while remaining comfortable to wear. The scoop neck shape and the mesh give the bra a flirty touch. The All You bra is a step up, adding a little bit more drama to the look. I'd probably gravitate this one more if I'd want an extra boost for the girls, or just want an extra ~something~ with the additional mesh detailing.
Would you recommend this bra to a friend?
Aubree: I already have! From the moment I put the bra on, I knew I had found a winner. Pepper bras are the only bra company I'll shop at from now on.
Felicity: Definitely. I think the price point is a little higher than my friends or I would typically spend on a bra, but I think the comfort, fit, quality and overall mission of the company makes it worth the price point.
--
On March 12, AKA National Pancake Day, Pepper is proud to announce National Flat Chest Day. Once used as an insult against women with small chests — having breasts that are "as flat as a pancake" — is now being reclaimed.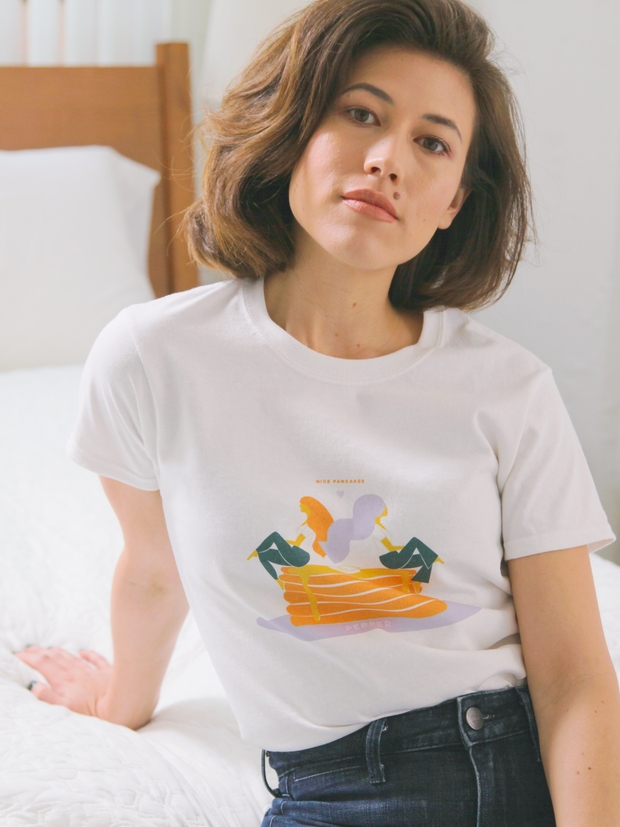 Pepper is celebrating the day by launching a limited edition 'Nice Pancakes' t-shirt (which you can score right now for $20) with all proceeds going to The Movemeant Foundation, a nonprofit that promotes healthy body images to young girls. On top of this, Pepper is offering a one day only discount on all bras. Use code 'FLATCHESTDAY' to get $6.59 off your order – the exact amount for a short stack of pancakes at IHOP.