How We Style Our New Favorite On-The-Go Bags, Based on Our Lifestyles
With the new semester right around the corner, acquiring the perfect bag for the fall is a must. You have to find the bag that you'll not only love to wear everywhere, but a bag that fits your lifestyle.
A few of our HC editors tried out the MZ Wallace bags, made perfectly for the modern millennial who's busy hustling and bustling. As busy editors with very different lifestyles, we put these bags to the test to see how these beautiful pieces worked with our day-to-day lives. Spoiler alert: we are all now MZ Wallace believers.
Edel, Assistant Video Editor: a minimalist, lightweight lifestyle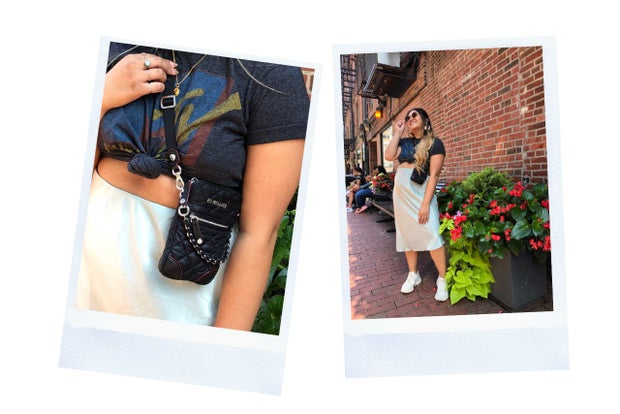 Edel: Not going to lie, I wear the MZ Wallace Micro Crosby in Black with Silver Hardware every day. It has become an integral part of my day to day lifestyle because it's so convenient and practical. The vibe of the bag is super dainty yet edgy — you can wear it as a statement piece, but also just as a low-key accessory.
Felicity, Assistant Editor: a street style lifestyle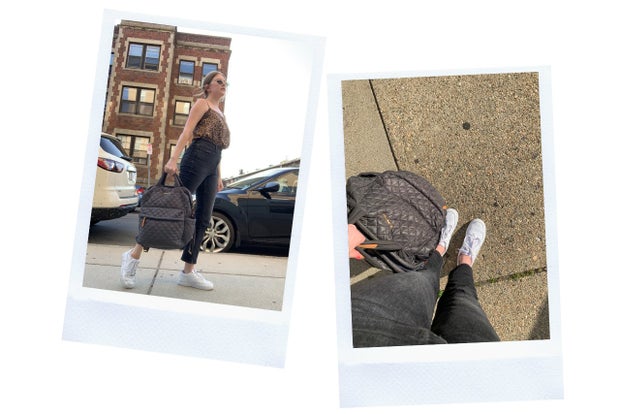 Felicity: I've always had issues finding the perfect backpack that fits seamlessly with my street style aesthetic, until now. The MZ Wallace Top Handle Backpack in Dawn is my everything because not only is it ultra-sleek and stylish, but it actually fits all of my belongings for a day out on the town or spontaneous weekend trip. Why did I ever sacrifice style when it came to my on-the-go bag? This one is just so polished and elevates my entire look.
Gina, Beauty Editor: a professional and practical commuter lifestyle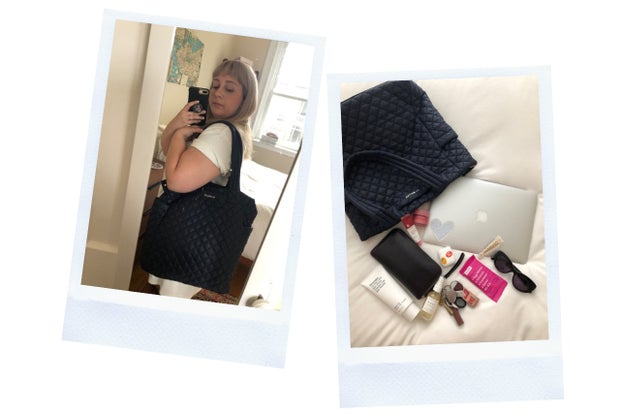 Gina: The MZ Wallace Max in Dawn is my work bag (and current obsession) at the moment. When I commute in the morning, I carry a lot with me – laptop, chargers, breakfast, lunch, makeup, skincare, and sometimes even extra shoes – so I need a bag that can hold a lot without feeling too heavy or bulky. This one is soooo light-weight, and it helps that the bag itself is also just totally on-trend and blends with my look. It's the sweet spot between fashionable and actually functional. This piece is great for every day, so I often wear it with high-waisted jeans and a tee, or a casual day dress and chunky sneakers. It's a great neutral, so I can wear it with pretty much any color palette.
Holly, Branded Content Editor: a busy, between engagements lifestyle

Holly: The MZ Wallace Travel Jimmy in Magnet is my new go-to carry-on bag. It rests perfectly on top of my suitcase, slides easily through TSA, and the plushy straps don't dig into my shoulders while I'm sprinting to make my connection.
I love rolling up the airport looking like I *actually* got dressed, then changing into comfy clothes right before I get on a long-haul flight. This duffle's stylish exterior hides the fact that I'm concealing PJ's inside, and people have actually stopped me at my gate to ask me where it's from.
Let's talk quality
Edel: This piece is now my go-to on the go bag that fits all my essentials. I hate using big bags because I hate carrying them when I'm out, so this piece is perfect.
Felicity: I literally couldn't believe how strong yet soft this backpack was. Backpacks HAVE to be sturdy in my book, and I was so happy with the construction of the bag.
Gina: She is FANCY, and she is sturdy. I know this is a piece that I'm going to have for years because the quality is so high!
Holly: I've overstuffed this little duffle with gym clothes, my laptop, beauty products, and basically my entire summer wardrobe. The zipper hasn't budged, and I love how soft the quilted material feels.
Now, for the style
Edel: Personally, street style is my favorite way to wear to style this piece day or night. I've used this piece when running errands during the weekend or going out at night.
Felicity: I'm officially a huge believer in fashionable backpacks. I've gotten so many compliments on this bag and it's become my go-to for literally any outfit. The color goes with everything, it's truly sorcery.
Gina: The style of this is truly a magic trick? It looks one of the chic, working girl totes I lusted after all of college – but then it holds so much that it's basically a Mary Poppins bag. I'll give this a 10/10 easily.
Holly: As a duffle, this piece gets a 10/10. It's not clunky but still manages to fit everything I need (within a super modern, quilted silhouette). 
Our final thoughts? Editor approved
We are HUGE fans of the MZ Wallace bags — the quality is so top-notch and there are products for literally any type of lifestyle, whether you're a street style fanatic or a minimalist queen.
MZ Wallace has your back for the fall semester, with an entire online selection of select styles and colors at a 30% discount. Sign up or log in with your .edu email to access this special edu shop. 
Just a heads up — this article may contain affiliate links. While a purchase through affiliate links doesn't impact the price you pay, Her Campus Media may receive a small commission. All products' prices and availability are accurate as of publication.