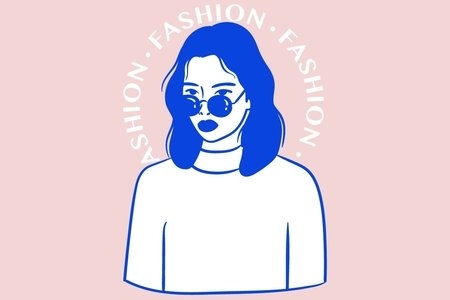 Illustration by Sketchify in Canva
My Take: The Fashion Industry Caters to Our Self-Obsession
"Why fit in when you were born to stand out?" My dad shouted this Seussian sentiment at the kitchen table after every major mishap throughout my childhood. During the middle school dance, girls mocked my Carrie Bradshaw tutu. Upon returning home in tears, my father comforted me with this cheesy quote. During my senior year, my teacher reprimanded me for my five-inch platform sneakers which she thought screamed Spice Girl, not professionalism. My dad eased my embarrassment yet again, and of course, I wore the shoes every day for the rest of the year.
More often than not, this sentiment made an appearance in relation to my wild closet.
Standing out in fashion used to be simple — just wear some sequins, two mismatched prints, or a large cutout. Today, with social media and followers, the fashion industry has capitalized on our desire to stand out. People focus on the garments and accessories that turn heads in photos, rather than those deemed stylish. Fashion houses and the clothing industry alike produce garments with logomania, disproportion, bold text, garish hues — and these trends say a lot about the people who wear them.
This shift mirrors our generation's immediate access to information. In 1995, my mom would anxiously await the month's Vogue to read about the season's trends. Now, I can access today's trends on my Instagram discover page in seconds, which plays into the thirst for immediate consumption.
Additionally, the nature of fashion shows has been dismantled. The runway isn't just the Grand Palais, it is now the street or even the grocery store — and it's not twice a year, it's year-round. Anyone with a camera can be their own Alessandro Michele, and everyone wants to be center stage. Many Gen Z-ers consider themselves fashionistas without any knowledge of runway. Instagram influencers found their spotlight, just like houses such as Gucci, Balenciaga, and Moschino did. Instead of one showstopper piece, ateliers created showstopper collections. One such Japanese brand, Tomo Koizumi, demonstrated this at their SS 2020 Tokyo show.
Fashion is far from ready-to-wear. In the case of Koizumi, it's closer to costume, one that serves as a barrier. It distracts from the real self and allows its wearer to play make-believe. In a digital world with such minimal control, attaining control over one's image is powerful. Fashion aids in the creation of desired identity and permits its wearer to have control — even if they are putting forth a falsified and carefully constructed image of themselves. Therefore, garish, even avant-garde fashion allows people to portray confidence and caters to both the national and global sense of self-obsession individuals possess.
Fashion has lost its practicality as social media has taught us to make our lives more interesting than reality. This complex process of flaunting an image has to do with narcissism. Not to be the bearer of bad news, but our generation is consumed by narcissism and it inherently reflects our way of dress as we value our physical image over our intrinsic worth. I am guilty of this myself. If I receive five less comments or likes, I question what made me less interesting, less worthy of attention?
Fashion creators and manufacturers are evolving because of this change in audience. Bottega bags are so immense they consume the models who wear them. 
Bubblegum pink Balenciaga coats quite literally occupy an entire room. 
Moschino dresses are straight out of The Royal Mint. 
Viktor & Rolf has made a name for itself with extreme (and often explicit) texts. This dress reads "I'm cooler on Instagram," perhaps in hopes of gaining extra attention on the platform.
Celebrities have created fortunes off this attention-stealing mentality. Billy Porter has evolved into a fashion chameleon with his over the top play on gender. And from this, he has received nothing short of praise, feeding into the public's conception of normalcy. From fuschia Brandon Maxwell to even prime meat, Lady Gaga's fashion persona speaks for itself. Zendaya's stylist Law Roach utilizes her dramatic fashion to illustrate her evolution from Disney to Euphoria.
Loving yourself in 2020 is cool. Bringing attention to yourself? Well that's even cooler. As a once timid girl who is now a loud and constant blabber, I weave eye-catching garments into my wardrobe. My friends sell me their halloween costumes half-priced for my day-to-day wardrobe, knowing I have no problem sporting them to class. Although this fashion reflects social anxieties and the desire to be unique, the fashion landscape is forced to expand its horizons — rethinking old ways of dress. 
So if you want to get noticed, maximalism is key. Think big, then double (or even triple) your thinking.