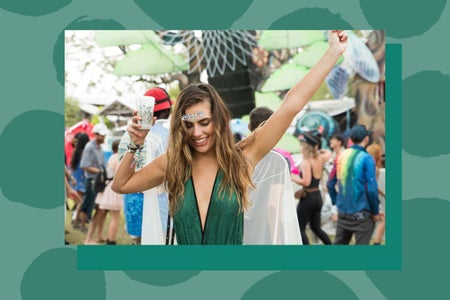 Ryan Everton via Unsplash
What's In & What's Out For Festival Fashion This Year
The opinions expressed in this article are the author's own and do not reflect the views of Her Campus.
Festival season will be here before you know it and that calls for a major outfit revamp! Even though it's all about the music and fun, no one wants to wear dated trends. Likewise, new ideas keep I've been a big fan of bold prints and am happy to see it becoming a festival trend. 
As for statements like cargo pants, it may be time for them to have a fresh update. The key here is that old trends do not need to leave your closet, but there may be ways for you to incorporate new trends or restyle those well-loved pieces. Luckily, a curated list is available for you to see the festival trends that may or may not already be in your closet. 
It seems like these pants have been around forever. Breaking news: they have. Do the pants look comfortable? Absolutely. Are they still relevant? Not so much. Festival fashion is a chance to step up your fashion game and leave your comfort zone. 

There is something so cool about denim that's given a unique spin. With so many people buying from the same retailers, painted graphics or added fringe can take the look from trend follower to trendsetter. Many of these 'upcycled' pieces can even be purchased from other retailers who have mastered the craft. Platforms like Depop offer access to sellers who specialize in customized denim. 

This is another piece that has shown up at many festivals but seems to be overdone. While these pants have been apart of the go-to outfit complete with chunky combat boots and a cropped top, there may be room for them to be taken up a notch. One of the really amazing ways that these have been styled lately is in the form of denim jeans instead of traditional cargo fabric. It could also be fun to try traditional cargo pants that have sheer or mesh inserts to give them a refreshing edge. 

Sheer clothing is sheer perfection for festival fashion. Not only is it breathable but it looks incredibly fashionable. One of the ways that this trend is also worn is through a mesh or sheer insert in solid garments so if fully sheer garments seem too intimidating, consider that option! As the sheer pieces can be worn as pants, tops, or dresses, they are even more versatile. If you are unsure of how to spice up your festival look, give this trend a try! 

Houndstooth Tulle Turtleneck Bodysuit, Revolve, $88; shop now

Wide leg pants in mesh with embellishment, ASOS, $64; shop now

Staring at The Sun Maxi Sequin Slip by Intimately, Free People, $70; shop now

This trend came about during the peak of "Instagram Baddie" fashion, but now it just seems overdone. There is nothing wrong with the print or the overall innocent and playful aesthetic of it, but this print has become so mainstream that it has lost value as a fashion statement. 
The major takeaway from this list is that trends both old and new can make bold statements. Trends like upcycling are perfect for anyone who doesn't want to spend so much money on a new look and others like prints are a great way to break out of your shell and express yourself. The best part of festival fashion is that it is all about expressing individuality and creativity so be you no matter what trends you choose! 
Just a heads up — this article may contain affiliate links. While a purchase through affiliate links doesn't impact the price you pay, Her Campus Media may receive a small commission. All products' prices and availability are accurate as of publication.