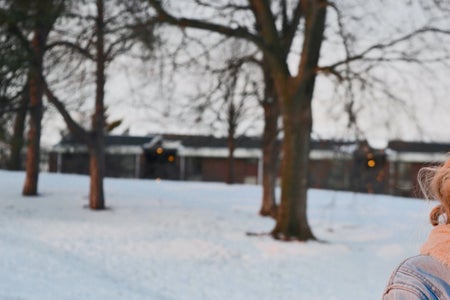 Anna Thetard / Her Campus
How to Successfully Layer for Winter Without Having, Like, 10 Layers on at Once
It's the time of year when the excitement of sweater weather is fading, and we are all getting just a little tired of the winter cold. While the cold climate is obviously a good enough reason to curl up in bed and watch Netflix, figuring out how to stay cozy without sacrificing style when you're on the go from class to class is a whole other story.
If you're struggling with finding ways to layer up without adding bulk to your outfit, look no further than these five essential tips for effortless cold weather style that will help you survive the rest of the winter months.
1.

Mix up your textures and fabrics

A great rule of thumb for avoiding the bulky look when layering is to mix up different textures and fabrics! By doing this, you can add some dimension to your look which will give your outfit extra style points and ensure that you're not layering on too many thick pieces at once. For example, try layering a thinner, jersey-style turtleneck under a warm knit cardigan for the perfect ensemble to stay warm and stylish all at once.

2.

Bodysuits and tights are your new BFF

If you've ever been skiing or even snow sledding, chances are your parents probably tried to convince you to wear long underwear to keep warm. Think of bodysuits and tights as the more fashionable, subtle and versatile version! As you can see in the super handy video above, wearing tights under jeans and a bodysuit under sweaters is a super sneaky way to add in an extra layer without compromising the style of your outfit.

3.

Layer with neutral shades

Neutral shades are my personal favorite whenever I'm doubtful about what to wear. A few good cream, beige, black or grey pieces paired together will always produce an outfit that looks seamless and on-trend. When it comes to layering, neutral shades are great to avoid clashing together too many prints or colours, which can definitely add to the bulk-factor of a winter outfit by drawing a lot of attention to each layer. Some great examples of perfect neutral pieces for layering in the winter can be found here and here.

4.

Use cozy accessories to your advantage

Cozy hats, mittens, and scarves can totally warm up an outfit while also amping up the style factor! A great colorful scarf like the one pictured is a great way to incorporate color or personality into your look while keeping warm and cozy. When you're on the hunt for winter accessories, I definitely recommend searching for pieces in neutral or brighter colors such as red, white, cream or black — these can match well with your winter coat of choice or add a pop of color!

5.

Don't be afraid to be bold

Speaking of adding a pop of color, bright and bold winter pieces such as neon puffer jackets have been super on-trend this season, so definitely take advantage of this trend and don't be afraid to go bright and bold with your layered looks! Not only does this give your outfit a totally retro après-ski vibe, but it adds a little cheerfulness to normally dreary and dark winter outfits.
With these tips, you can be sure to look your best and feel your coziest as you brave the last few winter months. Be sure to tag us on Instagram @hercampus and @hercampusstyle to show off how you style your layered outfits this winter!