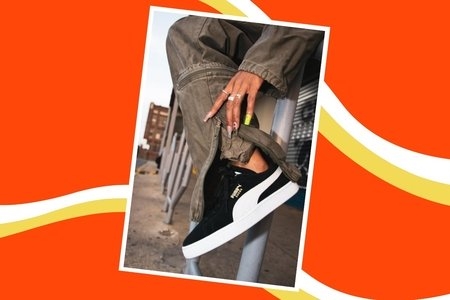 I'm Sorry But, You're Just Not Living Your Best Life If You Don't Own These Sneakers
This is a sponsored feature. All opinions are 100% our own.
If I could only wear one type of shoe for the rest of my life, it would certainly be a sneaker. Have you ever met anything so versatile? Sneakers can be dressed up or down, you can wear them to work or to work out — the styling options are endless. And so, when I turn to my shoe wall, which is heavily dominated by sneakers, of course, my eye always goes back to this: PUMA's Suede Classic+. The fact that they come in so many colors makes them the perfect sneaker. In fact, I could get rid of every other sneaker I have and wear just this for the rest of my life and always look good. Take it straight from these six influencers, who styled the Suede Classic+ in so many ways you'll be adding to cart immediately.
Hi, dream fit. @bbygirl.sham paired her black Puma Suede Classic+ sneakers with a statement cargo-style look that works for class or going out.  Puma, $65, shop now

@n1colekelly is proof that you can rock your Puma's with anything, including a bikini. Nothing says cool-girl surfer like this carefree look. Puma, $65, shop now

Whether your internship is virtual or IRL, I'm here to remind you that a matching suit and sneakers is always a good idea. @shanwiththesnax mixed patterns while sticking to a black and white aesthetic to create this fierce look that can go from desk to dusk. Puma, $65, shop now