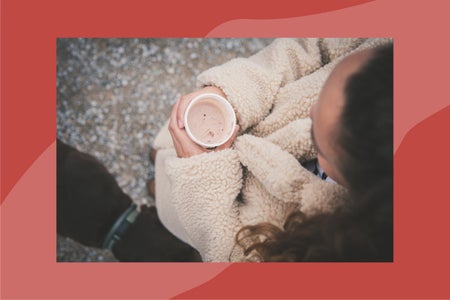 How to Style Sherpa, AKA The Trend That's Not Going Away Any Time Soon
It's the trend that's been around the block for a couple of years now, has transcended seasons and seems to be here to stay –– it's Sherpa. It's proven to be more than just a phase and I can't say I'm mad about that. I believe it's stuck around for many reasons, one being it's incredibly comfortable. I mean, it's like wearing a blanket, or like a bear hug that follows you everywhere. Besides the comfort factor, it's extremely versatile. It can be worn and styled in so many ways –– from super casual to going out. 
Since it's clear this fashion piece is here for the long haul, here's a breakdown on the variety of ways to style Sherpa, so you can keep your looks fresh and make the most out of this everlasting trend.
The simple yet classic everyday look of jeans and a t-shirt lends the perfect opportunity to be amped up with a jacket. This is probably one of the most common ways I've seen Sherpa styled. If you're looking for an easy, thought-free way to style Sherpa, then look no further. Go back to its roots and look casual cool in this timeless 'fit.

I like to call this: The Casual Edit.

Thanks to a shift in the fashion world –– and the realities of the college lifestyle –– leggings and sweats have become trendy and socially acceptable. I know my daily uniform consists of leggings, as I'm sure it does for many of you as well. Sherpas have become a go-to in upping any look when it comes to dressing for comfort. No more feeling lazy or frumpy when you throw one on. It immediately takes your look up a level and looks like you put in more effort and thought than you really did. Just grab a latte and you've got yourself a look!

I call this: The Comfy Edit.

Yet another great thing about Sherpa is that it's been made into so many different styles: quarter-zip, full-zip, open, trench coat, denim and Sherpa-lined. Because it's been curated to incorporate different designs, it makes it that much easier to wear. There's a different style for every look. I'd argue it's the most versatile trend on the market right now!

I call this: The VersiStyle Edit.

4.

Play with color & pattern

Lastly, you can find Sherpa in just about any color –– from neutrals to pops of color. You can even find it in patterns such as checkered and plaid to spice up your look even further. You really can't go wrong any way you choose to wear it.

I call this: The Playful Edit.
Have your favorites? Now, time to shop!
The Casual Edit
Get the look
I.AM.GIA., iamgia.com, $75; shop now
The Comfy Edit
Get the look
UO, urbanoutfitters.com, $79; shop now
UO, urbanoutfitters.com, $49; shop now
The VersiStyle Edit
Get the look
AE, ae.com, $60; shop now
Wilfred Free, aritzia.com, $90; shop now
Levi's, levi.com, $90; shop now
PINK, victoriassecret.com, $35; shop now
The Playful Edit
Get the look
I.AM.GIA., iamgia.com, $90; shop now 
AE, ae.com, $50; shop now
So, quick, grab your keys or your laptop and snag the Sherpa styles that speak to you. No need to worry about shelf-life because this trend is here for the long haul. Check out the @hercampusstyle IG feed/stories for more Sherpa inspo, along with all your fashion rundown needs!
Just a heads up — this article may contain affiliate links. While a purchase through affiliate links doesn't impact the price you pay, Her Campus Media may receive a small commission. All products' prices and availability are accurate as of publication.