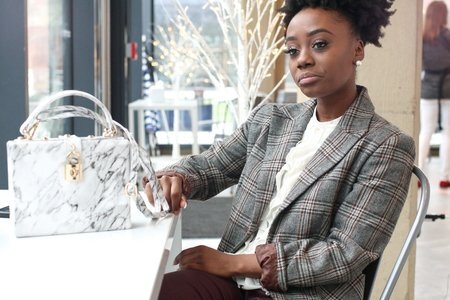 11 Internship Outfit Ideas That You'll Want to Wear Off-Duty Too
Is it just me or is "business casual" the most confusing term in the world? The phrase is a bit of an oxymoron, and its definition can vary so much in different office environments. And when you're an intern trying to navigate the realm of what's appropriate and what's not appropriate to wear in the office that's business casual, it can get a little fuzzy. 
When you normally think of traditional office attire, its dark suits, conservative dresses, or a blouse with a collar. It all falls under the category of business professional. But, what about business casual? It's usually considered more relaxed, allowing for prints, brighter colors, and flats to co-exist on a daily basis.
Figuring out what to wear for your internship really comes with time, but that doesn't mean you shouldn't be prepared with some basic business casual essentials that will not only make you feel comfortable but confident. 
A basic blazer is an absolute must. It's practically a life saver as it can make any casual outfit more dressed up in an instant. You should find one that doesn't look too long, and that is fitted properly. Drowning in a blazer will completely ruin the look you are going for!

You can never go wrong with a simple button-down shirt. They're incredibly versatile, they're comfortable, and they're professional. If you want something with a little more flare, I suggest picking a button down that is polka dotted, ruffled, stripped, or a bright color.

3.

Chic, yet comfortable flats 

Emphasis. On. Comfortable. Business casual workplaces are usually okay with flats as long as they don't look worn out. They can look super chic and really make an outfit pop.

Mix up your outfits with some sort of fun print or floral blouse. You don't always have to stick with neutrals, but you shouldn't go too trendy with lace, sheer, or cropped look (no matter how much you love it). In the colder months, you can easily layer a print blouse with a cardigan or blazer.

Offices are often iceboxes in disguise, so you definitely want a cardigan on hand. I suggest finding a style of cardigan you love and buying one in almost every color. I know, it sounds crazy, but at least you'll have a cardigan to match each outfit and be warm. 

If your office doesn't allow jeans, then you need to grab different styles of black pants. 

A polished tote bag is essential to carry around everything you'll need for the day. I suggest getting one that's big enough to fit your laptop and has a ton of extra space for other various needs.

A wide-leg pant is perfect for in the office, and chic for if you decide to go out afterward. 

9.

A ready-to-go, multi-look dress

Comfortable and breezy dresses are great, and it's an easy way to dress up with a blazer and jewelry or down with a cardigan. 

I practically live in jeans, so a nice pair of jeans is essential to my internship wardrobe. You want something that is fitted and dark wash but doesn't have any rips. 

A skirt is another wardrobe staple for a business casual look. You can wear it with a button down, blouse, plain t-shirt or a blazer.