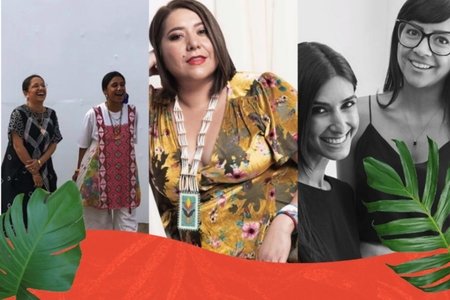 NorBlack NorWhite, B. Yellowtail, Cuyana
Here Are 7 Sustainable Style Brands Created By & For Diverse, Non-Binary Folk, Because This Industry Could Use Some More Inclusivity
In 2019, being environmentally conscious is the wave. Do you know what else is another important factor? Making sure the environmentally conscious movement is inclusive of all — all backgrounds, shapes and sizes. Yes, we're all living for sustainability and inclusivity! We may not be seeing as much of these features in the fashion industry, but don't you worry. We're always in the search for sustainable brands to shop that are owned by women of color.
We've rounded up seven fashion labels that are making their impact as they look after the planet's health and the representation that marginalized individuals. From multicultural backgrounds to non-binary identities, these brands are redefining style. We're here to support them and watch them continue their movements through fashion. 
NBNW came to life after Mriga Kapadiya and Amrit Kumar journeyed across India to trace back their roots. "[The brand] is partly an anthropological experiment," according to the brand. "Part art, part fashion." Modernizing ancient textiles, Kapadiya and Kumar source and produce their designs in India. Frida Giannini, former Creative Director of Gucci, praised the designers for incorporating their culture into their work and giving it their own twist.
This multicultural brand received Virgil Abloh's seal of approval, so we already know it totally shreds coolness. Brujas utilizes skateboarding to "empower all marginalized groups." Founded by Arianna Gill and Sheyla Grullon, they started Brujas as a sisterhood — we will always stan girls uniting for a social cause! Now, they are breaking barriers and redefining the subculture of female skateboarders within the subculture of skateboarding.  
Chioma and Uchenna Ngwundo founded the NYC-based label together. The sisters work with Nigerian artisans to create clothing and accessories that showcase beautiful West African prints. According to CCC's website, the Ngwundo's manufacture their products in Nigeria "to have a transformative impact on the lives of [their] artisan partners." And, we love business women that help lift others up! 
"We have an agenda," as TomboyX stands by. "And it's not a feminists agenda. It's not a gay agenda." Naomi Gonzalez, along with her partner Fran Dunaway, created the non-binary underwear label. The couple strives to send out a message of acceptance in a society that can be isolating. They work with manufacturers based in the United States, Canda, and China. TomboyX only makes eco-friendly activewear, and that's exactly what we love to hear. Undies breaking gender stereotypes on top of being environmentally conscious? Yes, please!
If you're looking for art that you can wear and strut in, we got you covered! B. Yellowtail honors the tradition and culture through their products by Native Americans. The brand was started by Bethany Yellowtail — hence the name — and has already been noticed by Anna Wintour. We all know how hard it is to catch Madame Wintour's attention, and she's got a huge influence on the fashion world.
When Karla Gallardo and Shilpa Shah joined forces, they knew they wanted to make quality and ethical products with meaningful stories behind them. Cuyana is luxurious but still affordable, which the two business grads have worked really hard to achieve. Gallardo and Shah have been killing it and giving the mass elegant designs without such a hefty price tag. 
Did someone say bras made out of recycled plastic bottles? Say no more. Proclaim is a lingerie brand based in Los Angeles. Their goal is "expanding the definition of nude, one ethically made bra at a time." The company is all about women representation and eco-friendliness — how freakin' amazing is that? 
These brands are making sustainability and inclusivity the most important trend in fashion, and we appreciate them for their efforts. It's important for fashionistas and consumers alike to be socially aware. We're supporting brands that care about including every person as well as doing their part to take care of the planet.