People should be washing their hands no matter what after using the bathroom, doing something dirty, and when they're sick. However, these are unprecedented times we're currently living in, with an unpredictable new coronavirus spreading quite quickly across the world. Therefore, hand-washing has become a thing of great importance and necessity now more than ever.
The CDC, or Center for Disease Control and Prevention, has presented guidelines for keeping yourself safe and clean to prevent the spread of COVID-19, including the best way to be washing your hands. You should be washing your hands every time you come home from outside, especially from public places like grocery stores. Hand-washing should also of course occur after using the bathroom, or after blowing your nose, sneezing and coughing. The proper etiquette for hand-washing that the CDC recommends is using soap and water, and washing for at least 20 seconds. Make sure to get the soap into every crevice of your hands, including under your nails. If soap isn't readily available where you are, carry around a hand sanitizer that's at least 60% alcohol to use in the meantime. It's also a good practice not to touch your face, especially your eyes, nose and mouth with unwashed hands. 
If you follow these guidelines, you'll be doing yourself and anyone you come into contact with a favor. However, many people aren't used to washing hands so diligently and frequently, meaning your skin may become more dry and dehydrated than you're used to. Here are a few ways you can combat this extra dryness and take the best care of your hands. 
1. Use a gentle, moisturizing soap if possible 
If you're prone to dry hands, there are soaps out there meant to prevent dryness and provide extra hydration. When washing your hands so often, it's important to be using the most gentle and moisturizing soap you can find. This may not be possible when in public bathrooms, and when supplies are running low in stores, but if you're able to buy a non-drying soap it'll help out your hands tremendously. A few suggestions include Method Foaming Soap, Mrs. Meyers Clean Day soap which has a non-drying formula plus aloe vera, as well as Softsoap hand soap with soothing aloe vera. 
2. Apply hand cream after every hand-wash & before bed
Arguably, the best way to maintain moisture in your hands is applying a moisturizing lotion. You can buy a small one to carry in your bag if you have to go out, and make sure to keep some in a few places around your home, like in the bathroom and kitchen where the sinks are. It's important to lock in moisture directly after washing so your skin doesn't have time to dry out, and there are lotions and creams made with that purpose. My personal favorite is First Aid Beauty's Ultra Repair Cream which is an unscented cream that provides intense hydration and instant relief for dry, distressed skin, or skin prone to eczema. I'll lather my hands up with this cream after washing them and right before bed to let it soak in for the night. Some other equally effective options include Eucerin Cream, Gold Bond healing hand cream, or Vaseline for if you develop extra dry or cracked skin. 
3. Use aloe-infused hand sanitizer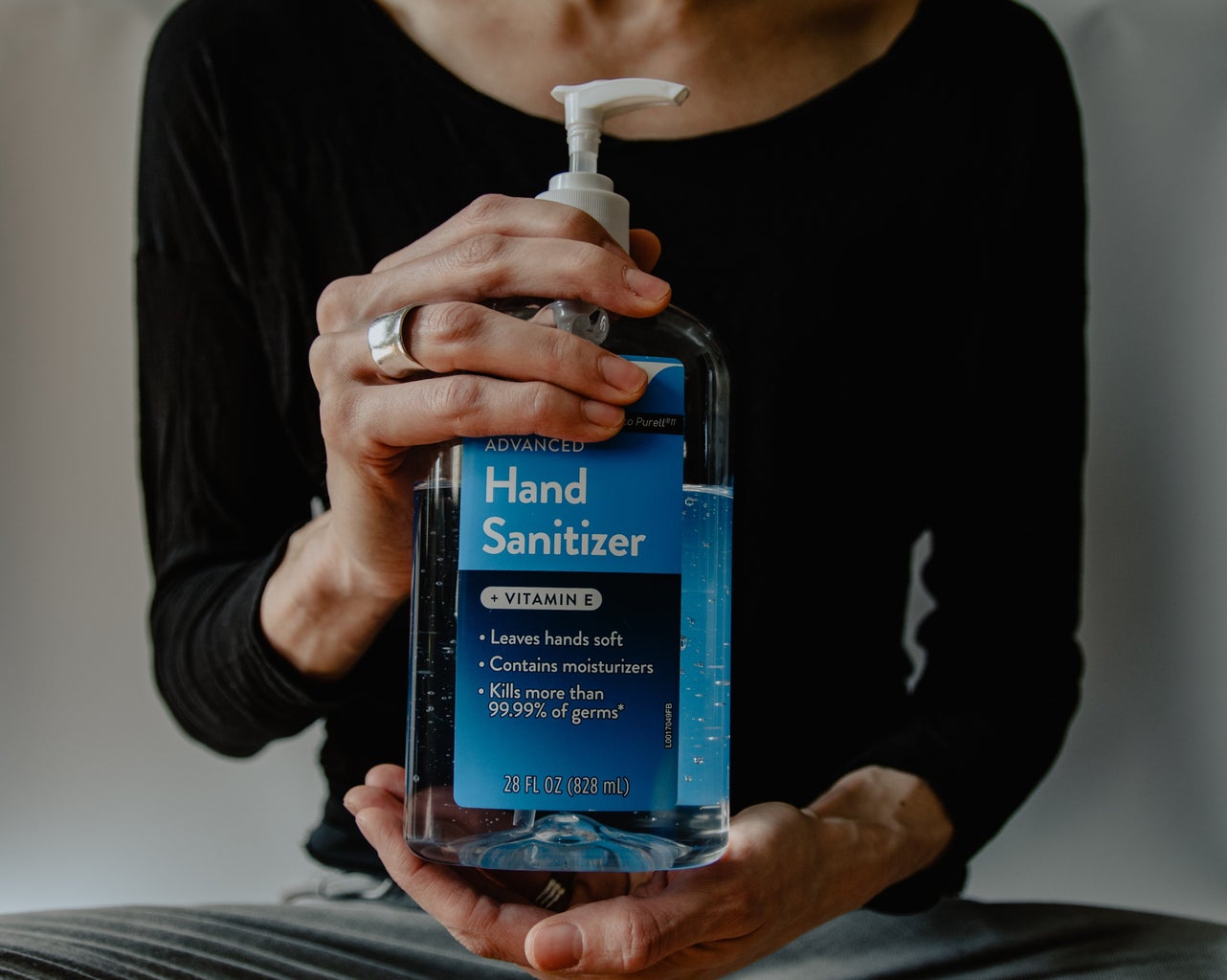 Since hand sanitizer has become such a precious commodity, it might be hard to track down at this point. However, if you can find some, try to look for one that includes aloe vera. Hand sanitizer in itself can be incredibly dehydrating because of its alcohol content, and the majority of the population is using it multiple times a day, every day, right now. It's convenient for when you don't have access to soap to protect your health, but the ultimate form of disinfecting your hands is by using soap and water. When you do have to use hand sanitizer though, it's best to use one with aloe vera or other moisturizing properties, such as Purell advanced hand sanitizer with refreshing aloe. If you have scoured the globe and literally can't find any available, here's a guide for how to make your own moisturizing hand sanitizer.  
4. Wash with luke-warm water, not hot
You should really only be washing when necessary in order to keep yourself protected from the virus. Overdoing it won't protect you more, and will end up drying your hands out. When you do wash, you should be using luke-warm water, not scorching hot water. Hot water can easily dehydrate skin, which is why everyone warns against hot showers (as much as you may enjoy them). If you want to prevent dry skin, use the right water temperature. 
5. Apply cuticle oil on your nails
When your hands become dry, it can also affect nails and cuticles, making them more brittle and weak. Applying cuticle oil to your nails and cuticles will help maintain their strength and moisture. Vitamin E is found in most cuticle oils, which is an essential ingredient for strengthening. If you're doing your nails, apply some cuticle oil directly after or carry it around with you to apply anytime they're in need of some moisturizing care. Oils like Sally Hansen's Vitamin E Nail and Cuticle Oil or Essie's Apricot Cuticle Oil will do the trick. 
6. Try hand masks 
Last but not least, you may as well treat your hands to some extra pampering. This would be the best time to try some hand masks for the first time. Hand masks are essentially gloves full of moisture and collagen goodness that you soak your hands in for however long you need. They're often used to help your hands look younger longer and prevent wrinkles or skin damage, but they can also just be used for fun. Try out Patchology's Perfect Ten Self-Warming Hand Mask or Aveeno's Repairing CICA Hand Mask and treat yourself to some hand self care. 
It's been an overwhelming and confusing time for all of us, but by practicing the safety guidelines of washing your hands, sanitizing and social distancing we can all prevent spreading the virus even further and keep ourselves as healthy as possible. Hopefully you can use some of the above tips to help combat the potential dehydration of the delicate skin on your hands from over-washing. Stay safe and stay moisturized!