Back-to-school season is on its way, and while the thought of homework, exams, and long campus days may seem overwhelming, this seasonal transition is actually a great time to refocus! We at HC love to treat the new school year almost like the start of a new year entirely, right down to refreshing our mindset (along with pretty much all our possessions as we back-to-school shop our hearts out). The biggest change we're making this year: being mindful of our eco-footprint with our beauty routine.
Join the beauty responsibly movement
When we think about "going green" the first practices that come to mind are recycling, saving energy, or general conservation efforts. TBH, it may feel as though there's a limited amount of change you can make on campus as a student, but adjusting even something seemingly as minor as your beauty routine has huge impact on the environment. Back-to-school is the best time to make behavior changes that stick, so why not cut the bad habits and contribute to a cleaner future? After all, the planet is gorgeous. Let's keep it that way by being beauty responsibly.
The basics of sustainable beauty 
As consumers, let's decrease our eco-footprint to further push for sustainability. There's a whole ~planet~ and ~society~ to consider each time we make a purchase, which means you should be shopping considerate retailers whenever possible.
Some best practices that go a long way:
Shop eco-conscious packaging
Look for naturally-derived ingredients
Use paraben-free products and formulas
Once you've got your medicine cabinet overhauled with sustainably sourced products, the next step is to recycle recycle recycle. According to TerraCycle, beauty and personal care products account for 1/3 of the landfill. It's unreal. Shampoo and conditioner bottles, hairspray cans, face wash, deodorant, nail polish, shaving cream – all the bottles from these personal care products and more can be recycled, and part of updating your beauty routine includes being mindful for waste production and disposal.
Ready to make a change this year and commit to helping environment? Below, you'll find our best beauty product recs ­from Garnier, so you can go back to school with armfuls of skincare and haircare goodies you'll love – and that the planet will <3 too.
Ultimate back-to-school beauty shopping list
Micellar Cleansing Water
If you aren't riding the micellar water train, now's the time to hop on. This Garnier micellar water removes makeup, cleanses, and soothes all in one. It's basically the ultimate multi-tasker. Sure, it may look like normal water, but it's actually packed with these itty-bitty things called micelles which capture and lift away dirt, oil and makeup. It's so gentle on the skin (and also v fancy, if we're being honest).
Rose Water Facial Mist
Rose water mist should be a staple a.m. through p.m., especially after a long day on campus bouncing from class to the gym to dinner with friends. It can be used as a moisturizer to hydrate, before makeup as a primer, after makeup to set it, and anytime throughout the day to refresh skin. Just consider this your anytime-BFF for whenever skin needs a boost!
The other exciting thing about this mist: It's made with 99 percent naturally-derived ingredients, which is just a fancy way to say that there's no parabens, silicones or dyes, and that the formula is as close to its natural state as possible.
Fructis Sleek and Shine Shampoo & Conditioner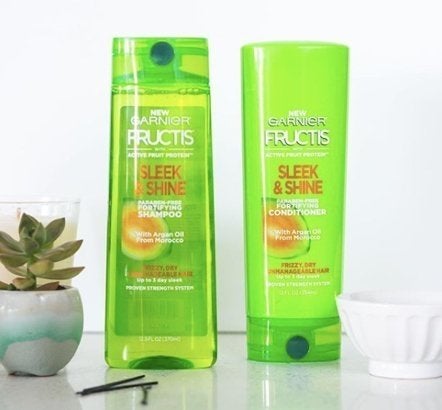 This pair does wonders for promoting healthier hair, and it's basically shower #goals incarnate. The formula is infused with Argan Oil from Morocco that soaks into even the frizziest hair and smooths each strand. No bad days when you've got this set at the ready! 
Fructis Style Smooth Blow Dry Anti-Frizz Cream
Say hello to smooth, beautiful blowouts from your dorm! Yep, no salon needed when you have this cream to calm frizz and make styling a success. This is a staple for frizz-sufferers who feel plagued by humidity and post-heat hair craziness – just apply a quarter-sized amount before blow drying, and things will get sleek from there.
Whole Blends Honey Treasures Shampoo & Conditioner
The ultimate honey goodness just became a shower-time treat, and newsflash: it's packed with ingredients that support the environment. Honey is known for its nourishing properties, and this blend is made specifically for repairing your hair. AKA, you need this if you're the type of person who styles with heat every day or has year of built up coloring damage.
Nutrisse Hair Color
Curious about coloring your hair, but want something mindful of the plant? Introducing your new fave, a Garnier nourishing color creme in 63 shades with easy application to do in your dorm or apartment! We love the medium gold brown (#53) because it looks so shiny and soft. Plus, this formula promotes healthy looking hair, so no worries that this transformation will wreck your 'do!
Fructis Treats

You had us at one-minute hair mask, obviously. This line of nourishing hair masks are each heavily restorative, so you can treat yourself before class, a sorority event, date night, or anything else that may come up in a pinch! Plus, these are 98 percent naturally derived and biodegradable, so you can feel good about your beauty choices the whole year long! 
If you love what you see, explore even more sustainable beauty ideas at GarnierUSA.com! We can't wait to see all the ways your change the world, one beauty product at a time.