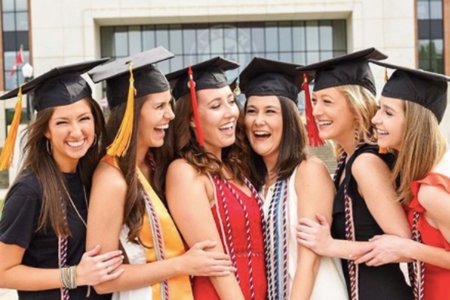 @photozbyjz via Instagram
20 of the Best Graduation Cap Decoration Ideas We Wish We Thought Of
It's that time of year again: graduation. Another school year has come and gone before we could even blink. For some of you, you're wrapping up your senior year and are ready to graduate.
Graduations, while super exciting, can sometimes bring on some unnecessary stress. What will I wear? How do I do my hair and makeup? What if I fall?
We're here to alleviate some of that stress and give you inspiration for decorating your graduation cap. Round up your besties, order pizza from your fave college town spot, wear your coziest pajamas, and host a night of grad cap decorating. This could be one of the last times for a while that your college besties are all together, so why not make the most of it? Send them this article as an unofficial invite and start decorating.
Graduation is so fetch. Show off your love of your favorite movie by decorating your grad cap with this iconic line.

If you're a Disney fanatic, paint your grad cap with a nod to Tangled.

Decorate your cap with this inspiring message and pretty flowers.

If that scene with the seagulls from Finding Nemo is your mood when it comes to graduating, grab that degree in style with this cute grad cap.

5.

The Princess Diaries Grad Cap

The grad cap fit for a queen. Clarice would definitely approve.

6.

Game of Thrones Grad Cap

"Interest Is Coming" pretty much sums it up.

But wouldn't life be great if "dog mom" could be a career?

Send a sweet shoutout to the people who were by your side the whole time with this pretty grad cap.

9.

Class Of 2019 Grad Cap

If you're going for something simple, just paint your graduation year and some pretty designs.

 

If you're that girl who quotes Vine daily, why stop at graduation?

11.

Legally Blonde Grad Cap

Pay homage to the one and only Elle Woods with this cute grad cap.

12.

Rolling Stones Grad Cap

Roll up in this gorgeous bejeweled Rolling Stones grad cap. This is definitely the one I would choose if I were graduating this year.

*insert Spongebob narrator voice here*

14.

Grey's Anatomy Grad Cap

Channel your inner Cristina Yang with this badass grad cap.

Let this grad cap be there for you when you get your degree.

Honestly, the real reason I went to college was to support my cat (shoutout to Pumpkin!).

17.

Positive Vibes Grad Cap

Remind yourself that even though college is behind you, there are even bigger and better things coming your way.

18.

The Greatest Showman Grad Cap

Try not to burst into song when you walk into graduation while wearing this grad cap. Or don't. Live your life.

19.

Photo Collage Grad Cap

Create a sweet collage of all of your favorite memories complete with a Winnie the Pooh quote. Cue the tears.

Let the wise words of Michael Scott guide you through graduation.
Whether you're sad to be leaving college or can't wait to jump into the real world, there's a grad cap design for every kind of graduate.