Her Campus / Megan Charles
Get Ready to Bookmark & Buy: Here's What the HC Editors Are Wearing to Her Conference
It's the most wonderful time of the year, AKA Her Conference season. We are so pumped for all of the empowering keynotes and panels, along with the endless networking opportunities with fellow influencers, bloggers and boss babes. TBH, we're also so excited to have a little fun and play dress up for both Her Conference NYC and Her Conference LA.
Her Conference: Inspire, hosted in sunny LA, is giving us major influencer style vibes with elevated elements all while being as effortlessly cool as the west coast is. Her Conference: Empower, hosted in bustling NYC, is giving us gives us business babe vibes, with a balance of biz casual and street style pieces. With that in mind, the Her Campus editors are already carefully curating their Her Conference looks. Here's what we'll be wearing this year:
Edel, Assistant Social Video Editor 
The LA Look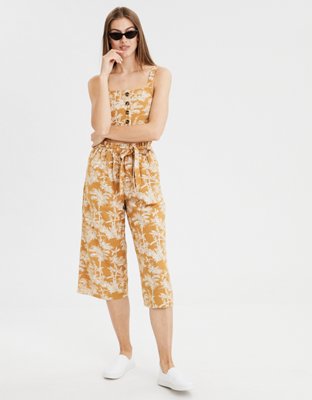 Button Front Crop Top, American Eagle, $25, and High-Waisted Paperbag Culotte, American Eagle, $40; shop now
Two-piece sets are my life such an easy outfit to put together and sets that come with flowy pants are the best.
Distressed Denim Jacket, Forever 21, $35; shop now
Jean jackets are a staple for me when the weather gets warmer and the distressed look gives it more of an edgy vibe.
Oasis Extra Chunky Wrap Sandals, Koi Footwear, $39; shop now
I'm 5' 2" so any chance I get to wear platform shoes I will.
The NYC Look
Check Her Go Blazer Dress, Nasty Gal, $60; shop now
Blazer dresses are the new power suit. Enough said.
Koi Footwear Aspa Floral Chunky Trainers​, $33; shop now
Platform sneaks are both comfy and a look.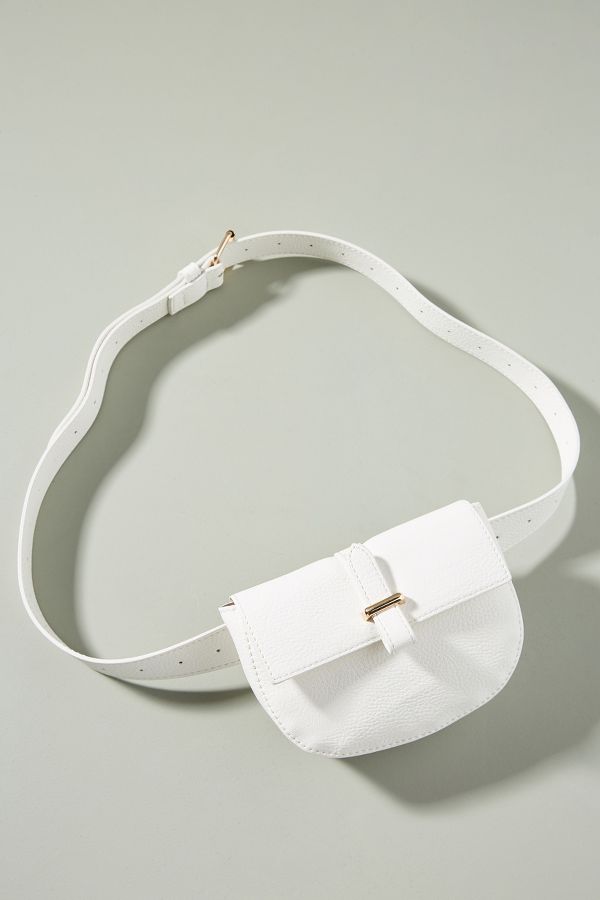 Ella Belt Bag, Anthropologie, $48; Shop now
Okay, I'm a new fan of the fanny pack, especially chic white ones. They're both a staple and practical piece to any outfit.
Felicity, Assistant Editor
The LA Look
Glamorous cami jumpsuit with shirring in gingham, ASOS, $54; Shop now
This jumpsuit is so ~playful and flirty~ and serves as the perf base for my "on vacay vibe" look for LA.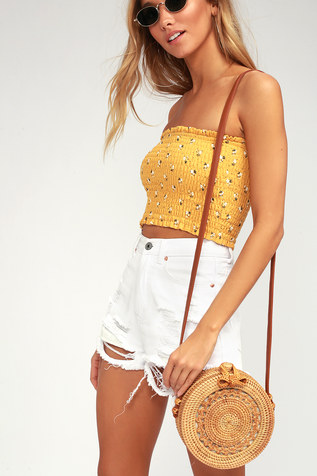 Port Costa Tan Round Woven Purse, Lulus, $64; Shop now
The woven bag is everything right now, so I'm busting out this round one to pair with my resort look.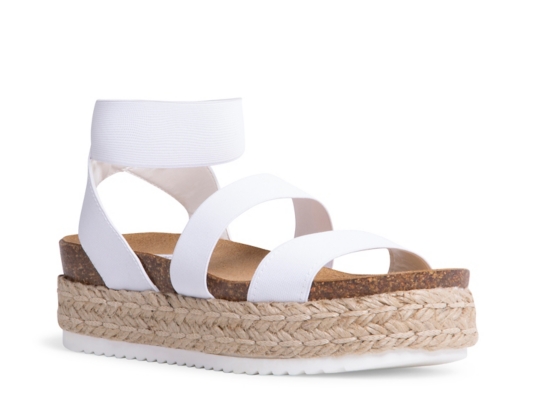 Kimmie Espadrille Wedge Sandal, Steve Madden, $70; Shop now
Espadrilles are baaaack, baby (and totally work with the woven purse I've chosen).
The NYC Look
New Look tux blazer in black, ASOS, $28; Shop now
Wearing a blazer as a shirt is a power move. Power. Moves. Only.
ASOS DESIGN slim flared pants in orange check, ASOS, $56; Shop now
These pants strike the perfect balance of edgy skater girl and CEO on the clock, making them so ideal for Her Conference NYC.
Noles Heels White, Dolce Vita, $120; Shop now
The slip-on block heel turns the outfit adds a level of ~chic~ to the biz casual look.
Gina, Beauty Editor
The LA Look
Romerio Sleep Jumpsuit, Anthropologie, $120; Shop now
Truly don't know who would wear this jumpsuit as pajamas, but I'm 100% going to wear this as my cool-girl outfit for the day. This has big LA energy, and I can't wait to feel flowy, cool, and chic throughout the day.
Women's Disruptor 2 Premium, FILA, $65; Shop now
I'm slowly becoming an old lady that only wears chunky sneakers, but these ones from FILA make me feel like a cool influencer. Plus, white sneakers go with everything and elevate my 'fit so fast.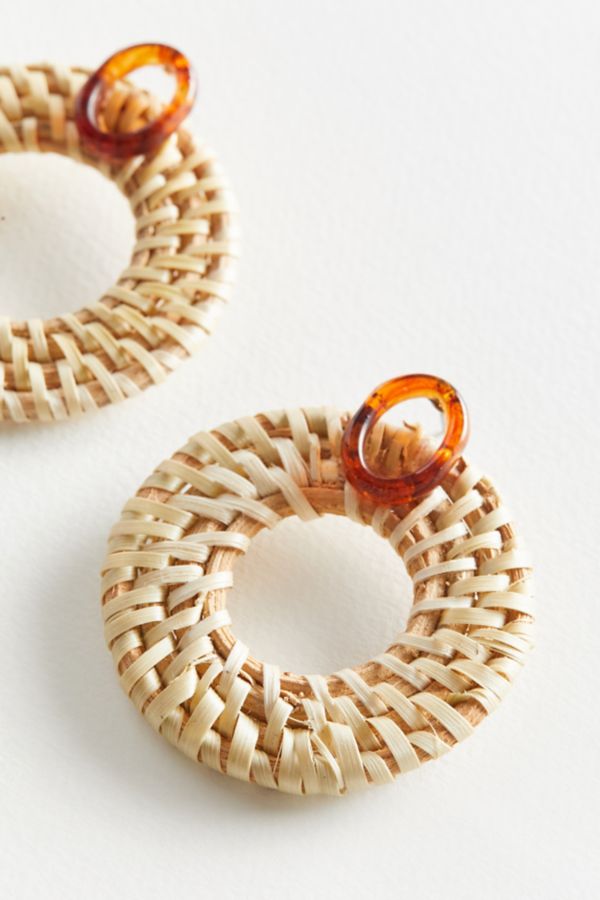 Bali Basket Weave Statement Earring, Urban Outfitters, $20; Shop now
Wicker earrings, need I say more?
The NYC Look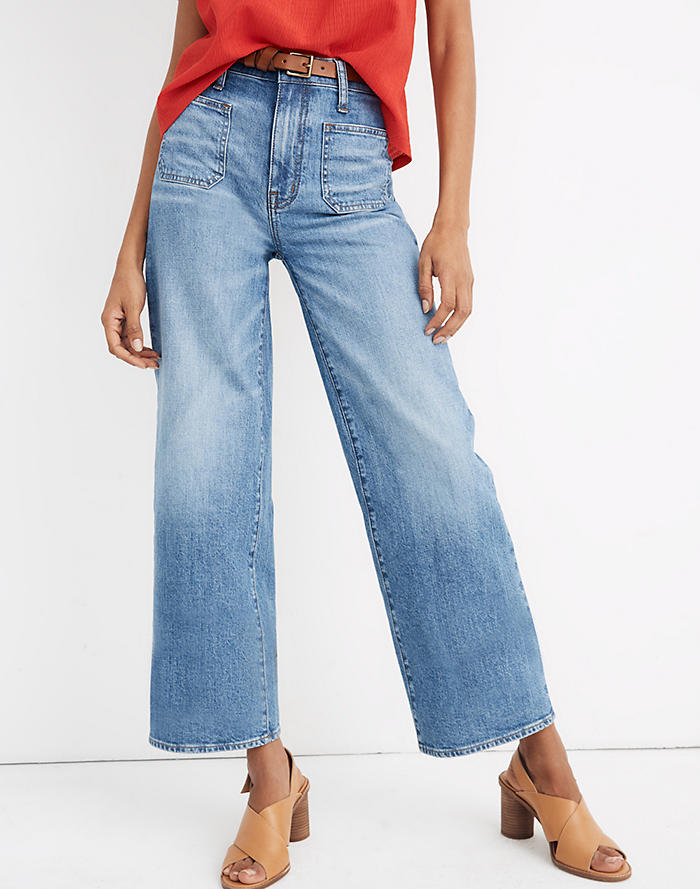 Petite Wide-Leg Crop Jeans in Chesney Wash, Madewell, $128; Shop now
Y'all, it is HARD WORK to find wide-leg jeans that look good as a petite person, but Madewell has truly blessed my life with this pair. I'm building my whole NYC Conference look around this gorgeous denim.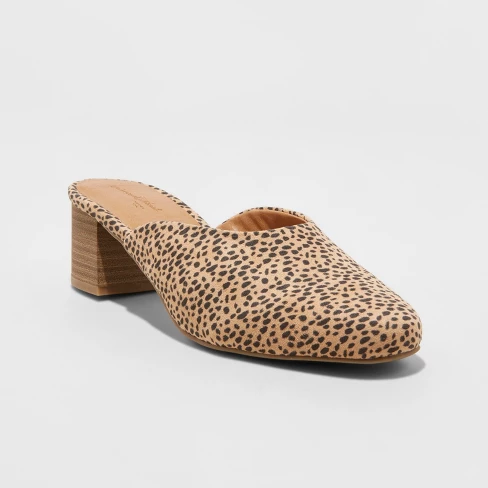 Women's Aviana Microsuede Block Heeled Mules, Target, $28; Shop now
Denim + leopard mules is kind of my dream look, so here we go.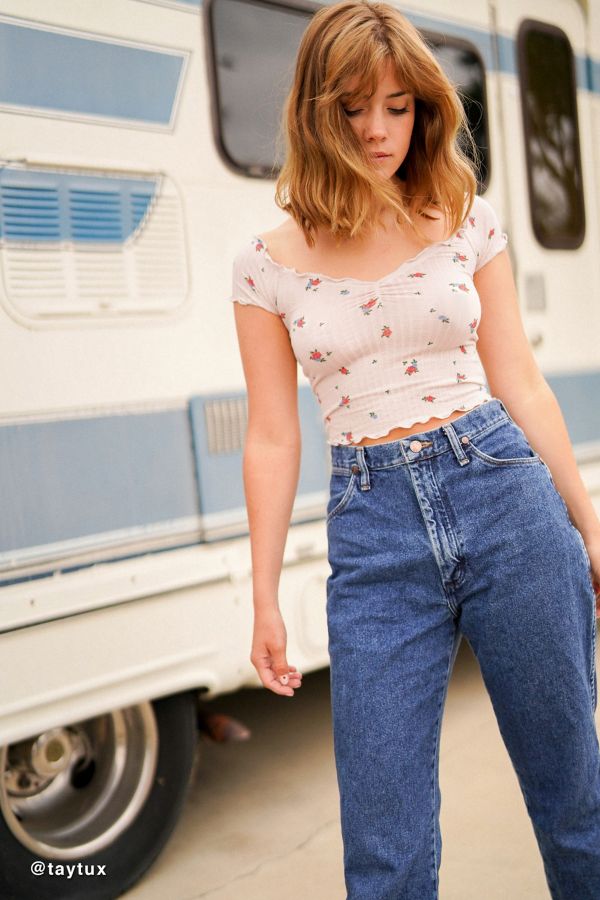 Out From Under Vera Ruffle Off-The-Shoulder Cropped Top, Urban Outfitters, $24; Shop now
Gotta wear a cute, throwback cropped top with high-waisted jeans. This shirt is my perf combo of elevated, yet laid-back fashion that I could wear lounging around at home, but still look like I tried while networking with my fave female leaders.
Holly, Branded Content Editor
The LA Look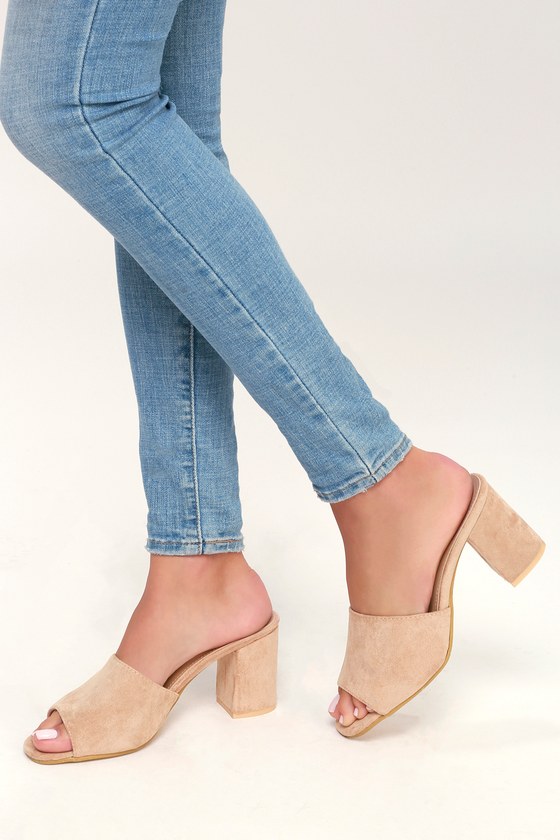 Yes I know, I'm an editor and I'm supposed to be stylish — but comfort is key. These suede mules are all that and a bag of chips when you need to be cute...but also on your feet all day.
High Waist Leopard Skirt, Zaful, $19; Shop now
Sorry for the TMI, but I just like a little air down there when I have a huge day of networking, collecting goody bags, and posing for Instagrams all day and I'm really looking forward to this flowy little number. P.S. anyone who says cheetah print should be retired in the fall is a scam.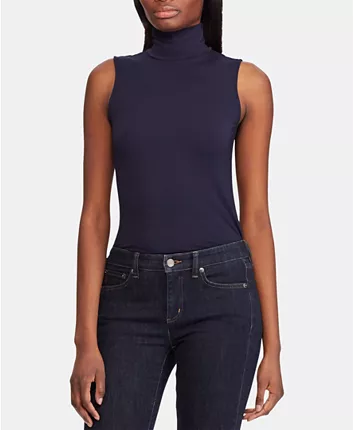 Ralph Lauren Sleeveless Turtleneck Top, Macy's, $70; Shop now
It's LA and I hate sweat stains, so this sleeveless Ralph Lauren turtle neck is definitely going in my suitcase.
The NYC Look
Buttoned Blazer, Zara, $50; Shop now
Power suit, meet NYC. NYC, meet power suit. When I need girl boss inspo, this bubblegum blazer with matching cigarette pants never fails me.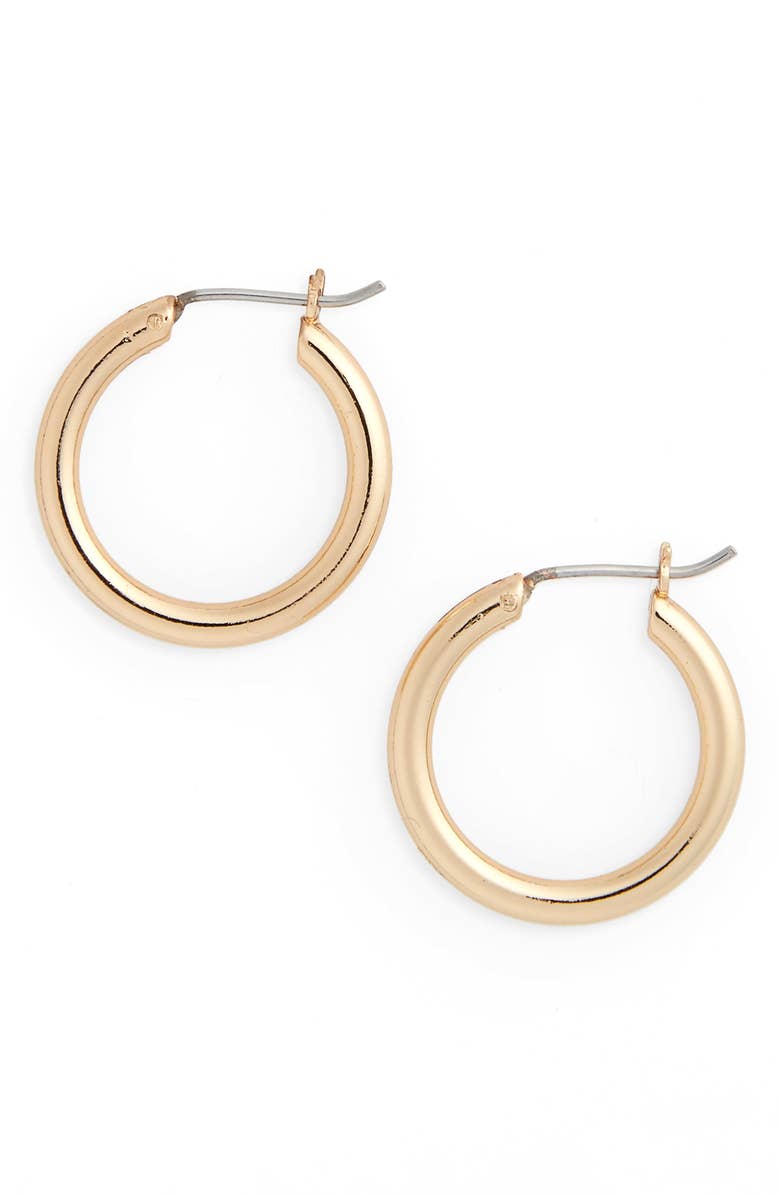 Small Endless Hoop Earrings, Nordstrom, $19; Shop now
Everyone needs a pair of gold hoops. Literally everyone. If you don't believe me, put your hair into a messy ponytail — then put on some gold hoops and see the instant glow-up.
Black skinny velvet knot headband, Lou Lou and Company, $15; Shop now
Does your hair ever look actually perfect when you give that one-last-look-in-the-mirror before a big day, but turns into an IRL on-fire-garbage-can the second humidity strikes? Hello, it me. Hello, this is my headband gets it off of my forehead.
Rachel, Senior Editor
The LA Look
Vero Moda polka dot midi dress with volume sleeve, ASOS, $69; Shop now
My entire goal for Her Conference LA is to give off major prairie skater/influencer vibes. I feel like when you work in social media, you get to embrace more of a chill aesthetic, aka running around in very cozy clothes while also being ready for an Insta at the drop of a hat (or, more likely, a pop-up photo moment). This dress is very chic, IMO, but also literally so baggy and easy to sprint in at a moment's notice.
Reclaimed Vintage inspired hair slide pack, ASOS, $16; Shop now
Hair: clipped. My face is going to sweat in L.A. It's just a given. So I'm keeping my hair out of my damn way so I can roam free as a prairie/skater girl should.
Old Skool Platform, Vans, $65; Shop now
Remember when I talked about running around? These are kind of elevated (har har har, sorry) but also ultimately just sneakers, so I can run upstairs and downstairs and find keynotes come interview time.
The NYC Look
Side Party Laul relaxed Glen check blazer, ASOS, $222; Shop now
To me, NYC Her Conference means embracing cozy/chill business casual. This blazer was on a MAJOR sale, so I couldn't resist. It also fits my grampa vibes while making me feel like an Adult Human Woman.
Truffle Collection Block Heel Ankle Boots, ASOS, $55; Shop now
The Cotton Crew, Everlane, $18; Shop now
I live for white tees, especially this one, which somehow hides the fact that I never wear a bra. Paired with my blazer, I feel very "together" in this look even if, inside, I'm having a panic attack.
Her Conference: please come sooner. We can't to wear these LA and NYC 'fits and truly boost our IG game, all while scoring major career skills and advice. Because yes, we are passionate, fashionable women who can do both.
Now in its 8th year, Her Conference® is the biggest, boldest gathering of college women globally. At each Her Conference, you will experience up-close interaction with industry leaders and badass keynotes covering everything from media, marketing, and entrepreneurship to entertainment, tech, social impact, leadership, and more. Join us in Los Angeles for Her Conference: Inspire on June 1st, in New York City for Her Conference: Empower on June 22nd, and on the @HerConference Instagram for constant career inspo & advice from amazing career-minded women just like you.