The King of Fashion, Tan France himself, once announced,"Style is not fashion. Fashion is not trendy after a season. I couldn't give a shit about fashion." Listening to France's wise words, I suddenly had an epiphany of why I've been able to dress myself so stylishly recently.
Growing up, I used to think that I hated clothes and shopping because I didn't like the trendy outfits that my peers often wore. I felt like if I wanted to dress nice, I had to give up my originality. As I grew older, I rejected this belief and started dressing in whatever way I wanted to despite the current trends of the time. It was like a love of clothes developed overnight. I suddenly enjoyed shopping, creating outfits and consuming media surrounding clothing.
I realized that the fashionistas I admired had a clear understanding of their personal style because they had a strong sense of fashion. They knew exactly what they liked and disliked and used this information to create an OOTD worthy fit. I realized that I struggled to understand my own style because I was trying to dress fashionably instead of stylishly. Once I learned that style and fashion were two different things, my wardrobe completely leveled up.
So what is fashion anyway?
Fashion is a cohesive look that designers try to sell you. If you are a fashionable person, you tend to follow trends and always know what the next big thing in the fashion world is. I think that fashion gets a bad rep because there's a collective belief that it's unoriginal. However, it takes a lot of savvy and hard work to flawlessly dedicate yourself to wildly changing trends.
Partly due to social media, fashion is also made up of subculture fashion movements. More often than not, it juxtaposes whatever is in popular demand in that moment. In the early 2000s scene, punk and emo fashions rose in popularity thanks to the contrasting rise of preppy fashion. Right now, because of the Y2K movement there's also a rise of more conservative fashion including dark academia aesthetics, cottagecore and vintage fashion. Of course, because fashion is ever-changing, these fashion movements fall in and out of style.
Makes sense, but… what's style?
If fashion is clothing for the masses, then style is clothing for the individual. Style is taking personal preferences from fashion movements and inspiration from different designers to fit your own wardrobe. For example, I love vintage fashion (particularly fashion with '70s aesthetics), but I also like an edgy look. I realized that mixing punk influences with vintage fashion allows me to create my own perfect outfits. Experimenting with fashion like this allows me to understand what clothing makes sense for me personally.
A benefit of shopping for style instead of fashion is that you stock your clothes with outfits that you personally like. It doesn't matter if a specific piece goes out of fashion because you'll like it enough to wear it anyway. Style is timeless — you'll be able to wear stylish clothing for practically forever.
Okay, but why is this important?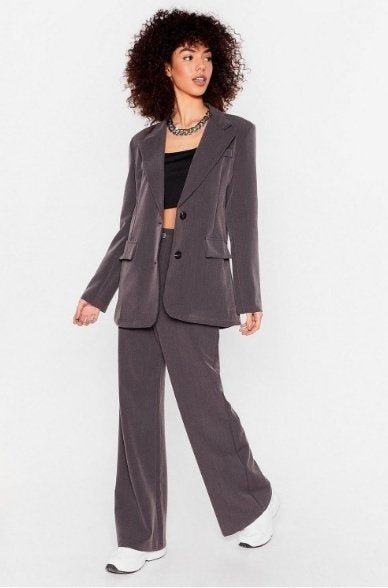 Knowing the difference between fashion and style is important because it allows you to know what to stock your closet with. You might be the type of person who likes to follow trends and keep up with the fashion world, so you know that your closet needs to have a rotation of pieces that you can recycle for different trends. If you value style over fashion, your closet needs to be a little bit more calculated — it's important that you analyze trends and buy only what makes sense for you and your own sense of style. Or, if you're like me and are a mix of both, you have to stop yourself from buying too much clothing and reflect on if you are buying a piece to experiment with it or if it's a good addition to your wardrobe.
The cardinal rule of being a stylish, fashionable person is to explore your own sense of style and embrace it. No matter what's trendy or what other people think, if you like an outfit and you are confident wearing it, then it's perfect for you.