If you'd have asked 9-year-old me what she thought fashion trends would look like 10 years later, she wouldn't have ever guessed that they'd be exactly the same. But the internet has brought 2009 back, and the Elena core aesthetic (as in Elena Gilbert of The Vampire Diaries, also interchangeable with Bella Swan of Twilight core) is all over Pinterest, TikTok, and Depop.
13-year-old me is thriving over this fashion redemption arc, but beyond a middle school throwback, what exactly makes up Elena core? To put it simply, it's your typical 2000s BTS clothing haul from old favorites like Abercrombie, American Eagle, Hollister, and Aéropostale. Black converse, henley shirts over lace camis, and low-rise flared jeans are essential to the trend, as they comprise pretty much every outfit our favorite vampire lovers ever wore. The resurgence in popularity of this very millennial style was brought on by Gen Z, believe it or not; we may never agree on skinny jeans or hair parts, but the outfits of viral teen vampire girlfriends? Of the utmost style. When Twilight returned to Netflix, it introduced a whole new generation to the favorite of the late 2000s and early 2010s teen girls. Google saw a spike in searches for "Bella Swan outfits" shortly after, which only continued to rise when fall arrived.
Meanwhile, The Vampire Diaries revival rumors are swirling (and the TVD spinoff, Legacies, is currently on air), only adding on to the 2000s teen autumnal aesthetic's rise as the latest Gen Z trend. Between TVD and Twilight's foggy, mysterious, and blue-tinted vibes, it's no surprise that their characters' styles gain traction when the temperature drops – of course we want to emulate the media we're consuming (and more importantly, loving!). Early 2000s media like Twilight is also trending on TikTok, as students romanticize the back-to-school season – because if we have to write five page essays, we might as well pretend we have two hot vampires fighting over us in the background.
TikTokers are also breathing new life into the media's most over-hated characters. Elena Gilbert and Bella Swan have often been criticized as "Mary Sues," characters – usually women – who are written to be so close to perfect that they come off as boring. If you search "Mary Sue" on any website, many of the analyses that pop up are A) of female characters and B) written by men. But many of the most beloved classic male characters fit this trope, too. Captain America, James Bond, and Superman are all "Marty Stus." But, unsurprisingly, they get much less grief than Elena or Bella. These women are also criticized for trauma responses like crying, but as the most progressive generation, Gen Z is able to see them without the blaringly misogynistic lens that older generations do (I mean, Elena had a different family member dying every episode – give the girl a break!).
This newfound, loud love and acceptance of historically disliked characters could only lead to a fresh desire to dress just like them. Multiple studies have confirmed that your viewing habits can affect your thinking and behaviors, which is really a no-brainer (especially with Gen Z's insanely high daily phone usage). And as it turns out, this particular vibe is insanely simple to recreate.
As an environmental studies major, I have a particular appreciation for it, since it can be easily attained by thrifting whatever you don't already own. I got almost all of my new pieces secondhand using Depop, ThredUp, and Poshmark (and used items already in my wardrobe). Sometimes you can even score exact matches for onscreen leads' clothes, (but to the surprise of no avid Depop-er, some sellers can be overkill with their prices – even vaguely Bella Swan-esque shirts can run you $85). I bought my flared jeans from Target (the vintage ones on Depop were expensive and low-rise flared jeans sizing can be tricky), and used them along with my previously owned black high-top Converse in all outfits. Given the fact that the fast fashion epidemic is destroying the planet, any way I can wear a hand-me-down and be considered trendy is a win in my book. The real challenge is deciding which outfits to recreate.
Of course, I had to do the iconic red shirt/leather jacket season one outfit. The red tank top from the first episode was something I already owned, and I paired with my leather jacket. To top it off, I added Elena's vervain (AKA vampire-repellent) necklace, layered with my Mikaelsons family crest necklace, as well as a set of stacking rings. Sellers are really playing into the Elena/Bella core trend right now, so it shouldn't be hard to find what you're looking for, but if you want a fast and easy solution, here are similar matches to my jacket and tank top!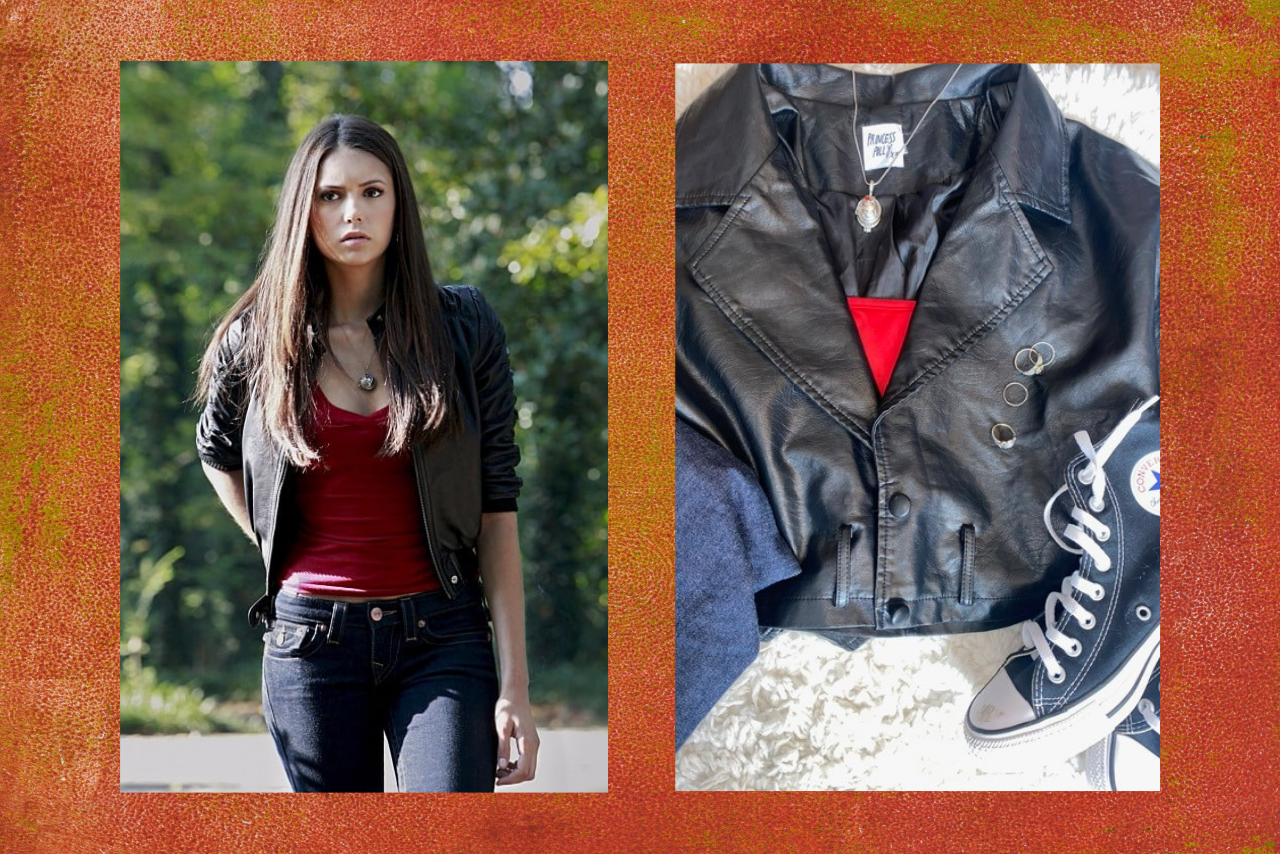 Next up, the zip up BDG shirt she wore when we learned about her doppleganger, Katherine's, backstory. The BDG zip up I bought from Poshmark is the exact style Elena wears in the show, just in pink instead of green. Layer it over a white lace tank and you're all set to romance some vampires!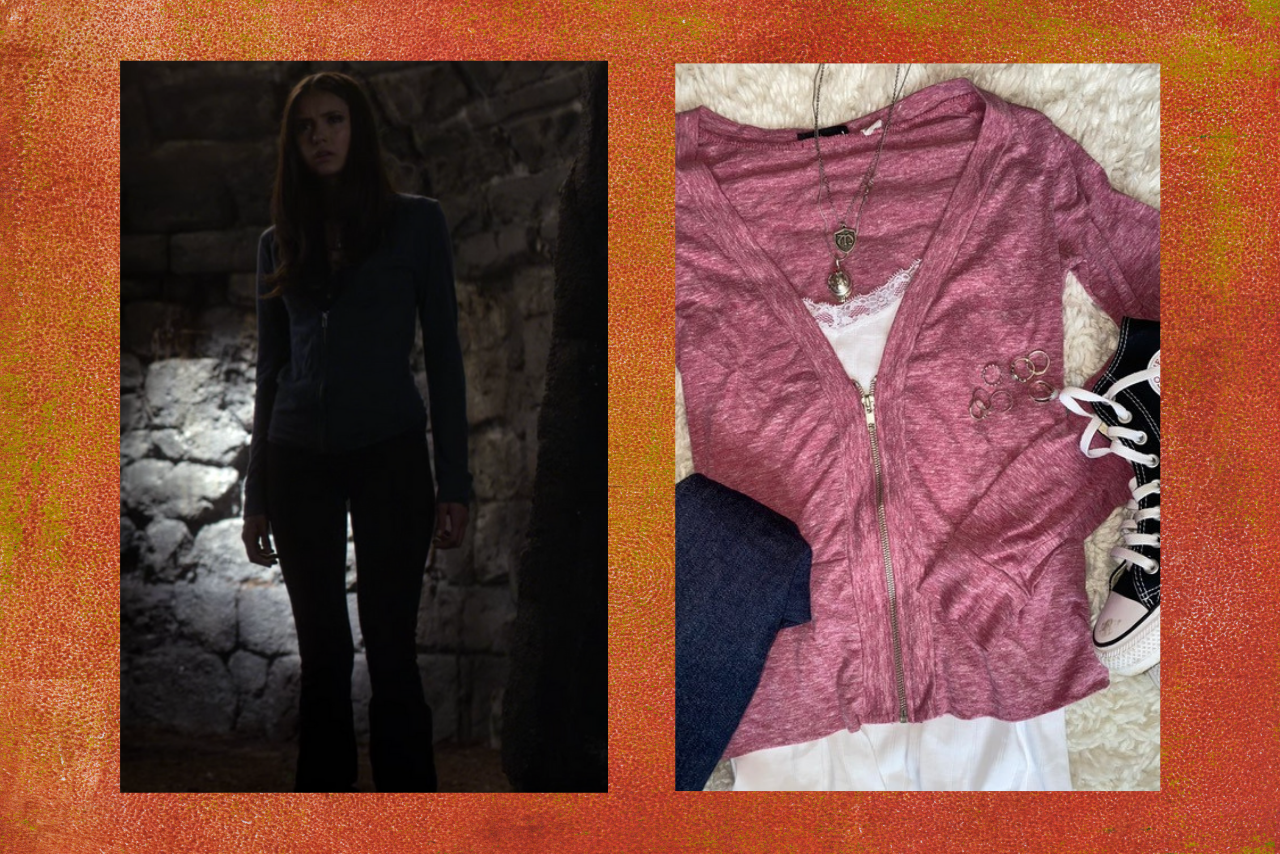 I scored a Juicy Couture cardigan from ThredUp in order to recreate the outfit that Elena wore to the lakehouse with Stefan, but there are plenty similar options there as well as on Depop! For the classic Elena pop of lace, I wore a white lace cami underneath.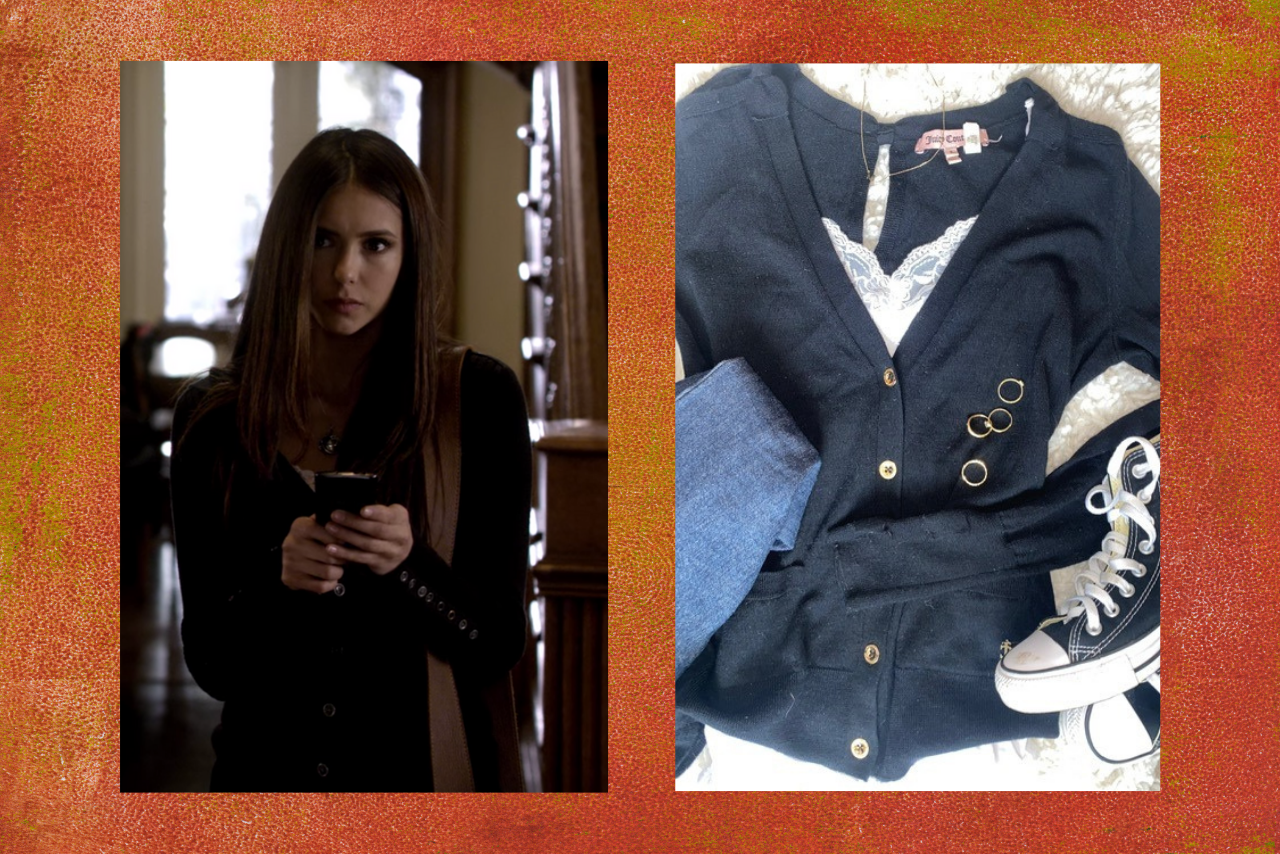 Finally, I went for the black lace shirt of the infamous "I can't!" monologue, before Elena turns her humanity off. This shirt is from ASOS and it's currently on sale for $8, so act fast (but don't almost burn your house down like Elena in your haste).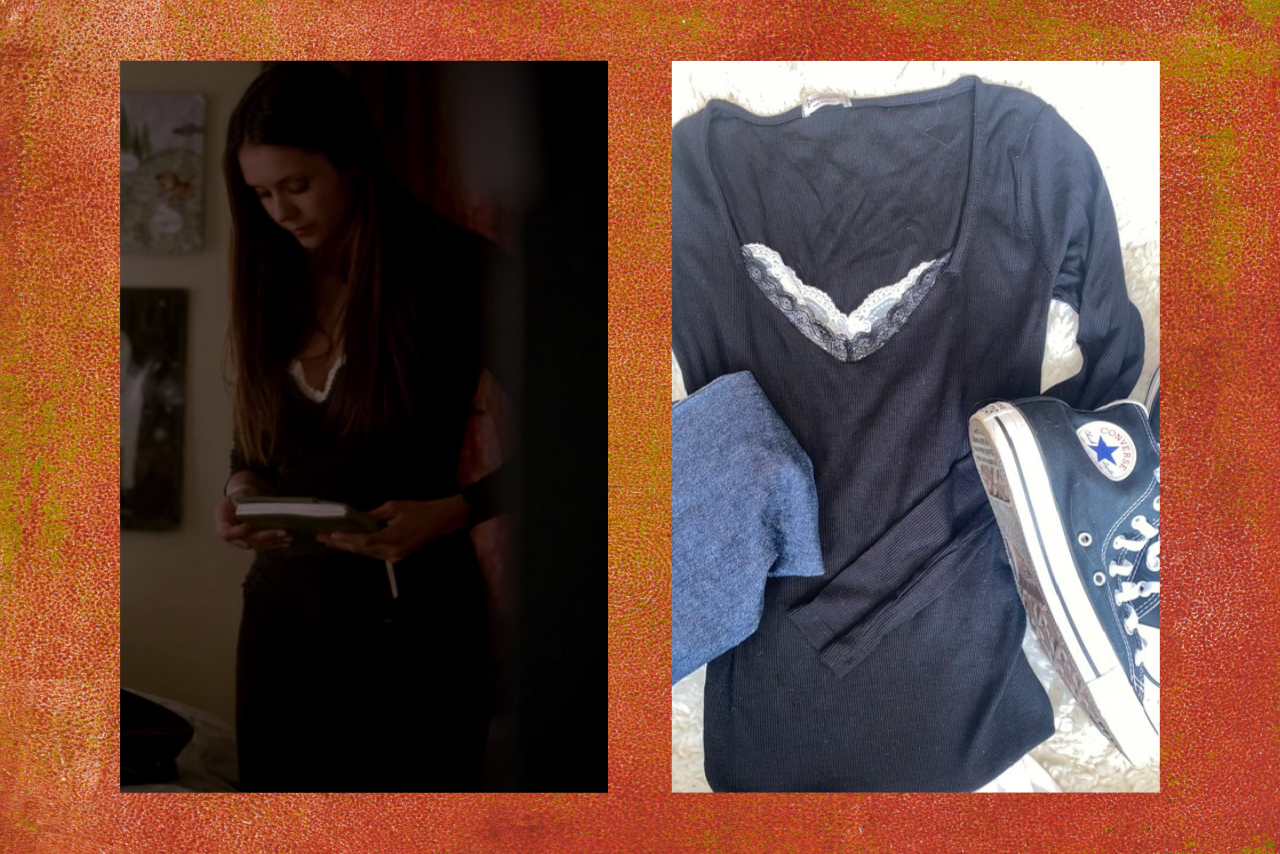 The best thing about putting together a wardrobe inspired by Elena core is that it really only involves a few staple pieces. I rotated all of the tanks, cami, shoes, jewelry, and jeans to to create several outfits with minimal items. When you combine that with the fact that the items I bought were all under $30, it's no wonder that Gen Z is obsessed.