It's that time of year again, fashionistas! The first Monday in May means it's time for the annual Met Gala, and nothing is more iconic than this year's fashion looks. One person in particular made everyone excited for the big night: worldwide sensation Dua Lipa.
Dua Lipa has had a busy year of events outside of her already hectic music career, as she is not only starring in her first major acting role in the highly anticipated Barbie movie, which is set to be released over the summer, but she also announced in January ahead of the 2023 Met Gala that she was named as one of the co-chairs alongside Michaela Coel, Penélope Cruz, Roger Federer, and Anna Wintour.
Dua Lipa hit the Met Gala carpet in a white corseted ball gown adorned with black lining at the hem of the top. Her outfit bore a striking resemblance to the Chanel dress that was featured as the "wedding dress" that Claudia Schiffer wore during the 1992 fall Chanel Couture fashion lineup. Guess what? It was the same dress! During an interview with television personality La La Anthony, she mentioned Vogue permitted her to borrow the item. She was also seen displaying a never-before-seen Tiffany necklace to complete the look.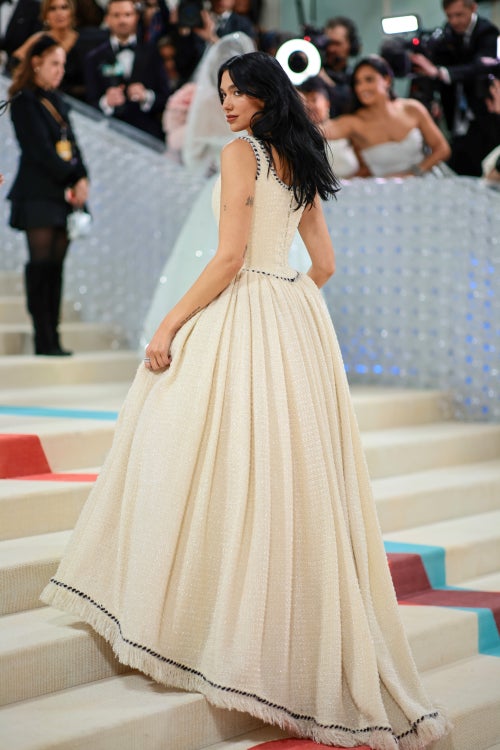 This is the first time Dua Lipa has graced the Met Gala red carpet since 2019, when she attended with Versace for the Camp: Notes On Fashion theme.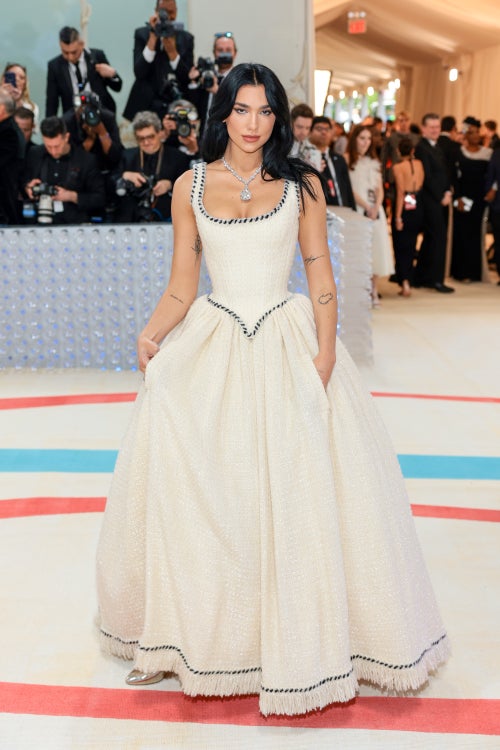 Now that Dua Lipa's made another epic appearance at the Met, fans may be wondering when her new music is coming. Rest assured she's currently working on her third album — she told The Wall Street Journal in January 2022 that "it has a vision." She continued, "It's just been fun experimenting. I'm always going to make pop music, but it has its own unique sound, which is exciting and something that feels like a movement from Future Nostalgia." I, for one, can't wait.