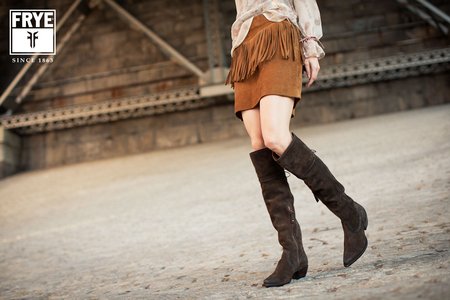 Dress Up Your Fall Wardrobe with FRYE Boots!
This is a sponsored feature. All opinions are 100% our own.
Congrats to our winner, Alexandra Barrett!
Fall ranks among one of our favorite seasons, and not just for the Pumpkin Spice Lattes. Fall fashion is simply the cutest and the coziest – there's nothing more exciting than breaking out and bundling up in our chunky knit sweaters, printed scarves, and boots galore.
So, what better way to kick off fall than with beautifully crafted FRYE boots? To keep you in style this season, we're giving away FRYE's Sacha OTK boots! With these snug suede boots, you can mix and match any of your favorite sweater and skinny jean combinations. With these boots (which are built to last a lifetime!) you'll look exceptionally on-trend for all of autumn and beyond.
Enter below for your chance to win - you don't want to miss out on these beautiful and practical fall essentials!