Over the course of 2020 and 2021, my style has transformed thanks to the extra time I've had to try out new looks without actually having to wear them in public. I had a chance to create the style I wanted, but at the same time, quarantining has also had its impacts on my confidence levels. There are some days I feel like I'm at the top of the world, and other days where I don't really love the way any of my outfits look and I don't want to be around too many people. It goes without saying, but these feelings can get really tiresome really fast, so I decided to give Disneybounding a try to see if it has the power to revive my confidence. 
Disneybounding is creating modern looks inspired by your favorite Disney characters. It's a subtle way for Disney fans to show their love for the films without wearing full-on costumes. I've tried out Disneybounding before, but almost exclusively at the parks or opening nights of Disney films. I've never tried to incorporate it into my daily style, which is all about to change.
Day 1: Cinderella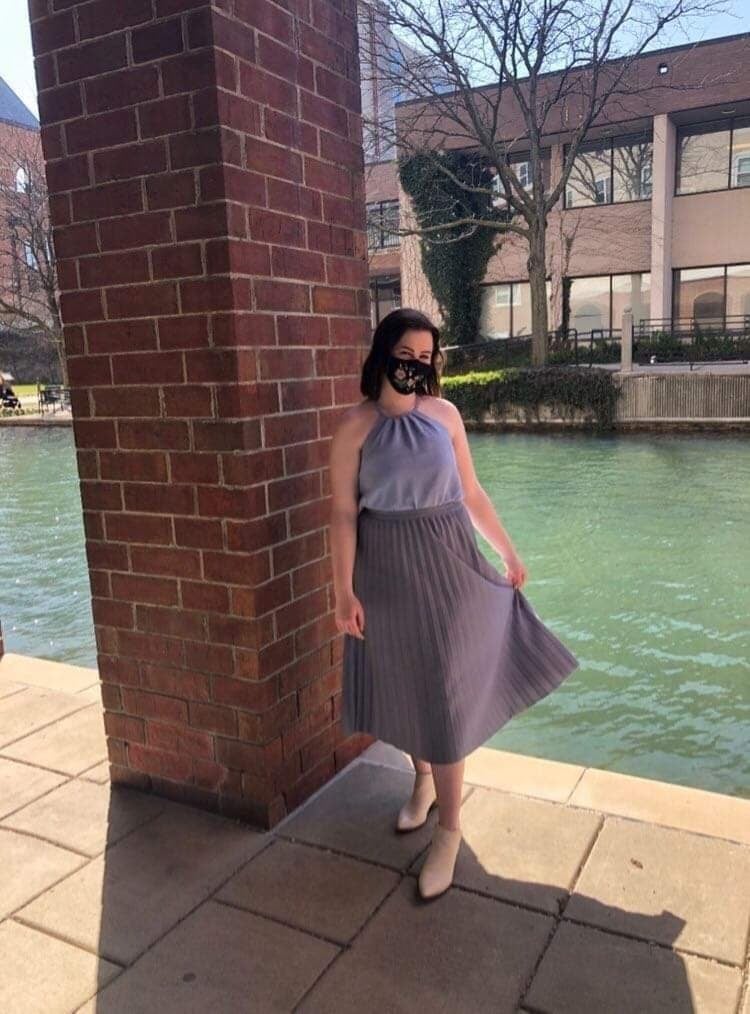 I started off the week with the most iconic Disney look I could think of: Cinderella's ballgown. With its monochromatic blue color scheme and the midi length of the skirt, this look catapulted me into spring. Sadly, I've yet to be visited by a Fairy Godmother willing to gift me expensive glass heels, so I had to substitute a pair of white booties instead. Overall, this look was beyond a doubt the most elegant outfit I've worn around campus, but it worked!
Whether it be the hour and a half I put into my makeup or the outfit itself, I will say that I felt extremely pretty walking around campus, but my confidence level actually fluctuated as the day went on. This look definitely earned some added attention in the dining hall and dorm elevators. With way more eyes on me than I'm used to, it was hard to keep up with the confidence I'd thought this look would give me. There were a few times that I considered changing outfits early instead of wearing this for a full day, but I stuck with it and ended up feeling great about how my week started. 
Day 2: Wall-E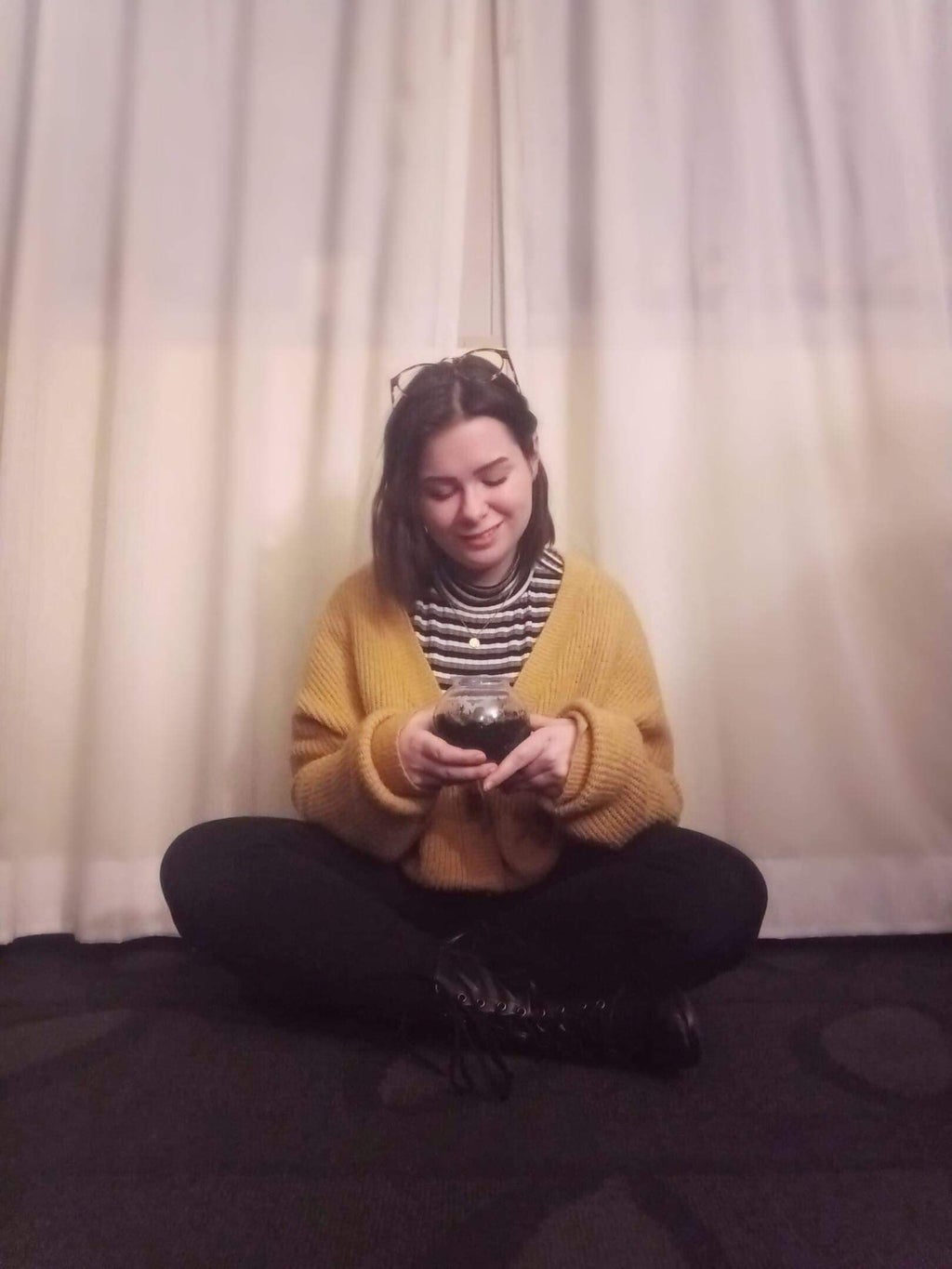 Wall-E's look was easily the most comfortable look of this little challenge. I've never used non-human characters for inspiration, so coming up with this look was kind of challenging. I ended up sticking to his yellowish-tan color scheme with the sweater focal point, and I used the mock-neck and the only jeans I wore this week as tie-ins to his caution-striped arms and black tires. To add a little bit more of Wall-E's signature look, I used my reading glasses as a makeshift accessory for the day to mimic his binocular-shaped eyes. 
This look was ideal for the study day I had planned. It was cozy while also being put together enough to keep me from staying in bed all day. For how simple the outfit was, my confidence level was pretty high! Even though it was a muted look, the pop of color from the sweater brought a lot of happiness to the outfit, and there wasn't ever a point where I felt out of place or insecure. 
Day 3: Belle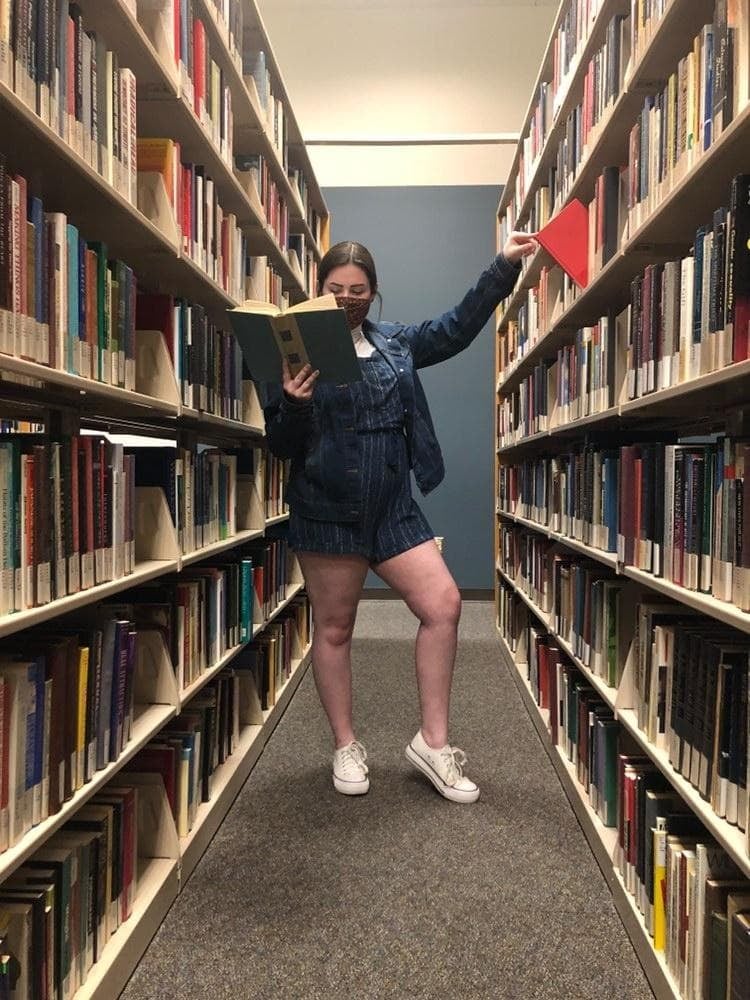 The Belle-inspired outfit was without a doubt my absolute favorite! It was the most like my own personal style and is a look that I'll probably keep in my normal rotation. The denim-on-denim look of the overalls and jacket had just the right amount of balance with the white of the turtleneck and platform sneakers. All together the look had a great flirty, vintage vibe that I was obsessed with. 
Even with minimal makeup and a simple hairstyle, my confidence completely soared in this outfit. The comfort of this look mixed with a silhouette I don't normally wear gave me the extra boost of confidence and motivation to actively participate the full two hours of one of my lectures, to rush around campus, and to pose in between library shelves. The whole day, I had a spring to my step, and the compliments I received on both my outfit and my energy were additional benefits!
Day 4: Moana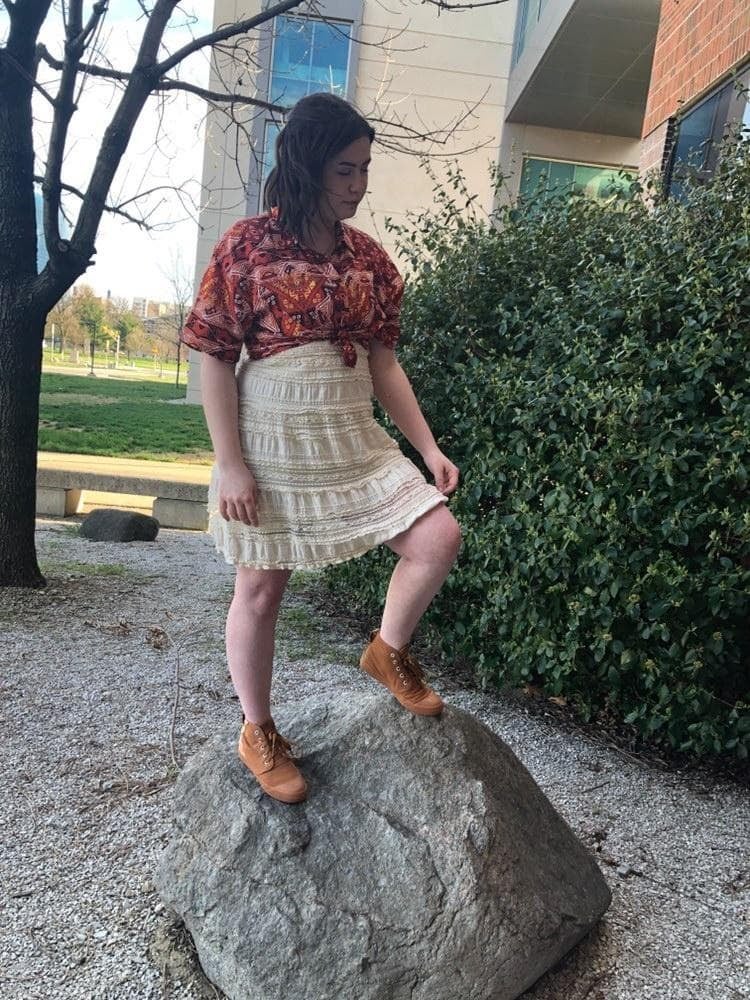 Surprisingly, I had the perfect pieces for this Moana look, but I never would have imagined putting them together. This outfit really made a statement and was… loud. Luckily, the patterned top paired with the texture of the shifted lace dress underneath recreated Moana's style perfectly. It's a little hard to walk around campus barefoot, so I finished the look with canvas sneakers embroidered with a sunrise. This outfit felt adventurous in both the fashion department and in its theme. 
I was pleasantly surprised with how cute I ended up feeling in this outfit given how far out of my comfort zone it was. I think my spirits were forced to keep up the outfit, so I could walk around without feeling like I was wearing a costume. One of my key responses I noticed while wearing this look was that anytime I was complimented, I felt the need to explain why I was wearing it. I couldn't just accept the compliments. It was like I had to clarify that this wasn't something I would normally choose. Because of that, I would say my confidence level of the day stayed in the middle range. 
Day 5: Finn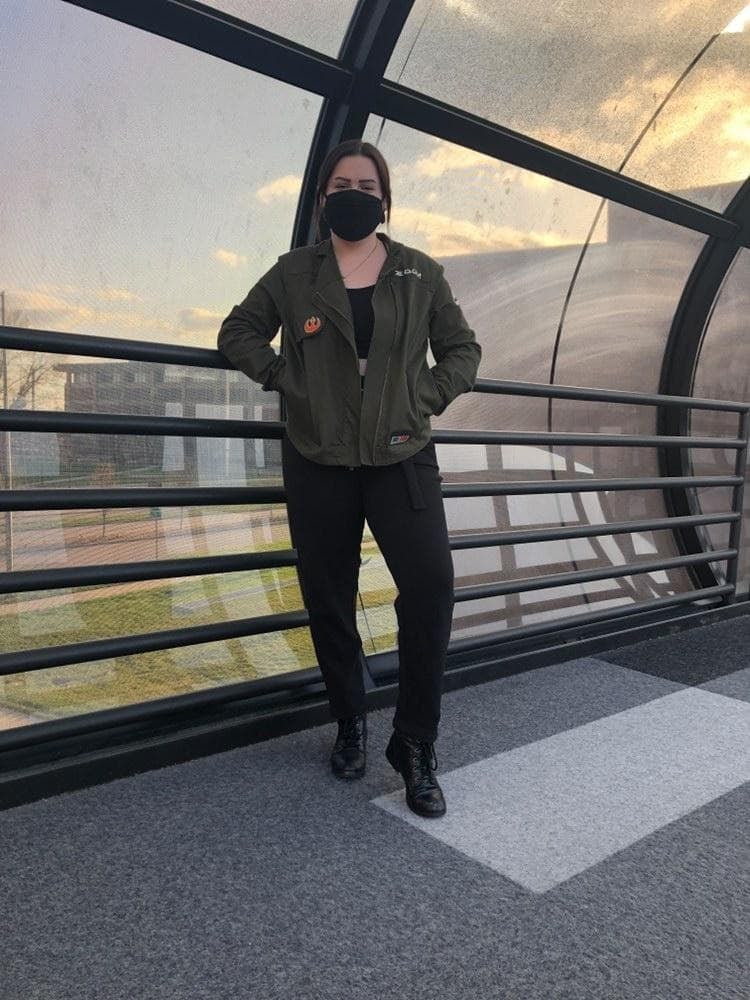 After four days of animated characters, I decided to end the week with a bold, Star Wars-inspired look. A full-length black shirt and high-waisted black pants seemed a little much to me, so I put my own twist on the look by breaking up the dark colors with a crop top instead. I topped it off with a rebel pilot jacket I purchased at Disney World to match Finn's jacket. When combined, the pieces of this outfit merged into what I referred to the whole day as a Star Wars power suit.
The confidence I felt in this outfit was different from the confidence I got from the other outfits from the week. I felt strong and striking! The silhouette also made me feel body-positive throughout the entirety of the day. I was genuinely shocked that I didn't feel more uncomfortable in this look, because I normally stay away from wearing an all-black look unless I'm dressing up or trying to make a statement. 
Final thoughts
I would honestly recommend trying out Disneybounding to anyone who needs some new life added to their confidence! At best, you may find looks you can add to your regular style and looks that surprise you. At worst, you get pushed a little outside of your comfort zone and can find styles that you probably wouldn't wear again, but that are nice changes to experience for a day. In the end, I feel like my confidence benefitted from this experience. It taught me to branch out from the normal restraints I place on fashion and it added a new level of fun to average college days!