Candy hearts and red balloons are lining the pharmacy aisles, which can only mean one thing: Valentine's Day is around the corner!
Whether you're going on a hot dinner date with your S/O, or having a casual night in with your bestie, you're probably wondering what to wear this Valentine's Day. Luckily, you don't have to look any further than Amazon for your perfect outfit.
From a cozy knit sweater that'll keep you toasty on a cold February eve, to a slouchy jumpsuit you'll want to wear long after the holiday is over, these 25 pieces are exactly what you'll want to add to your wardrobe.
Check them out, and pick your cute, affordable, favorites to order from Amazon Prime!
Off Shoulder High Waisted Jumpsuit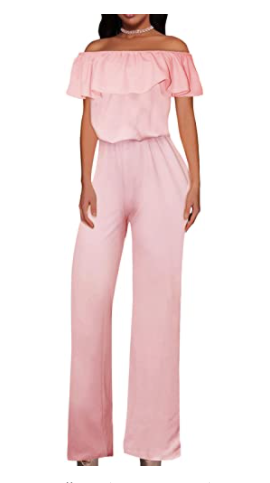 This jumpsuit is cute and chic and comes in 44 different colors and patterns, including Blush Pink, which is perfect for celebrating the day of love. Whether you're out dancing or eating dinner, it's also super comfortable because it's made of a fabric that's blended with spandex. Bonus? It's machine washable!
Long Sleeve Knit Sweater
Nothing says Valentine's Day like a heart! And, if you're not really into the pinks-and-reds of the holiday, this knit, super-soft sweater comes in blue, and pairs perfectly with jeans, leggings, a skirt, or over a dress.
Long Sleeve Tie Up Crop Top with Feather Trim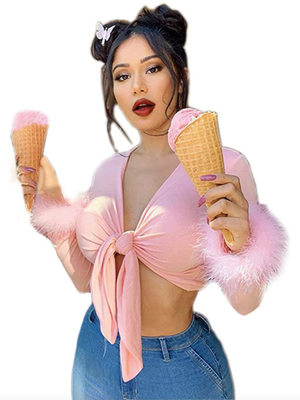 If you're searching for an adorable top to wear for GNO to celebrate V-Day, then look no further: this is it. The feather trim is unique, and it comes in multiple colors, so you can match your favorite pair of jeans with it.
Open Back, Criss Cross Mini Bodycon Dress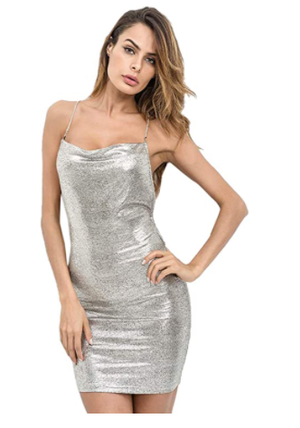 Now that IRL events are coming back, this Valentine's Day is sure to be magical. So, why not dress up in this sparkly dress to really make the night one to remember?! In addition to having sequins, the fabric is stretchy, too, which to me, means eating an endless amount of chocolates without a care in the world.
Plush Heart Shaped Crossbody Bag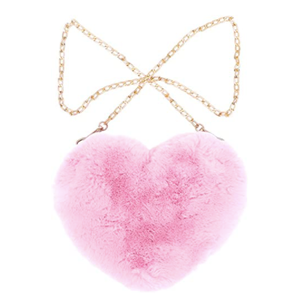 What's cuter than a pink purse?! A pink purse that's shaped like a heart! It comes in other colors, like white, grey, brown, and red, so you can add this crossbody to any outfit, whether fancy or casual! This plush purse is the perfect accessory on nights you plan to leave the bulky bag at home.
2 Piece Heart Print Pajama Set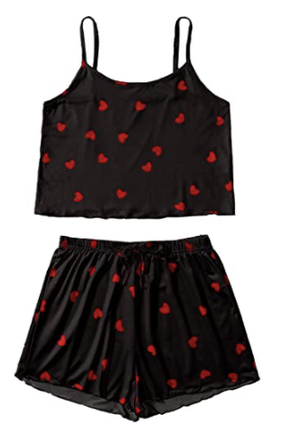 Do your Valentine's Day plans consist of a couch, chocolates, a rom-com, and your BFF? Then this is exactly what you need to make your night even better. This PJ set with hearts is stretchy and is also made of mostly cotton so it's super soft, too. What more can you ask for?
Zip Up Long Sleeve Crop Jacket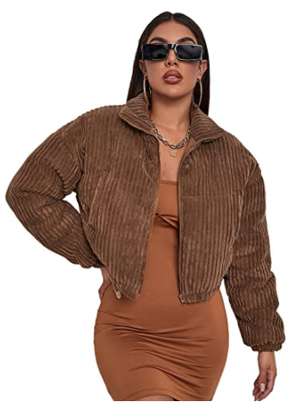 In most places, when February comes around, it's chilly! So why not get a coat that will not only keep you warm as you head out for Valentine's Day plans but is also super cute? Zip up the jacket all the way to your neck to brace yourself for the frigid air, or leave it open to show off your 'fit underneath. No matter how you wear it, this casual coat will make you look super chic for the holiday of love.
Cut Out High Waist Long Trousers with Flare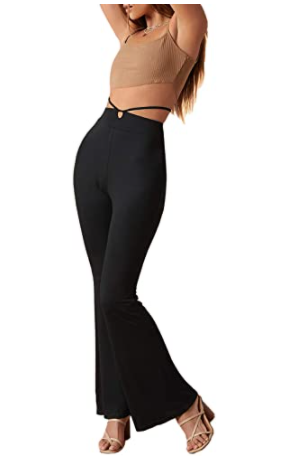 When in doubt, wear flare! These pants are more than just your regular trousers. With a cut-out at the waist, turn any outfit into a sexy one. So, if you're coming from class or work, you can quickly turn up the heat for Valentine's Day by pairing your jeans with a crop top to show off the unique design. They're also made of a stretchy material, so can be worn pretty much to do anything!
Long-Sleeve Ruched Button Down Shirt Dress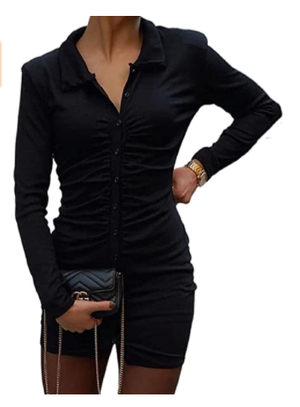 Say yes to this dress! This soft and breathable button-down is perfect for a hot date for Valentine's Day. Pair it with some tights and booties, and add some jewelry, and you've got yourself a whole look! Plus, it comes in almost 20 different colors.
Heart Checker Print Sweater Vest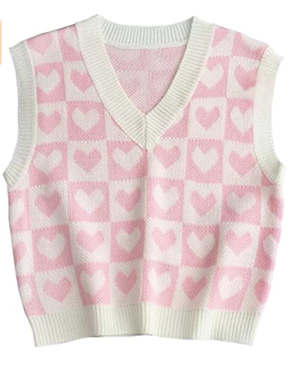 If you're a self-proclaimed '90s E-girl, then I'm sure you've already fallen in love with this sweater vest. With a detailed print of delicate checkered hearts, this soft, sleeveless, pullover sweater is comfortable to wear with any outfit for Valentine's Day!
Snakeskin Spaghetti Strap Tube Top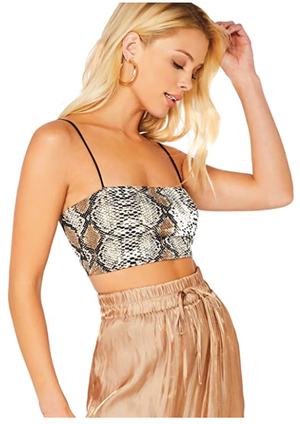 Picture this: your favorite skater skirt, sheer black tights, combat boots, and this snakeskin crop top. Cute, right?! This pattern is totally trendy and can make any outfit come to life.
Rhinestone Padded Headbands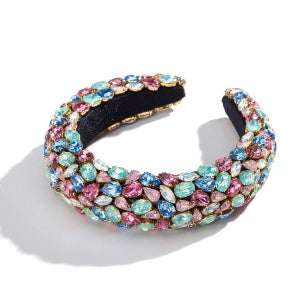 This elegant accessory is a great addition to your outfit this Valentine's Day! The rhinestones will shine just like your personality when you're on that hot date. So, make this the finishing touch to your outfit!
High Chunky Platform Heels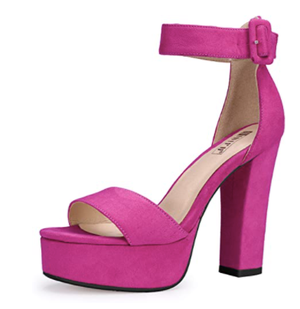 Because Valentine's Day is the holiday of love, you should show yourself how much you love yourself by getting these comfortable platform heels with arch support. And, if you're not into the Rose Red Suede, you can choose from almost 20 other colors – all of which are slip-resistant, soft, and will match any other outfit.
One Shoulder Long Sleeve Cutout Crop Top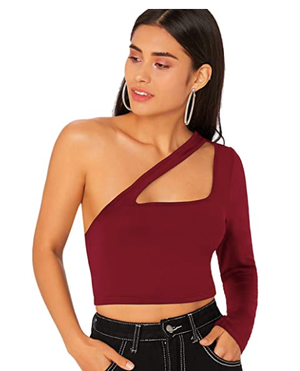 This semi-stretchy, stylish, one-shoulder crop top will show off your sexy side this Valentine's Day. Pair it with some jeans and all eyes will be on you!
Tie Front Long Sleeve Rib Knit Cardigan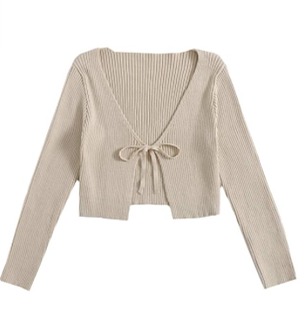 Getting Valentine's Day brunch with your besties? Then you should definitely wear this soft, comfy, and stretchy ribbed knit cardigan. The tie in the front is girly and would look great paired with any bottoms. It's also machine washable so if you accidentally drop the chocolate-covered strawberry your BFF gave you as a gift, it won't be hard to clean it off later!
Fuzzy Faux Fur Memory Foam Slippers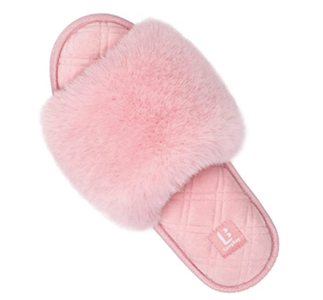 If the name of the game this Valentine's Day is comfort, then these fuzzy slippers are the way to go! Made out of memory foam, these house shoes come complete with faux fur to keep you cozy while you're making cupcakes.
Heart-Shaped Sunglasses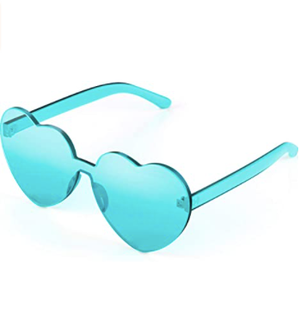 Are you hosting a Valentine's Day party in your dorm for your closest besties?! Then these fun heart-shaped sunglasses are perfect! They're only $9, so if you have some extra cash laying around, it would be the cutest gift for your guests. Plus, they come in 17 different colors, so everyone can choose their own. Think about how cute the posts on social media would be!
High Waisted Bodycon Midi Skirt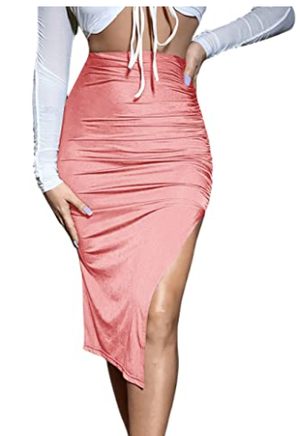 If you're someone who likes to buy pieces of clothing that you can re-wear then you're going to love this skirt. This pull-on, high-waisted bodycon midi can be dressed up and made sexy to go to a Valentine's Day party with the split thigh, and dressed down and made conservative to give a presentation in class on another day. Though the skirt fits tightly, the fabric is stretchy, so no need to worry about it being difficult to get on and off!
Long Sleeve Open Front Shaggy Faux Fur Jacket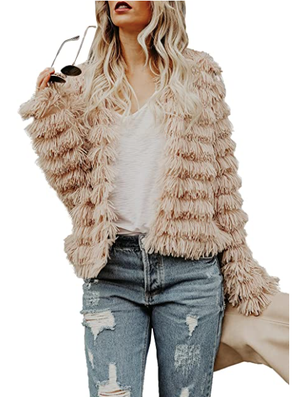 Comfort is just as important as style. And so if you're looking for a look to wear on this V-Day that is chic, but allows you to sit comfortably through dinner, ​​then this shaggy, faux fur jacket is perfect for you. It's breathable, cozy and warm, and is a great coat to add to anything from leggings, to jeans.
Cut Out Faux Leather Lace Up Pants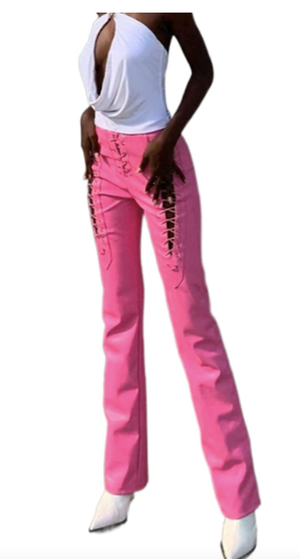 Wearing streetwear is the word on the street! These high-waisted, faux leather (but sensitive-skin-friendly!) pants are casual, and perfect for a day-date or night-date on V-Day. The cut-out drawstrings are vintage and unique, and can really speak to your special style. Pair it with some cowboy or Chelsea boots, and you've got yourself quite the 'fit. Just be sure to select which color you want, and size up in these trousers before ordering!
Mini Satin Dress with Spaghetti Strap and Cowl Neck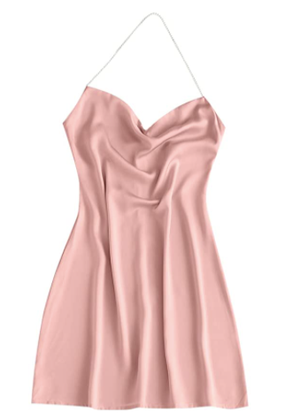 Are you celebrating your first Valentine's Day with your S/O?! Then you absolutely need this dress to make the night memorable and special. The cowl neck is so cute, the satin fabric is really comfortable, and the spaghetti straps are made of faux pearls, which makes this piece really unique – just like your date will be!
Gold Layered Beaded Necklaces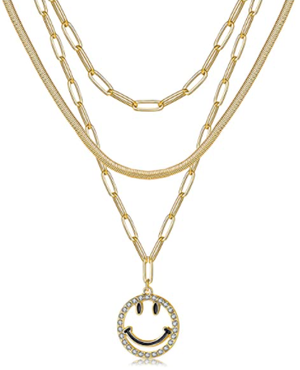 If you're feeling happy that it's V-Day, then get this smiley face necklace to help show your smile – and your outfit – off! You'll love these triple-layered necklaces that you have the option to wear together, or detach and wear separately for a non-layered look. Either way you wear it, it's the finishing touch you need for your outfit on February 14th!
Long Sleeve Self Tie Knot Satin Blouse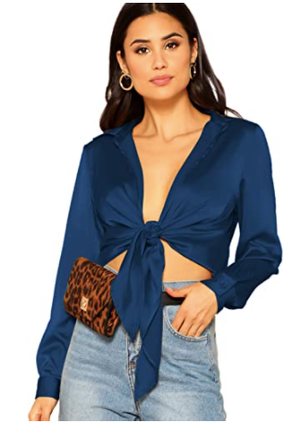 This satin blouse is classy yet casual, and would look great on you! If Navy Blue gives you the blues, there are 33 other colors to choose from in this long-sleeved, front-tie shirt. Pair it with a pair of jeans and boots, and you have the cutest outfit for your V-Day! Bonus points: it's really soft and super comfortable!
Sleeveless High Neck Open Back Halter Top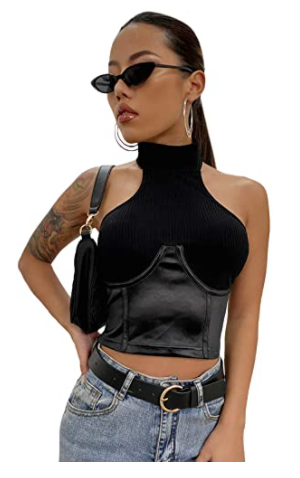 Give a big hello to this hot halter! Once you pull on this stretchy, comfortable, breathable top, you'll see how flattering the sleeveless, high neck look is. This is an ideal shirt for a date, or a night out with your bestie looking for cuties to talk to. It obviously will look great solo, but pair it with a jean leather jacket for a truly chic look!
Silky Pajamas Set Two-Piece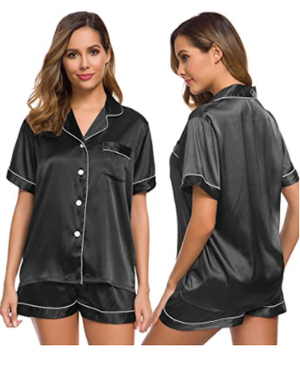 Think about what your favorite rom-com is. Now imagine yourself sitting on the couch with some chocolate-covered strawberries, watching it. Finally, picture yourself wearing these silky PJs. Is that not an ideal moment waiting to happen this Valentine's Day?! These loose-fitting, comfortable, soft and breathable PJs are not only perfect to lounge in, but also a way to spend a night-in, in style! Once you slip these satin pajamas on, be sure to grab the box of tissues before diving into the movie!
Did you find something you loved?! If so, consider signing up for an Amazon Prime Student membership to get these outfits delivered quickly, conveniently, and easily, right to your door!

Happy Valentine's Day, and happy shopping!