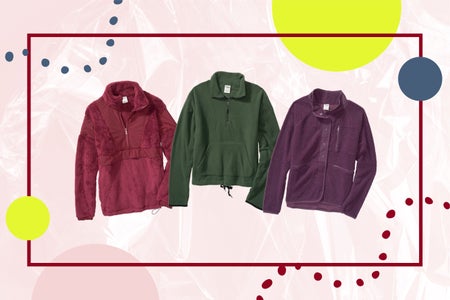 You Need To Add These Consciously Designed Gifts To Your Wishlist RN
This is a sponsored feature. All opinions are 100% our own.
Every year around the holidays, I set a personal goal to buy more consciously designed products. From my beauty cabinet to my closet, it feels amazing to stock up on self-care items while doing some good for the environment. Although being environmentally conscious during the holiday season can be tricky, brands like PINK are making shopping a lot easier. ICYMI, they just launched a gorgeous Kinder To The Planet collection and I'm adding all of the pieces to my holiday wish list.
The Snap Jacket
PINK
Winter in New York City is no joke, and I love a comfy jacket to keep me warm during these chilly months. This Cozy Snap Jacket from PINK is partially made with plastic water bottles, has zipper pockets, cute snap buttons, and features a relaxed fit, so it's perfect for layering over a t-shirt or light sweater. It even comes in different colors like Enchanted Forest, Mocha Latte, and my personal favorite, Blackberry Wine. If you're looking for a fun post-workout jacket or a cozy present for your friend who's always on-the-go, look no further than this consciously designed gift.
The Half-Zip Fleece
PINK
One of my favorite traditions during the holiday break is to meet friends for yoga (preferably in a heated studio, where we can escape the cold for a while). After a sweaty flow session, I love layering a light fleece over my workout clothes before braving the crisp city air. The PINK Polar Fleece Half-Zip is lightweight, adjustable, and partially made from recycled materials, so you can feel peaceful on and off the mat. If you're feeling festive, Red Pepper or White Shell fleece may be good options for you, or Enchanted Forest if you'd like something more zen.
The Oversized Teddy Half-Zip
PINK
In my ongoing quest to stay warm during the winter, there are few things I love more than curling up on the couch in an oversized sweater (while binge-watching classic holiday movies, of course). The PINK Oversized Teddy Half-Zip is perfect for this, and I won't lie, I've already added the Peppercorn version to my online shopping cart. The cute kangaroo pocket, adjustable hem, and oversized fit make this jacket a perfect addition to your winter wardrobe — which for me means yoga leggings and sweaters 24/7. The half-zip is also partially made of recycled fiber from plastic bottles, and comes in rich colors like Smokey Grey and Merlot Night.
If you're staring at your overflowing closet wondering how you can start living more sustainably, you're not alone. Small decisions can go a long way, and when you opt for clothes made from recycled materials, you're taking a step in the right direction. Whether you're shopping for yourself, family, or friends this year, check out PINK's new Kinder To The Planet collection, where you can look adorable while doing good.