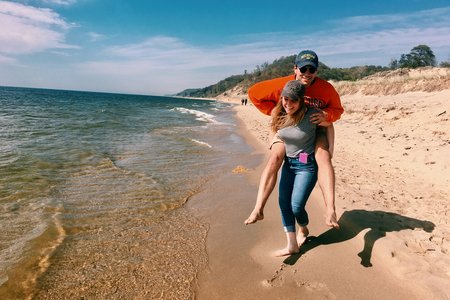 Charlotte Reader / Her Campus
I Asked 20 College Students What Trends They'll Be Wearing During Spring Break — Here's What They Said
Spring break is one of the most exciting times in a college student's life. It's the time to let loose, kick it with your friends and soak up the sun (hopefully, there's sun). With spring break just around the corner, you may already be thinking about what you'll want to wear. What's trending? What are others planning on wearing?
Don't panic, we've got you covered! College girls from all over the world shared their favorite fashion trends which you can definitely expect to see this spring break!
The first on our list is an accessory. Katina Porras of Wake Forest University said that her favorite style trend at the moment is wearing big sunglasses. Of course, we've seen celebrities like Kim Kardashian wear statement shades all the time, but they're definitely going to be a staple among college students this spring break.

Skinny jeans, who? Sorry, I don't know her. This one shouldn't come as a surprise as we've literally seen these everywhere. Mom jeans are in and college girls everywhere are absolutely loving this trend. "It's definitely refreshing after years of wearing skinny jeans," said Celina Aquino of Illinois State University. Another college girl, Tess Ware of Central Michigan University noted she's a fan of the jean trend, saying, "I mostly wear Levi 550s that I thrifted."

What goes better with mom jeans than your favorite pair of sneakers? Jordan Ettien of Millersville University of Pennsylvania said "wedge sneakers for the win!" This is a trend you'll definitely be seeing during spring break as sneakers go well with every outfit. My personal faves are white converse since they match well with all of my spring dresses, skirts and obvi my mom jeans!

Wondering what else matches well with sneakers? Midi skirts! They come in so many different patterns and fabrics that you'll definitely be able to find the right one for you. University of Connecticut student, Lauren Ablondi Olivio said, "I think floral midi skirts are going to be in during springtime." Another student, Genevieve Holding from the University of Tasmania said, "the silk midi skirt will definitely make a comeback!" You better get yours before they all sell out.

This is a big one! At least 10 college girls who were interviewed for this story said that they're most excited about patterns and prints. From polka dots to cheetah to snakeskin, there's no doubt that you'll be seeing a lot of prints during spring break. Eleanor Wright, a student from the University of Nottingham, said that she loves to style animal print skirts with a plain tee, while Holding said that she is most excited about "wrap dresses with wild prints."

6.

High waist swim bottoms

 If you're lucky enough to live somewhere warm and sunny, then you'll probably be seeing a lot of high waist swim bottoms from the pool to the beach. "I expect that trend to remain super popular through spring break," said Ariana Horne of the University of New Hampshire. Other college girls said they'd expect to see neon and floral print high waist bottoms trending as well.

If you're already over the scrunchie trend of Urban Outfitter's past and looking to try something new with your hair, you might want to check out oversized hair clips. Moya Leung from Georgia State University said, "some of my favorite style trends are the oversized pearl/bedazzled hair clips." These look great styled with wavy hair!

Not into oversized hair clips? You might want to consider headbands or hats! "Right now I'm really loving chunky headbands," said Ablondi Olivio. "I think the thing I wear the most is knotted headbands," said Ware. Other college girls said they'd expect to see big, statement hats as well. 

9.

Graphic tees & band shirts

"You can never go wrong with a classic band-tee and denim," said college girl Rachel Mittelstaedt who attends the University of Iowa. Graphic and band tees pair perfectly with all of the other items on this list and will definitely be popularly worn this spring break.

Looking for a statement piece? Try some jewelry! Mittelstaedt said that statement jewelry will be popular this spring break, adding, "I have been rocking lots of tortoiseshell earrings lately". Other college girls, like Ally White from Columbus State, said that they expect to see lots of gold pieces throughout spring break. Some of my personal fave jewelry trends at the moment are wearing lots of thin rings and big statement earrings!
So now that you know what fashion trends will be in this spring break, you have nothing to worry about! Look through your closet and see what fashion you may already have that's back in. Or, do some of my fave cardio (shopping) and get ready to have the best and stylish spring break yet!