In case you couldn't make it out to the first stop of College Fashion Week 2014 in Boston this past weekend, we've got the inside scoop on what you missed! The spectacular event, held on October 4th at The Estate Club, was a huge success, with lines winding down the block. Check out snapshots of some of our favorite moments!
The weather was off to a rather icky start, but that didn't stop these eager guests! Fashion waits for no one! Hundreds of collegiettes turned out in their finest to see the season's fab new fashions.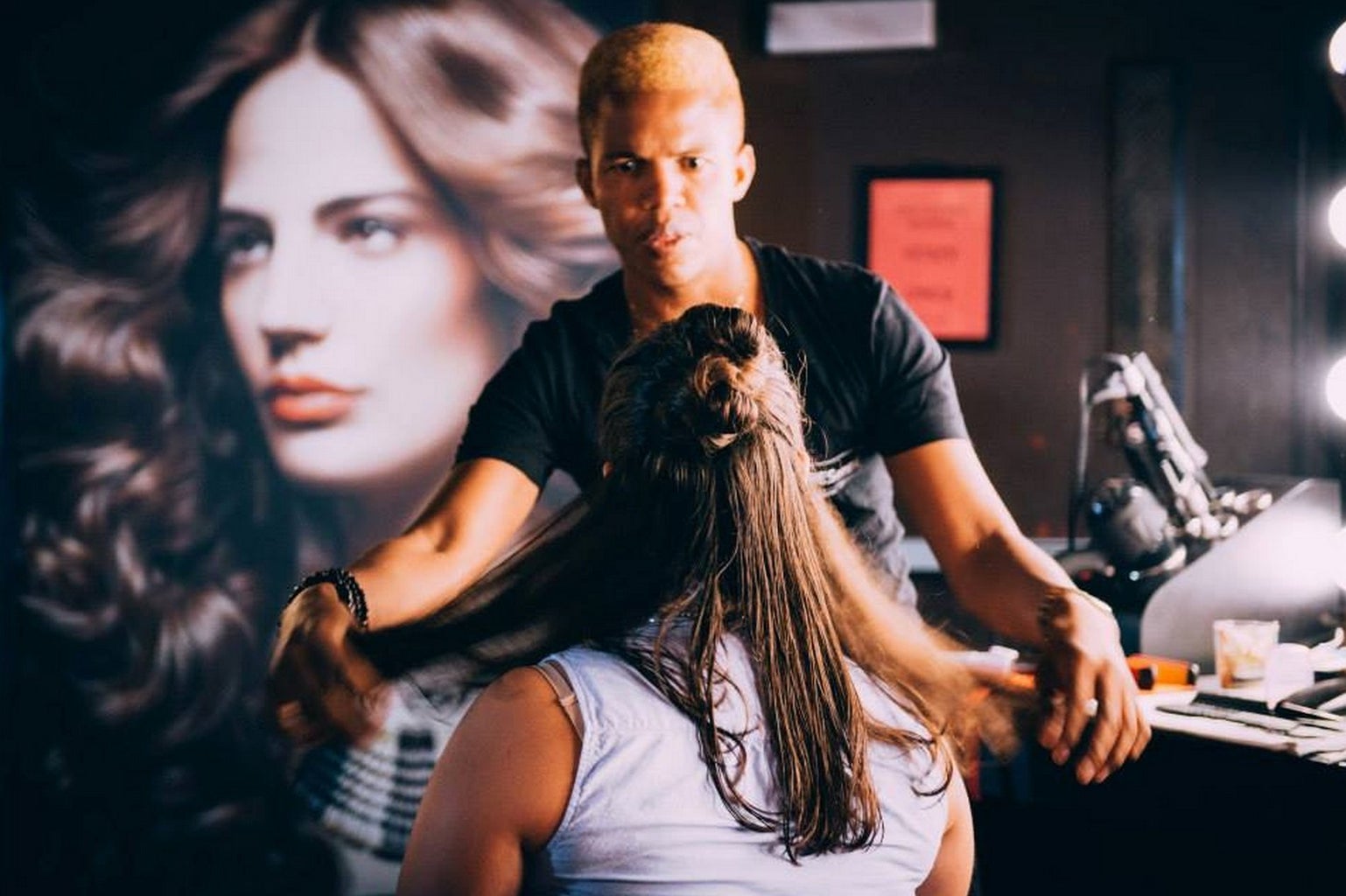 Backstage, things were heating up! TRESemmé, the official hair care sponsor of CFW, sent fantastic stylist Tyler Laswell (pictured below) and his team over to put together all of the super-chic looks. The Imperial Casual Double Bun seen above turned out so well! How amazing would this hairdo be for a night out with the girlfriends? Follow these easy tips to recreate the look for any collegiette occasion!
Apply TRESemmé 24 Hour Body Foaming Mousse on damp hair, and rough-dry.
Wrap hair loosely around the barrel of a 1-inch curling iron, leaving ends out. Alternate the direction you wrap the hair around the iron to create an irregular wave.
Start at the forehead and pull the hair at the crown of the head back and secure in a small messy bun with a bobby pins.
Next, pull the hair from the temple back into a small messy bun directly below the existing bun and secure with a bobby pins.
Lightly pull loose wisps around the hairline forward for a airy, relaxed look.
Evenly mist the look with TRESemmé 24 Hour Body Finishing Spray for a shiny, just-left-the-salon look!
For more hair how-tos, check out TRESemmé's ultra-helpful YouTube demos.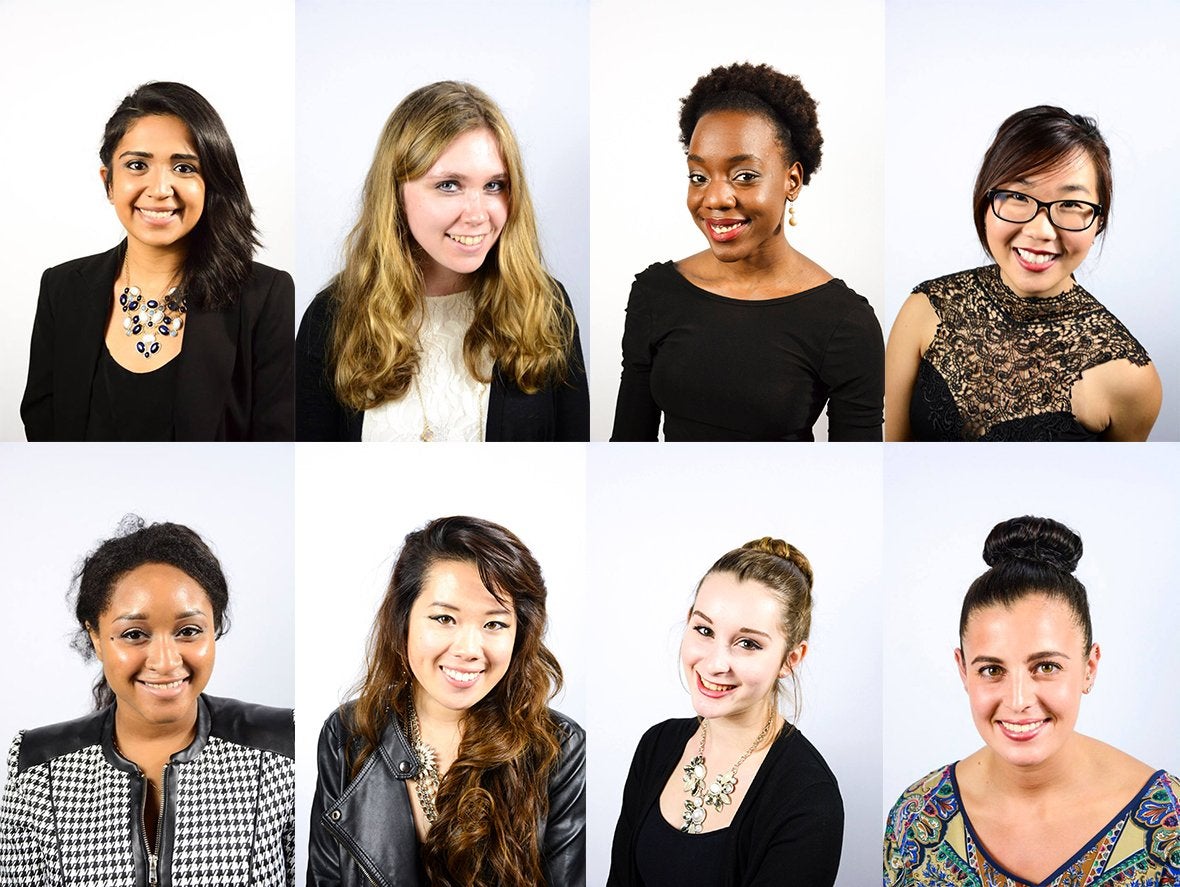 The professional headshot station was a hit! These ladies' LinkedIn profiles are going to be a whole lot happier now that they have some incredible headshots to feature.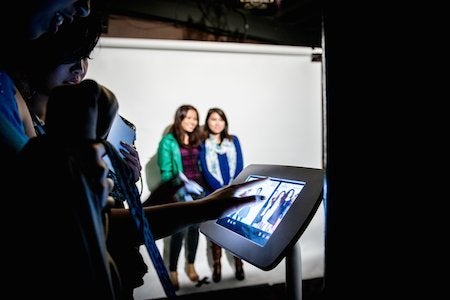 Headshots weren't the only a-maze photos these Boston collegiettes walked away with! Attendees had the chance to play around in The Bosco photobooth courtesy of Premium Outlets, which creates GIFs out of a series of your snapshots! Yes, you heard us right: A GIF OF YOURSELF. This is the moment your inner star has been waiting for! Check out the GIFs here.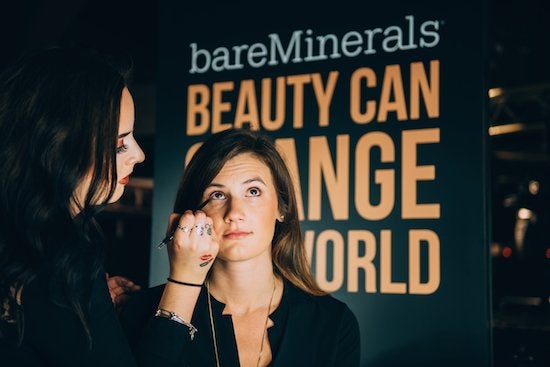 bareMinerals, the official beauty sponsor of CFW, offered makeup touchups and provided so many goodies for event attendees. Many collegiettes even received a full-sized, shade-matched foundation and a high-quality brush; score! The girls had so much fun getting flattering make-unders from the bareMinerals experts, highlighting their features and feeling more fabulous than ever on a fun night out.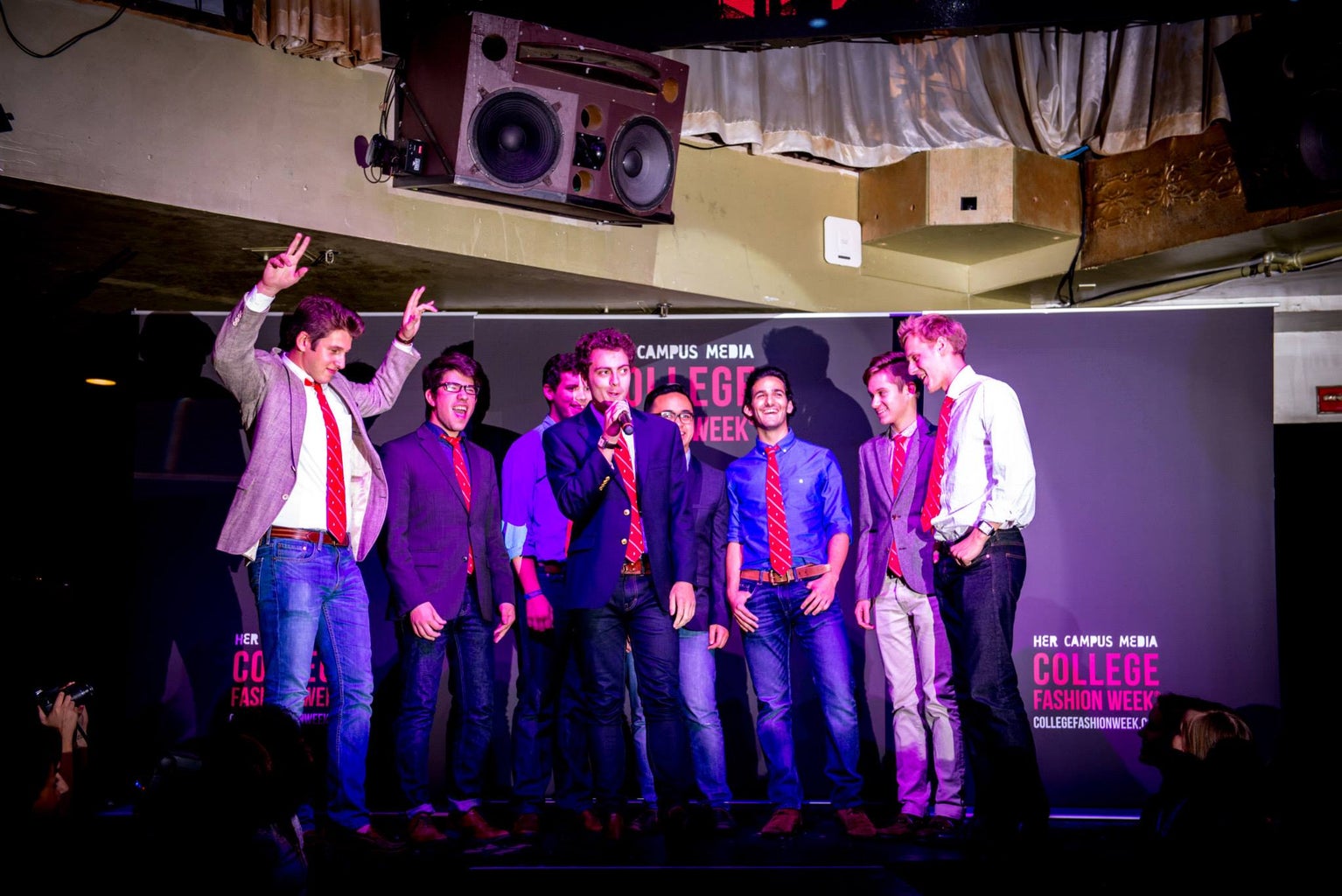 Boston University's all-male a capella group, the Dear Abbeys, charmed the crowds with their smooth tunes. Oh, and everyone was swooning.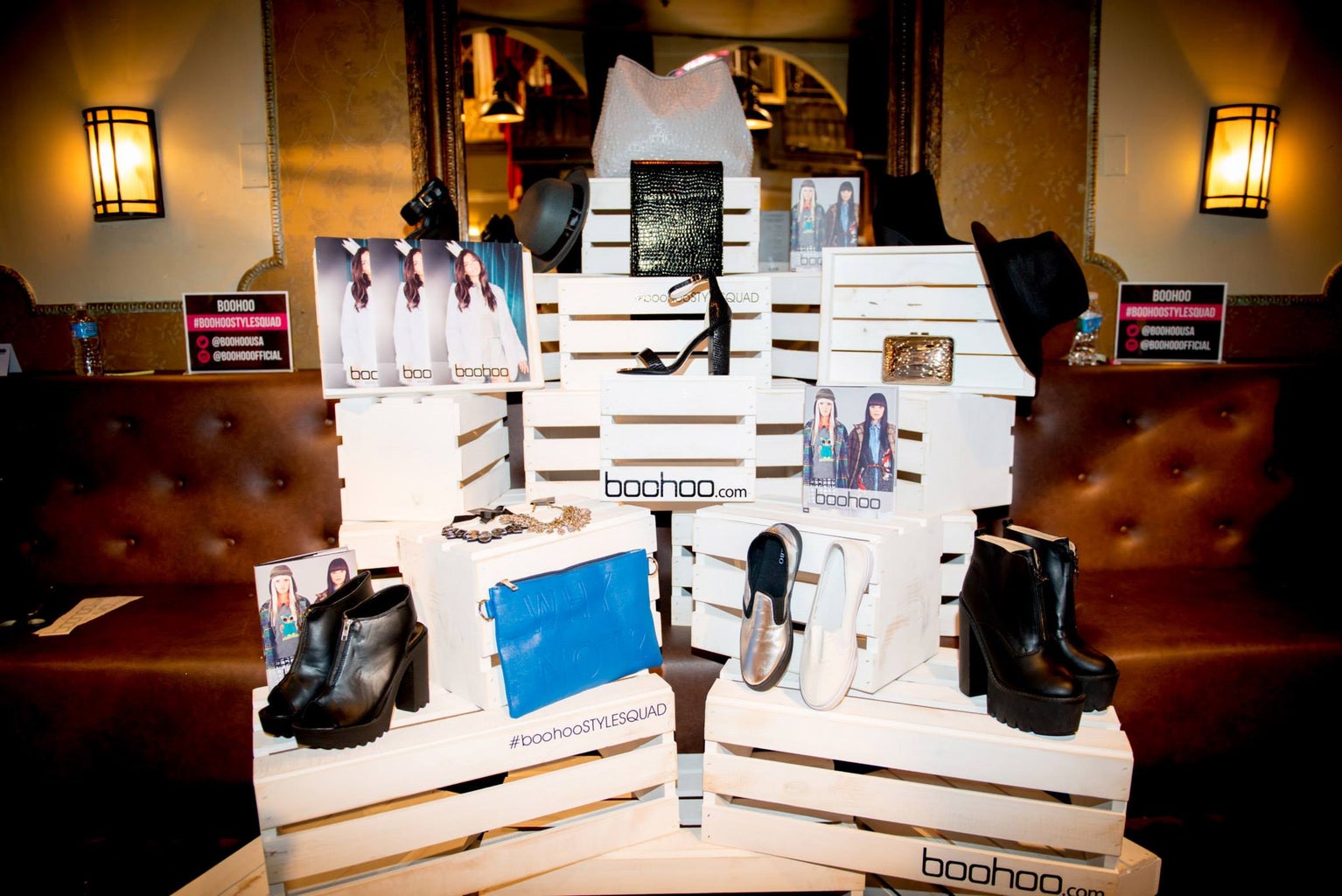 As the official fashion sponsor of CFW, U.K.-based retailer boohoo.com showcased the hottest trends on the runway and in the fashion closet! From the U.K.'s best-kept secret to one of the fastest-growing international e-tailers, boohoo.com has quickly evolved into a global fashion leader of its generation; it's obvious why when you see its style-savvy looks!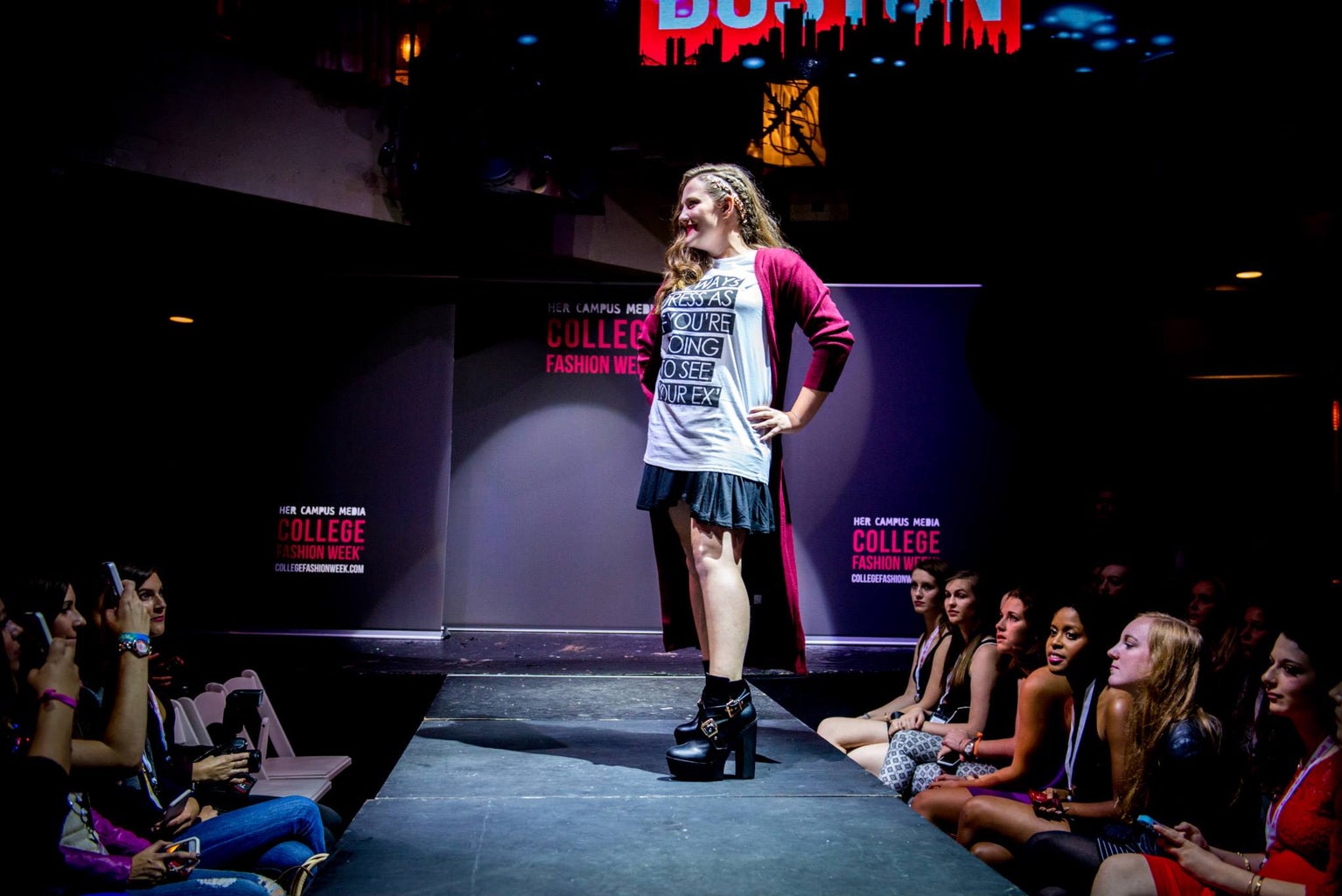 This streetwear ensemble from the boohoo Brooklyn Princess (streetwear gets sleek with a feminine touch) scene was one of our faves, and not just because the phrase on that graphic T-shirt speaks the truth ("Always dress as if you're going to see your ex")! Other scenes included trends like Imperial (military styling gets a grown-up makeover with utility jackets and silky rompers) and Woodlander (all about English heritage, with kitsch forest prints and an earthy brown color palette). Do we want them all? Yes, yes we do. Plus, at affordable prices, the clothes the collegiettes modeled could easily end up in all of our closets in no time.
These shoes are simply to die for. We're so envious of the collegiette model who got to rock these down the runway!
This is just a snippet of the dazzling night, collegiettes! For more photos, check out the Facebook album or "like" College Fashion Week to get even more behind-the-scenes snapshots and updates! If you thought Boston's show was awesome, get ready, because College Fashion Week 2014 is only just getting started. With three stops left in New York City, Chicago and San Francisco, there's still a whole lot more fun and fashion in store! We hope to see you at one of the next shows – RSVP now to score your spot!
Photos courtesy of Alyssa Greenberg.