You'll Want to Stock Up On This Jewelry Trend For The Fall Semester
2019 has truly been the year for playing around with different jewelry trends. I don't know about you, but my jewelry box is overflowing (not a bad problem to have, TBH). From huggie earrings to the revival of the puka shell, there have almost been too many trends to keep up! Luckily, I'm here to fill you in on the latest jewelry trend that is about to blow up this fall: chain jewelry.
Chain jewelry is just simple enough that it can be incorporated into almost any outfit, so you're going to want to stock up. From chunky double-hoop earrings to delicate chain necklaces, there's a piece for everyone. Clear a space in your jewelry box for what I'm sure is about to be your new everyday staple. 
Luxury layers
 Diviana Chain Necklace Set, Baublebar, $14, shop now
This layered chain necklace is perfect for those who love to make a statement. Its Y-chain shape will make it stand out among your stash of basic chokers. 
Ankle flair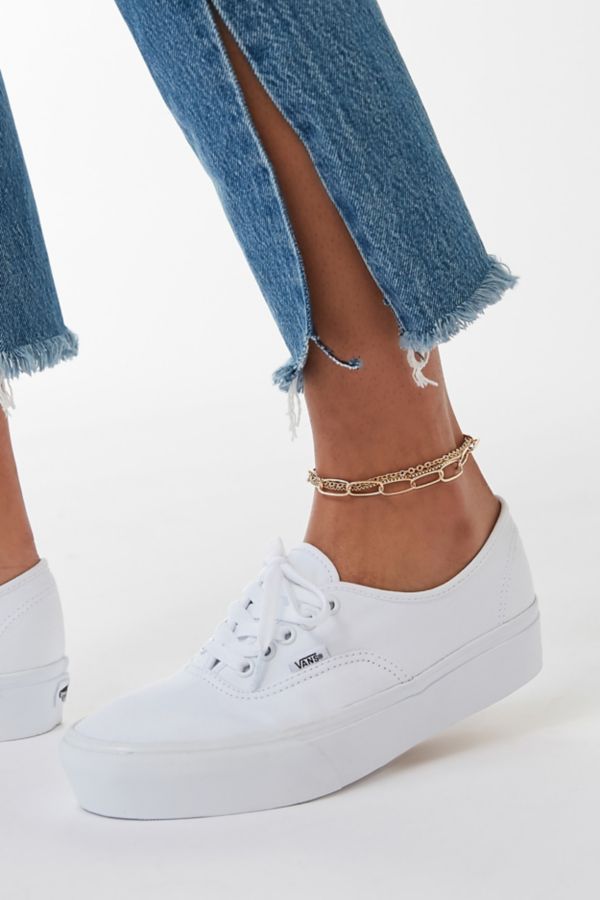 Multi-Chain Anklet, Urban Outfitters, $16, shop now
Show your ankles some love - and draw attention to your killer shoes - with this pretty chain anklet.
Sweet & simple
Sweet Nothing Ring, Catbird, $44, shop now
This delicate chain ring looks just as pretty on its own as it does layered with other rings. Prone to catching the light, this ring shimmers every time you move - it's like your own personal disco ball! 
Your new BFF...
Parker Necklace, Gorjana, $65, shop now
This pretty chain has a retro vibe that makes it anything but basic. You're going to be wearing this one every day. 
...and your new BFF's BFF
Parker Hoops, Gorjana, $55, shop now
If you love the Parker Necklace as much as I do, you'll love the matching hoops. Wear them together and show all of your friends that you're ahead of the curve when it comes to new trends.
Low-key trendy
The Chain Link Ring, Vanessa Mooney, $35, shop now
If you want to test the waters with chain jewelry, try adding this chain link ring to your everyday ring stack and get ready for all the compliments. 
Arm party
Sammi Bracelet Set, Baublebar, $12, shop now
Stack the gold chain bracelet and its matching red thread with any other bracelets you own for the perfect everyday arm party. The more the merrier!
If you're looking to get a head start on all of the fall trends, look no further than chain jewelry. From layered hoop earrings to delicate rings, chain jewelry is the most versatile of the jewelry trends we've seen this year. Even paired with basics, adding a chain or two to your look is a surefire way to elevate your style game.