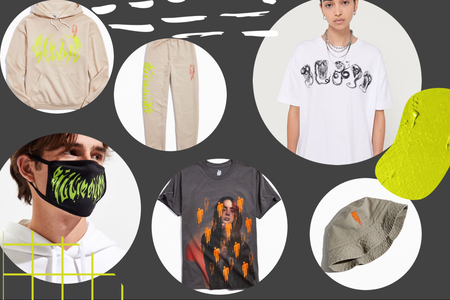 Photos: Urban Outfitters; Edit: Celina Aquino
Urban Outfitters Just Dropped an Exclusive Billie Eilish Collection & Here Are The Best Pieces I'll Be Copping
The opinions expressed in this article are the author's own and do not reflect the views of Her Campus.
Billie Eilish is the coolest teenager on the planet right now. With her ahh-mazing music and free-spirited style, everyone just can't get enough of her (you know you have at least one favorite song by her). The 17-year-old artist is especially admired for breaking the norm and embracing her personal style — who else could make oversized clothes look so dope? Well, I've got good news: you can now shop the Billie Eilish x Urban Outfitters collab! We don't want to be a copycat (see what I did there?), but this is the closest we'll get to her unconventional but cool aesthetic. 
Urban Outfitters dropped the exclusive collection yesterday, and TBH, I'm already so obsessed! From graphic tees to accessories, my credit card is in a whole lot of danger right now. I mean, let me just show you my top picks:
Zipping your jacket up or wrapping the bottom half of your face with a scarf might not always work. A face mask will help protect it from the harsh winds — and that's for sure a cool way to do it.

Billie and UO know what's good. A t-shirt dressed to have a baggy fit? Yes, I'm so here for it!

Listen, bucket hats are cool again. If you still haven't snagged one yet, this needs to be added to your cart, like, NOW.

Crew necks are my favorite go-to top. Sometimes you just can't hoodies, you know? 
Hey, I don't want to be a bad guy (I'm on a roll) and encourage online shopping instead of paying attention in class, but you know you want to. We're talking about Billie Eilish here. You already know this collection is going to sell so fast, so you better get your hands on these pieces ASAP.
The Her Campus National Editors write about products we love and think you'll love too. Her Campus has affiliate partnerships, so we get a share of the revenue from your purchase.