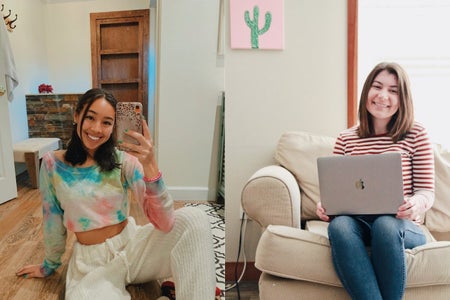 Original Photos by Aurea Ocampo & Emma Pitzl
11 College Women Share the WFH Fit They Could Live in All Week
Leggings or jeans? Fuzzy socks or shoes? A sweatshirt or a cute top? I'm currently wearing a comfy jumpsuit with no shoes, because there's no one to stop me—but I wonder what other college women are wearing during these days at home. I talked to several students about the work-from-home fits that they've been living in all week. 
Emma Pitzl, University of Minnesota '20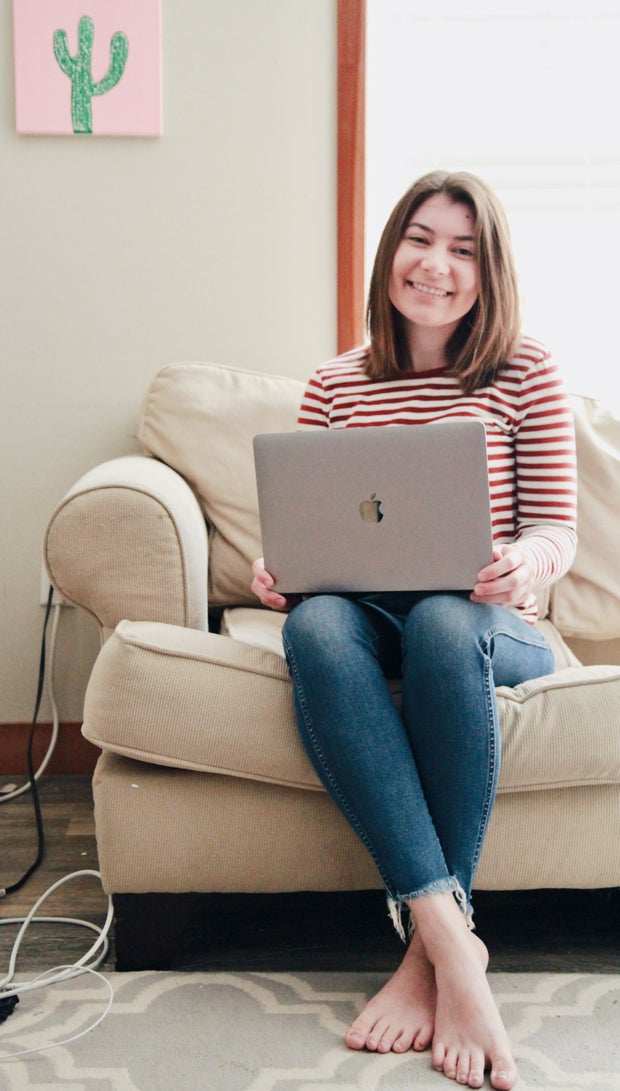 Original Photo by Emma Pitzl
When I work from home, I like to get dressed as if I were going out in public. It makes me more motivated to work and it becomes easier to separate working hours from hours when I am relaxing at home. I also love Madewell jeans because they are comfortable and cute at the same time, and they fit SO WELL.
Sienna Hicks, Azusa Pacific University '20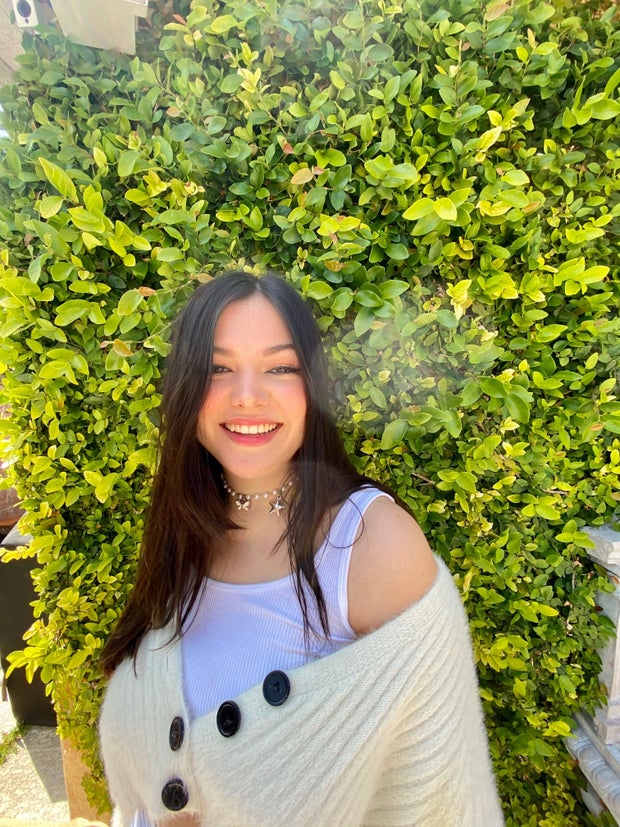 Original Photo by Sienna Hicks
This is my outfit today. Honestly, I have been trying to get dressed every day and look cute so I will feel more inclined to do things. I was feeling an all-white fit and it made me feel really cute, but made me sad I couldn't go show it off. 
Leilani Steinberger, California State University, Channel Island '21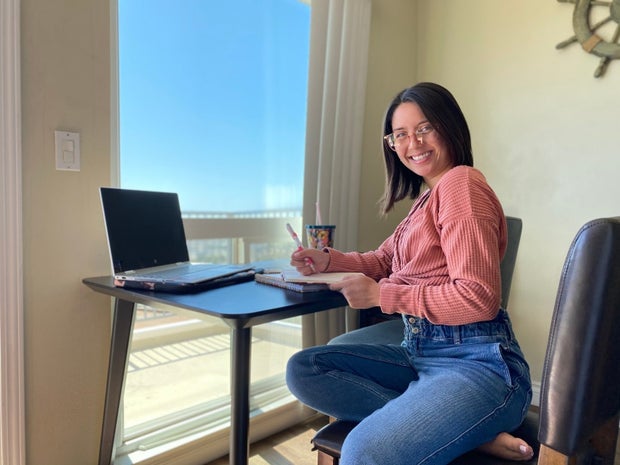 Original Photo by Leilani Steinberger
This is my favorite pair of jeans. They are as comfy as sweats, and still have the stylish look of jeans. I could wear them to bed if I wanted! My shirt is my favorite because the material is so soft and flexible—I can twist it in a knot to make a cute crop top, tuck it in, or let it loose to have a flowy look. It's also pink which is my favorite color –– just like my glasses! There is always a way to dress up comfy clothes to look cute and comfy at home.
Mercedes Broadway, Azusa Pacific University '20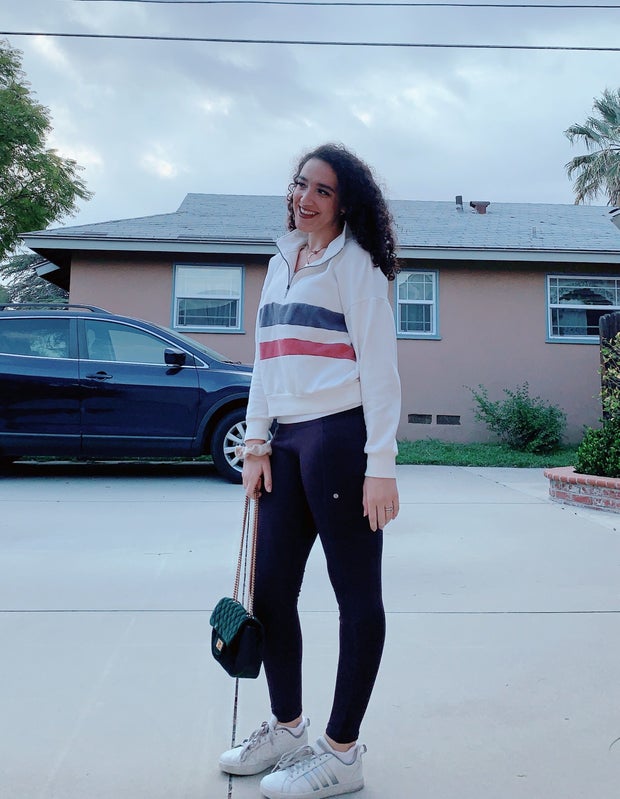 Original Photo by Mercedes Broadway
Who doesn't love throwing on a simple sweatshirt and sweatpants? This is the perfect time to take advantage of that. I like to wear comfortable clothing, but emphasize my accessories because it makes it seem like I put in more effort than I did. Wearing earrings and layering necklaces on sweatshirts, tees, and cardigans makes you look stylish and presentable. It can really transform the look, and yet you are still left with the wonderful perk of comfortability and effortlessness.
Elise Navarro, Colorado Christian University '21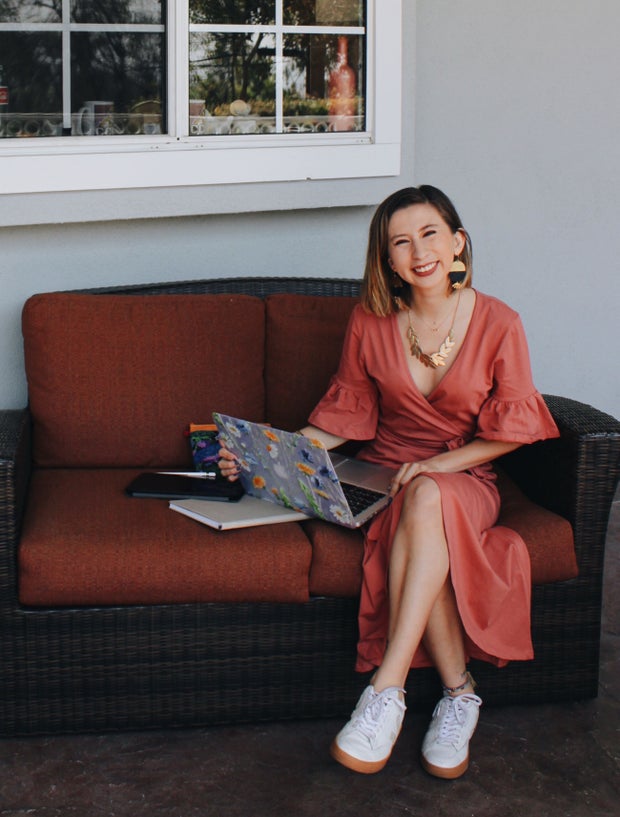 Original Photo by Elise Navarro
This is not a normal #WorkFromHome outfit. But today I got up, got ready and put on a dress, because I believe it shouldn't be normal for people to be manipulated and coerced into the cycle of human trafficking. And wearing this dress is helping fight that battle through the Dressember organization and their mission!   
Marissa Ragaza, Cal Poly Pomona '23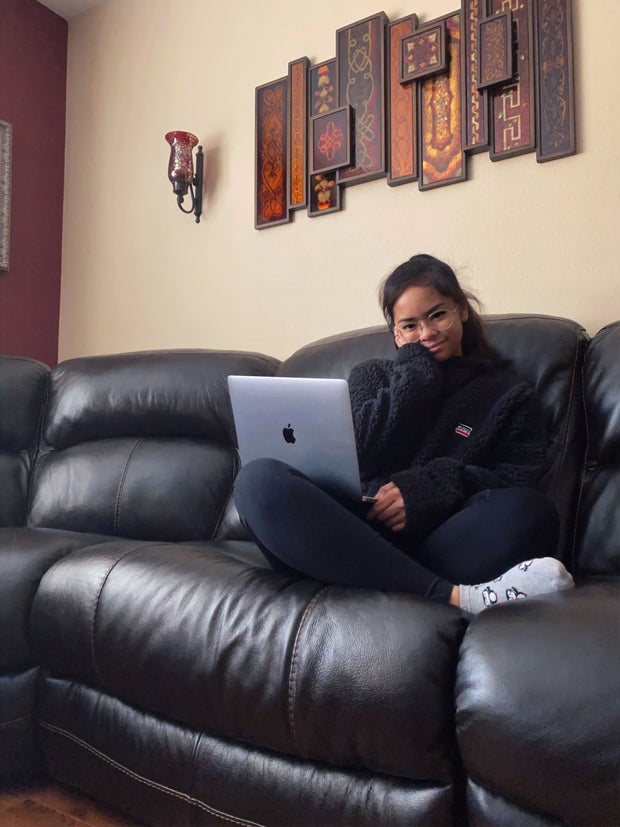 Original Photo by Marissa Ragaza
I like to make myself comfortable by wearing big and cozy sweaters. I'll also throw on some leggings or sweats. Since I have classes on Zoom or work meetings on Teams, I usually have anything I find comfortable on as bottoms and some cute socks, since no one can see them! I also enjoy not having to wear my contacts and pulling my hair back to get my hair out of my face.
Bailey Luber, Pepperdine University '21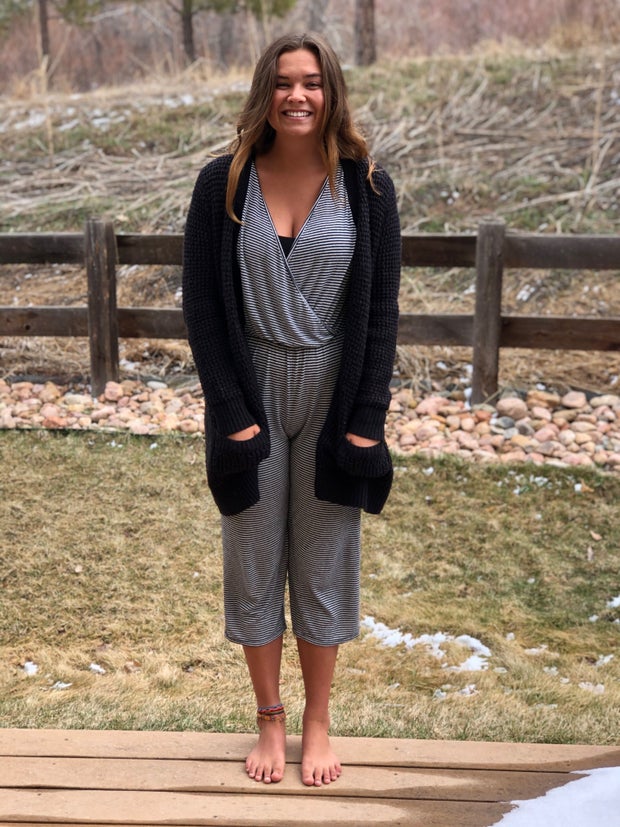 Original Photo by Bailey Luber
This is definitely one of the comfiest outfits I own that's still presentable, and I've worn it when traveling plenty of times. No shoes because I hate shoes, and I'm inside all day anyway. I came outside to my cold, snowy (but melting!) backyard in Colorado to get a few minutes of fresh air. I've been doing Zoom Pepperdine classes in outfits like these, continuing my tutoring job via FaceTime, and using my extra time to watercolor and get into Adobe Illustrator! 
Kaitlyn Edgley, University of California, Irvine '21
Original Photo by Kaitlyn Edgley
Even though I miss my friends from school, I've enjoyed being able to stay home and save gas while I take online classes in my comfiest clothes! I'll usually wear some sort of cropped sweater (like this white shirt) paired with baggy sweatpants, so I can have a cute and casual vibe while I'm on Zoom. I also love to add little pops of color, whether it be with scrunchies or some fuzzy socks.
Aris Pangan, University of California, Los Angeles '21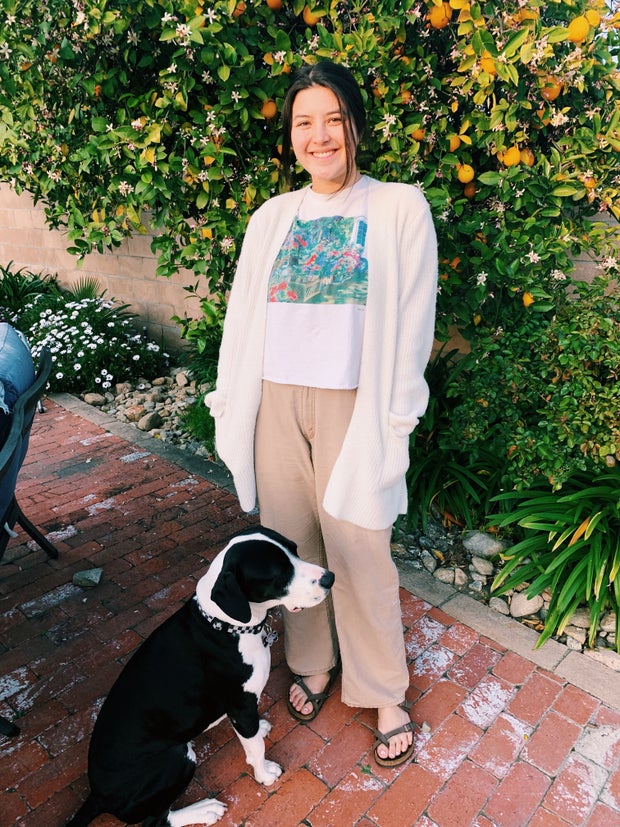 Original Photo by Aris Pangan
The transition to online classes has been tough, and I have a hard time getting into a work mindset if I don't change out of my pajamas—but that doesn't mean I have to be uncomfortable. I like to wear clothes I would wear when leaving the house, but that are still lounge-worthy. I like wearing comfortable pants like my loose khaki Levi's and a t-shirt, both of which I thrifted! To make it a little cozier, I'll add a fluffy cardigan and my fluffy friend, Kopitar.
Aurea Ocampo, University of California, Davis '21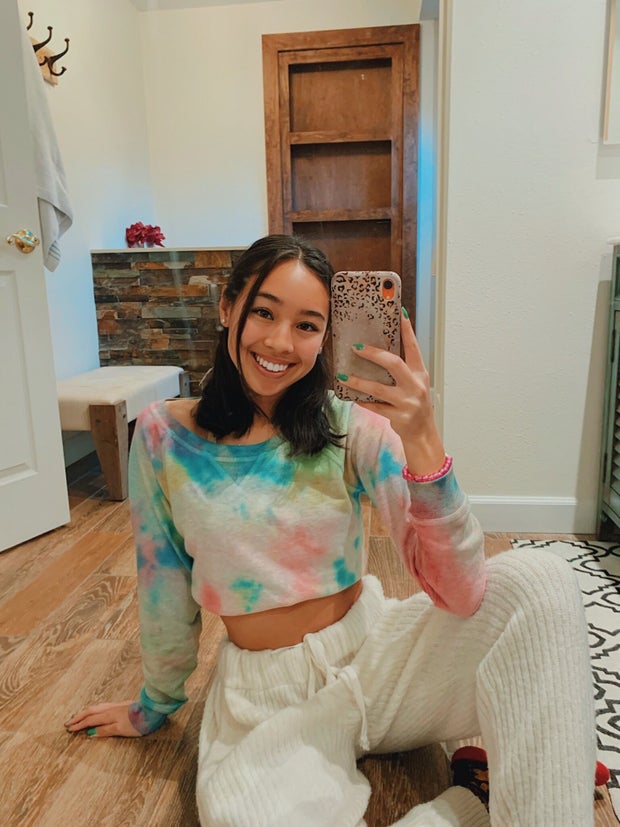 Original Photo by Aurea Ocampo
Taking online classes from home creates the perfect setting for comfortable/cute loungewear! Even when inside, I love to wear crop tops. I customized this long sleeve pajama shirt by cropping and tie-dying it for a splash of color. Lately, I've been obsessed with wearing any type of fuzzy pants when I'm inside because it's not something I usually wear to class, but now I can. I've also been wearing socks with cartoons on them every day, and I'm not ashamed. Working from home definitely has its benefits.
Brailyn Eyong, Azusa Pacific University '21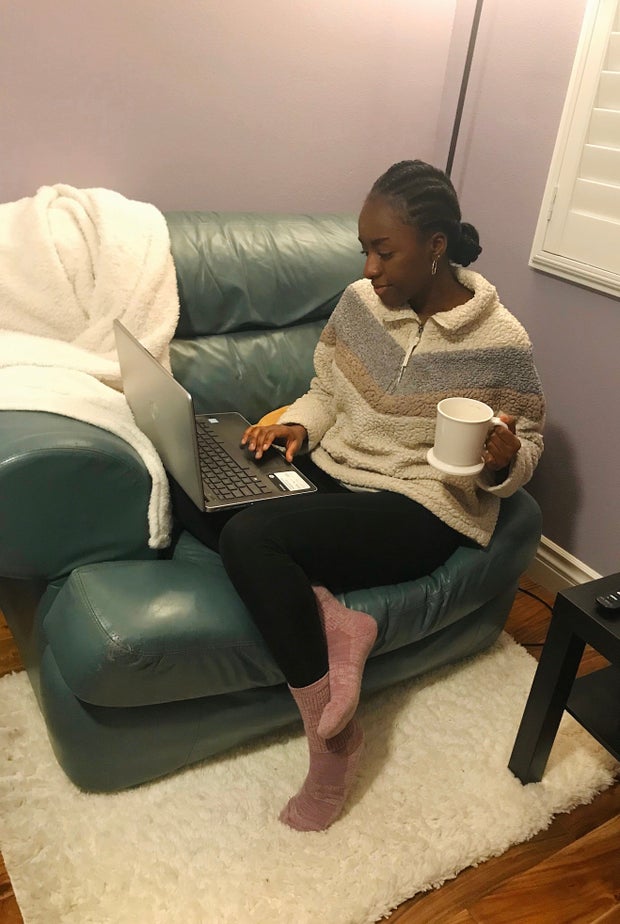 Original Photo by Brailyn Eyong
Online classes have been pretty rigorous for me. I typically spend five hours a day in class and finishing assignments, so comfort is essential! Lately, I've been rocking my sherpa pullover from Francesca's, black leggings from Target, and these comfy socks.
Just a heads up — this article may contain affiliate links. While a purchase through affiliate links doesn't impact the price you pay, Her Campus Media may receive a small commission. All products' prices and availability are accurate as of publication.