Welcome to Extreme Sorority Houses, your look inside of the most stunning, over-the-top sorority homes in the country. This week, we're taking a tour inside Alpha Omicron Pi at Missouri State University. Designed by Abbe Fenimore, Founder & Principal Designer of Studio Ten 25, this house is filled with all of the pink and floral prints. Read on for what goes into designing a sorority house of this caliber (and, fair warning, you might actually gasp while scrolling through the images). 
What is your favorite part of designing a sorority house as opposed to a normal residential home? 
"My favorite part of designing for a sorority house as opposed to a residential project is working with [college] women. They bring a different vibe to each design and allow us to push the rules of design with unique pieces that have special meaning to them. These projects happen quickly, and I love how they keep me on my toes while allowing me to blend my perspective with their ideas. It really is the best of both worlds, and being able to provide the durability along with the cozy feel these women want in their houses makes us very happy."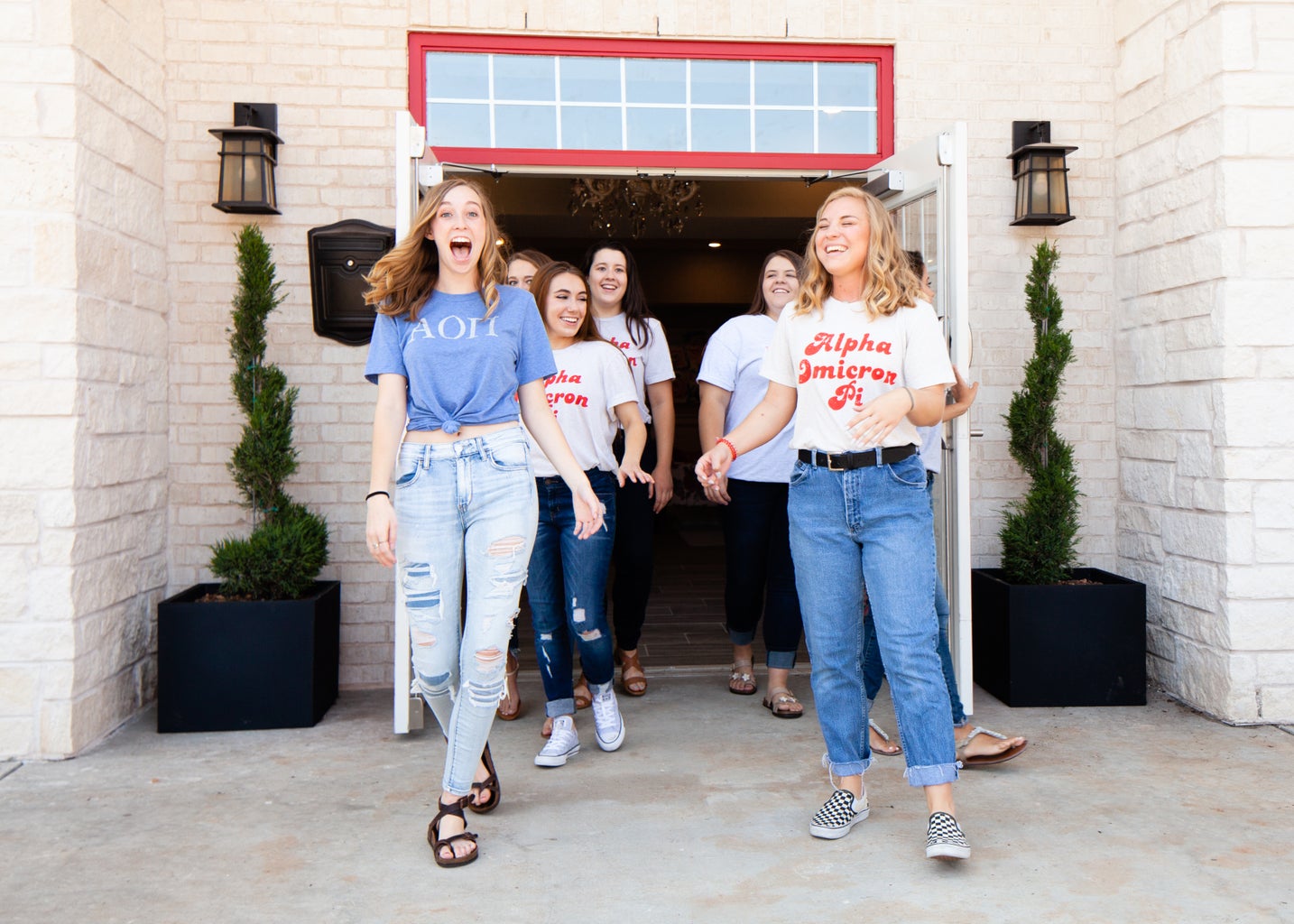 Whats your best piece of advice for someone who wants to recreate this look in their own dorm or apartment?
"Splurge on the pieces that you need to last the longest, like seating. The piece that will be used the most needs to be durable, but can be paired well with lower budget items like side tables, pillows and accessories. Don't forget to incorporate art, pretty lighting and personal touches to make your space feel finished."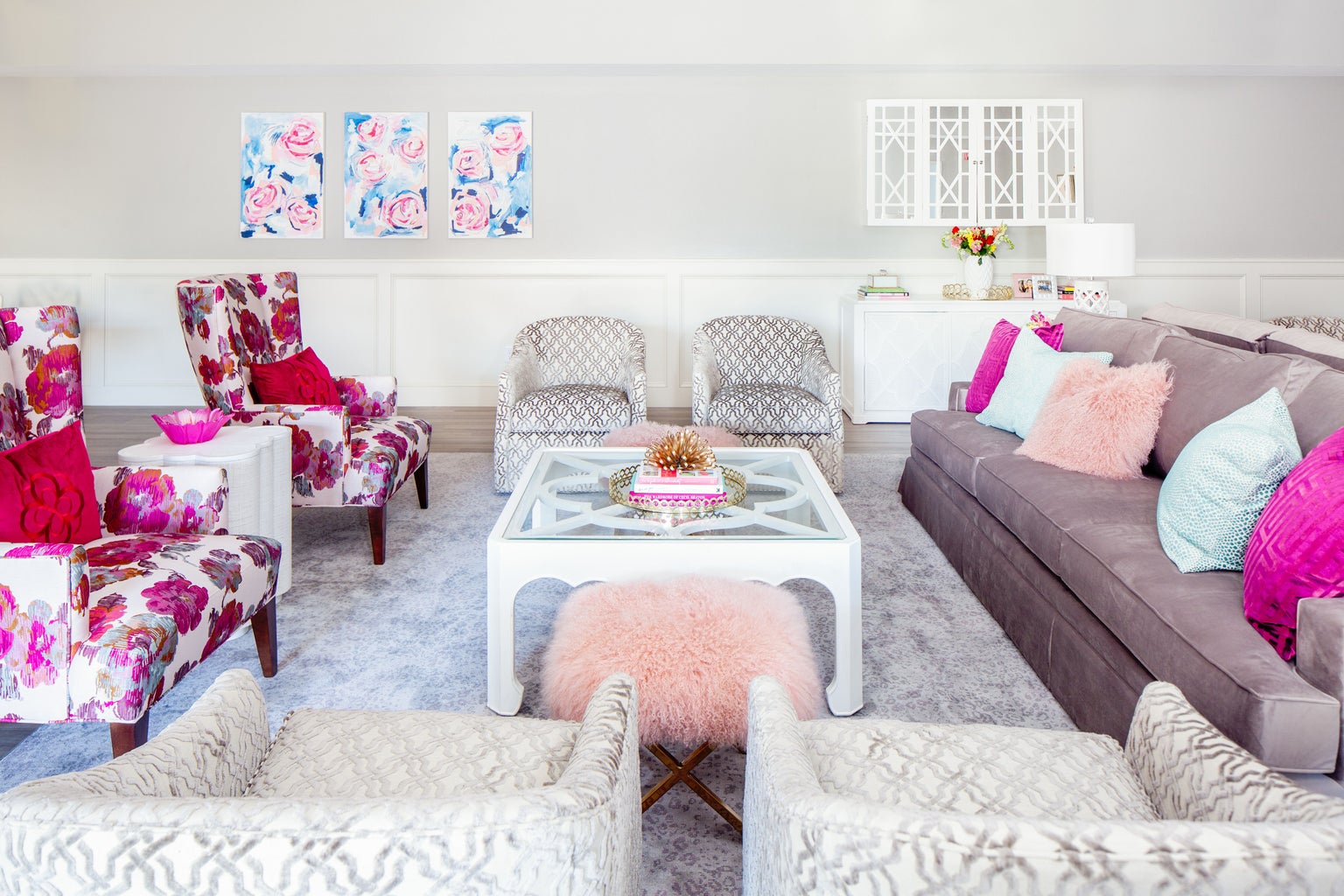 Did the school colors or anything from the school inspire you at all? 
"This chapter asked for a mix of pink with bright florals and fun patterns while still keeping a formal feel to the main spaces. This is a brand new house for the Delta Gamma chapter of Alpha Omicron Pi at Missouri State University, and the women wanted to make a bold statement with it. Although AOII and Missouri State have their own color palette, the women really wanted to stay true to the AOII brand throughout their home."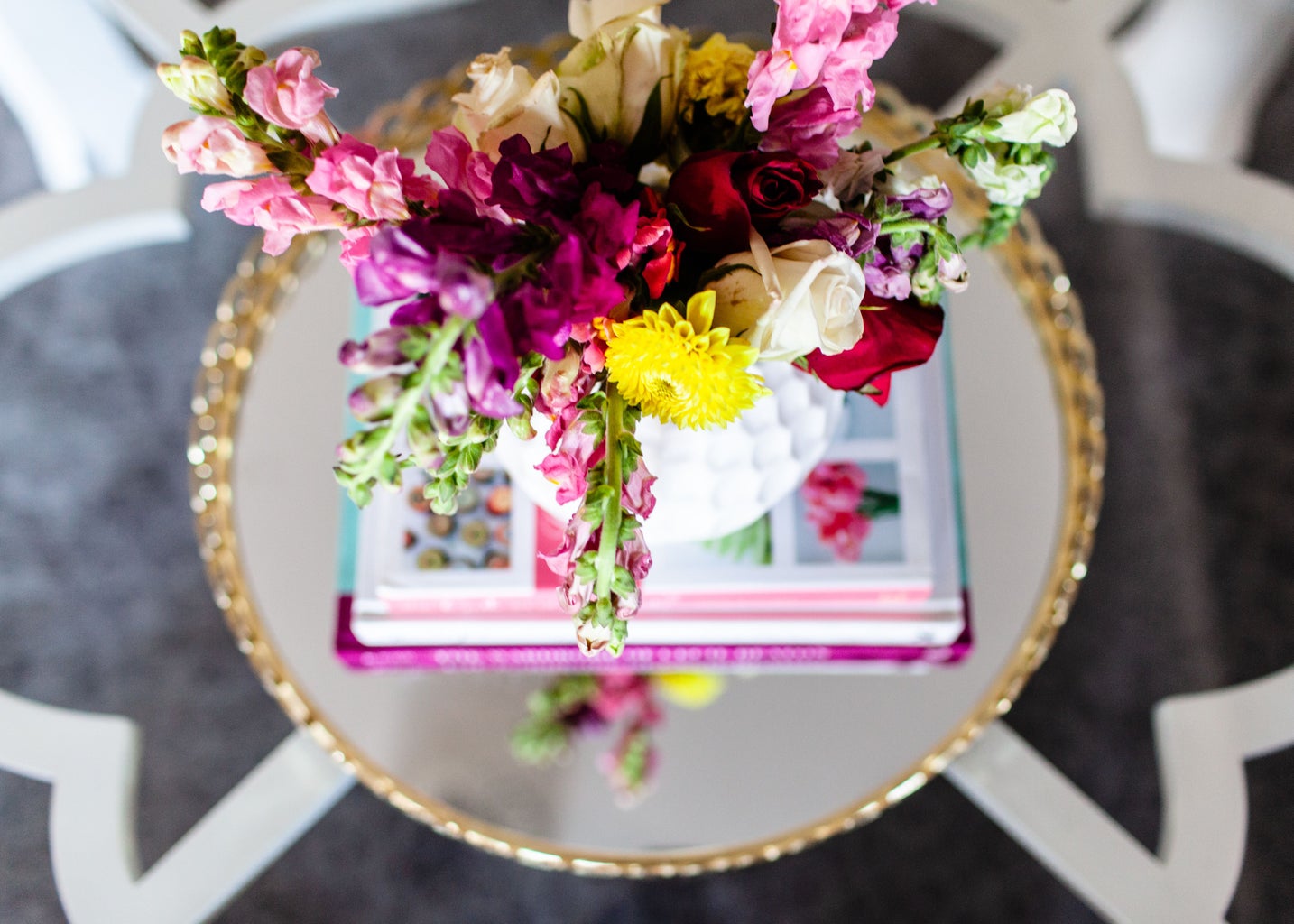 What's your favorite room in the space and why?
"The formal living room in the front of the house is my favorite space. I love the custom built-in bookshelves that we painted pink! They were the jumping off point for the overall color palette and the entire house. The raspberry velvet sofa work perfectly with the bold indoor/outdoor rug, setting the tone for the soft graphic patterns in the accent chairs, wallpaper and drapery trim in the room."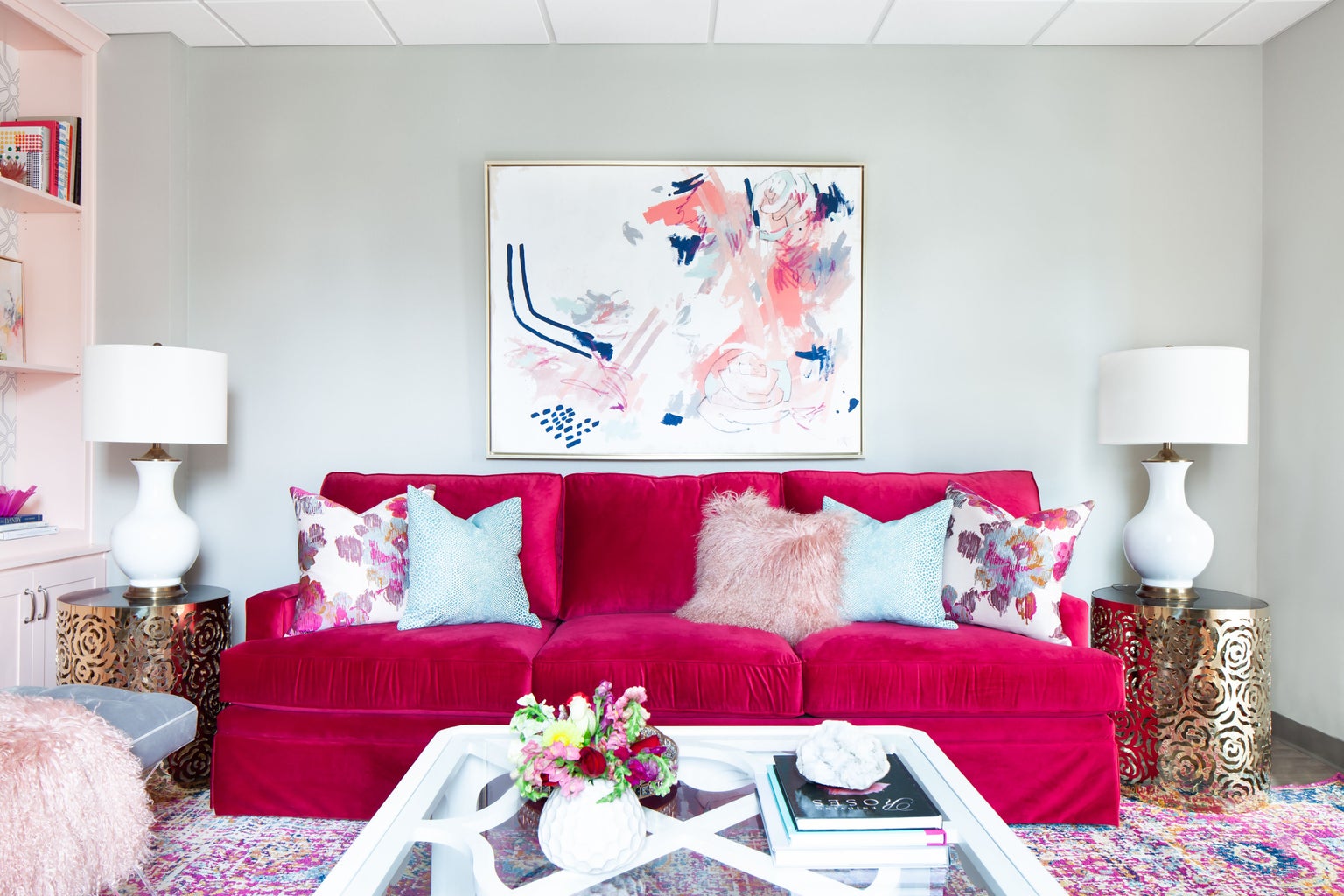 How long does it take to work on a project like this from start to finish? 
"Each chapter house varies in size and budget, and will have their own limitations based on the configuration of the house. The Missouri State house was a brand new construction project and we were involved in the interior and exterior construction details. We worked on this project for about seven months and it was a wonderful experience. The contractor was well organized and easy to communicate with, so that kept us on schedule and allowed us to make the changes needed to create our design."
What is the price range for a redesign like this? 
"While I'm not able to share the cost, I can say that the sorority has a board that dictates the budget for each chapter house, as well as a system that's in place for determining each chapter's budget. The overall budget for each house isn't always for interior design, since construction elements like paint, repairs and electrical contractors will be included in the updates. Brand new construction is a different process than simply remodeling a few rooms in a chapter house. The sorority headquarters gave me a budget to work with and was very detailed on what needed to come out of that 'interior design' budget. I was able to work closely with the sorority and the contractor during the entire process and share working budget spreadsheets to make sure we were on track through the length of the process."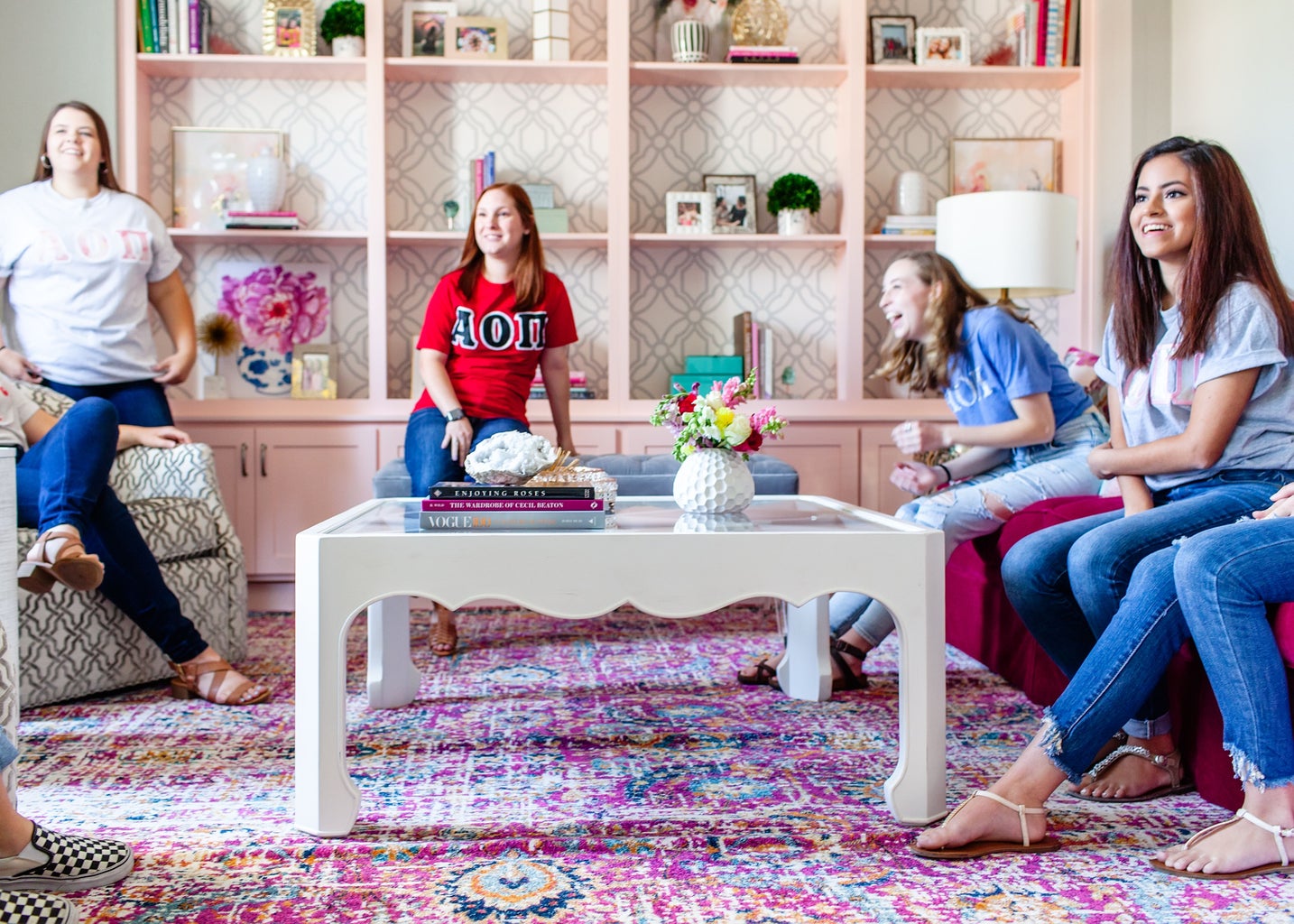 The spaces that you create are incredibly beautiful. How do you create a happy medium between aesthetic and functionality?
"Function always comes first. We start by creating a plan that works for each chapter house, which includes a layout based on an understanding of the needs of each chapter. After gaining approval, we incorporate the design elements. Each chapter uses their house differently, so it is very important that we take the time to work with them on these details in order to create a space that works for them going forward. The color, pattern and fun design elements are the next step in the design process. We take the chapter's wish list, budget and regional location into account when selecting the furniture and fabrics."
Scroll on four a tour of Alpha Omicron Pi at Missouri State University.