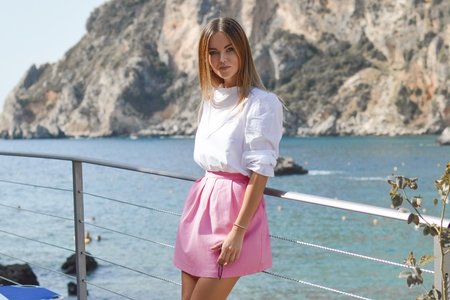 7 Pink Style Trends We're Obsessed with for Valentine's Day
Have you been scowering the ends of the earth to find a Valentine's Day outfit? Don't worry girl, I've got you covered. 
As Valentine's Day is fast approaching in the form of grocery store chocolate boxes, lacey panty promotions, and anticipated rom-com releases , it seems like everyone is feeling the love on the most romantic day of the year. But being alone on Valentine's Day isn't the worst thing in the world. No matter if you're spending the night with a significant other, a new crush, or treating yourself to a night of self-care with your best friends, there's one thing that hurts more than a crooked arrow in the butt from cupid. And it's not having anything to wear 
Many have been right where you are in the mirror—holding an outfit to your chest while wondering if it'll start looking any better in your mind with time. The rough groan followed with the "I have nothing to wear," seems all too familiar, doesn't it? But don't cancel your plans just yet, because there are tons of ways to bring your V-Day outfit to life, and I've compiled the perfect seven trends to take your outfit to the next level for a cheerful February Night. 
1.

Cute and Comfy Sweater Dresses  

What's a staple item that you never thought would be the perfect 'fit for the day of love and appreciation? A sweater dresses! They're cute, comfortable, and can be dressed down or up with a pair of booties or a pair of cute pink sneakers. You can layer them with bulky jackets or light blazers—the possibilities are totally endless when you want to get creative. Either way, you'll look hot enough to blow either yourself or your date away! Get this cute and cozy look at Lulu's, $49, shop now and pair it with these thigh high boots from Windsor, $24, shop now . 

Remember when our girl Lizzo showed us her favorite items to keep in her tiny, yet reliable handbag? It's obvious to say that she definitely has the eye for fashion. The statement-making mini handbag is something that's been trending for the past year is the cute and statement-making mini handbag. They are the definition of exhibiting a lot without saying too much. These bags erupted when Jacquemues' striking mini bags were worn by celebrities and influencers. Since then, it's a statement piece that many find themselves obsessing over. You can style it with a nice plain t-shirt and ripped jeans look, or a bodycon dress and faux fur 'fit, if you want to get fancy. You can find some affordable alternatives for these bags at places like Forever 21, $10, shop here. 

3.

Decked out Hair Clamps  

Accessorize! Accessorize!  Accessorize! These bulky--yet stylish hair clamps have taken social media by storm since the summertime. They're perfect for taking a casual outfit up a notch, or if you want to skip out on wearing a stylish fedora to finish off your look. These clamps are great with a toned-down outfit, as they might take away from an outfit that is on the dressy side. But if you're style follows the "more is more" rule, feel free to wear them with your flashiest sparkly dress and sky-high heels. 

Yes, these hats were huge in the nineties—but fashion repeats itself, right? So strut like you mean it in these hats that scream "Galleria Garibaldi" straight from The Cheetah Girls opening scenes. These hats would go great with turtleneck sweaters, teddy coats, or a classy tweed set. It's nearly reversable with anything you decide to do with it! You can get yours from places like Dolls Kill, $18, shop here , Urban Outfitters, $20, shop here , and Top Shop, $26, shop here. Wherever you decide to get yours, it'll give you that vintage chic vibe that's totally irreplaceable.  

5.

Layered Laced Bodysuits 

Even though layering has been a thing since forever, it's hasn't been this sexy in years! Putting a lacey bodysuit on top of a t-shirt or turtleneck is the perfect look for a flirty day like the fourteenth. If it's within your desire to ruffle cupid's feathers this season, I suggest you start off with a bodysuit from no other than Savage X Fenty. With Rihanna's new Valentine's Day collection, I'm sure you'll find something that fits your style just right. One of my favorites is the be the Floral Lace Teddy, $24, shop here . It gives sweetness with a hint of daring diva. 

Oversized blazers are a go-to when you want to add a preppy twist to whatever you're wearing. You could wear it over a t-shirt, dress, bodysuit, or jumpsuit and it will still give you a feeling of sophistication no matter what's under it. I recommend it for the girl who's always seen in pleated skirts, plaid trousers, or black Doc Marten's. 

Just in case you wanted to feel like a flowy goddess breezing by in the wintertime wind—a silk slip dress would be great for you. With a few layering tricks, it's perfect to wear in the weather that's current in your area, even if that weather is only slightly above freezing. You could throw it over a graphic tee, a ribbed long-sleeve t shirt, or just wear it plain if the weather is hotter wherever you are. No matter what you layer, or don't layer it with, you'll feel flawless, light, and airy wherever you go area. 
 No more tearing your room apart looking for the next best thing to throw on this Valentine's Day. Look for these few items either in your closet, closet or on your next shopping trip. Remember that you'll look like a babe in whatever you decide to wear, and to be kind to you, because you owe it to yourself! 
The Her Campus National Editors write about products we love and think you'll love too. Her Campus has affiliate partnerships, so we get a share of the revenue from your purchase. All products are in stock and all prices are accurate as of publication.