7 Online Thrift Stores You Need to Know About
We'll be the first to admit that our online shopping addiction isn't exactly great for our wallets – but what if we told you it's possible to save a little cash when shopping online, while scoring unique or vintage pieces? While most of us immediately turn to vintage stores or thrift shops for deals on one-of-a-kind pieces, there are also some amazing websites out there that are basically online thrift stores (with more options!). Below, we spilled about a few of our faves.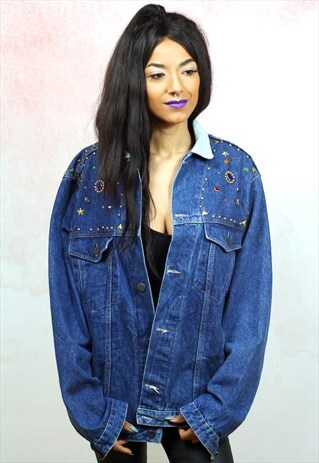 1990s vintage embellished dark blue denim jacket ($42.73)
ASOS is already your go-to for browsing endless pages of trendy, of-the-moment pieces from your favorite brands – but did you know about their Marketplace section? ASOS Marketplace features shops from hundreds of independent designers and vintage boutiques. Since it's a British site, tons of U.K.-based vintage and thrift stores have set up shop there – meaning you can shop some of London's best vintage offerings without flying across the pond.
Velvet midi dress ($55)
Founded in 2009 by twins Morgan and Samantha Elias (hence the name), The Vintage Twin is a NYC-based boutique with a super well-stocked online outpost that offers reworked vintage pieces, which are hand-selected by the shop's styling team. If you're looking for a unique piece that no one else will have (because everything is one-of-a-kind!) this is the place to find it.
Topshop studded leather jacket ($50)
Apologies in advance, but Poshmark is about to become your latest iPhone distraction. The app allows you to browse used pieces from millions of sellers – think of it as Instagram for secondhand clothing. Zara, Topshop as well as higher-end designers all regularly make appearances on Poshmark, and it's easy to make offers or ask sellers questions about items via the app's comment section.
Banana Republic long sleeve top ($13.99)
Offering pretty much every brand under the sun and even a section that recreates celeb looks with the site's endless amount of offerings, ThredUP is the ideal place to score pieces from brands you'd normally shop at half the price.
Lululemon plum dance studio activewear jacket ($74)
We all have that completely out-of-budget dream bag or pair of shoes we'll always incessantly drool over – but have you ever thought about scoring your dream piece secondhand? Tradesy offers used designer pieces, often in amazing condition for a much less sticker shock-inducing price.
Vintage extra long fringe black dress ($198)
Greenpoint, Brooklyn-based vintage boutique Maeven isn't your average vintage boutique – you won't have to spend all day weeding (or in this case, scrolling) through duds to find "the one." Everything in the boutique (and on its well-stocked website) is handpicked for its ability to translate to today's trends, meaning everything is seriously that good – no need to venture into the Big Apple to dress like a trendy New Yorker.
Prada leather pleated skirt ($185)
Refashioner is a game-changer when it comes to the experience of shopping for used clothing. Alongside some rare and difficult to find vintage designer finds, the website also features a memory or story about each piece from the previous owner, which makes the thrill of finding an amazing thrifted piece even better.
There's no need to hit up your go-to thrift or vintage store – if you know where to look, you can find some amazing secondhand pieces while curled up in bed with your laptop!