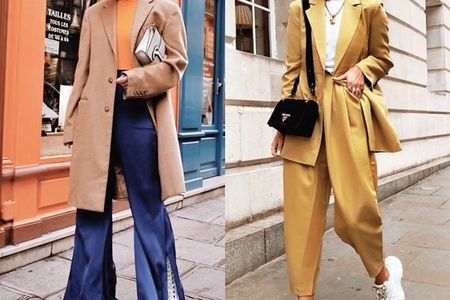 6 Style Tips & Tricks for Looking Office Chic When You Have, Like, $50 in Your Bank Account
Achieving the perfect professional chic aesthetic can be detrimental to anyone's bank account, especially current college kids and post-grads. I've watched my girlfriends drop hundreds of dollars for work attire. TBH, even I've spent more than necessary and then, I cried over the financial damage I did to myself — if you were wondering, I used all of my grocery money. Shopping for business formal clothing is so fun until you realize you have a limited budget, which can hold you back.
Being in college has really humbled me because I don't have my mom paying for my style-related expenses, so you already know I have to be reasonable and innovative. I can't let anyone else pay, like, $400 when there are better ways to get the perfect professional chic look without sacrificing grocery money. I'm here to make sure you can still afford Starbucks on the daily while strutting in your sophisticated ensembles (super inexpensive in reality but no one needs to know).
1. Browse through your current wardrobe to find workable pieces
I realized so many of my casual clothes can double as items I can easily incorporate with my executive looks. So, trust me when I tell you to rummage through your closet because you're bound to find at least a few pieces to add to your work wardrobe. If you have a plain bodysuit with an appropriate neckline, wear it under a cute cardigan with a pair of high-waisted paper bag pants.
2. Ransack your partner's closet for some hidden gems
Being in a relationship definitely has its perks, such as having access to their closet. I enjoy looking through my boo's clothes because I know there's always something they doesn't wear anymore that I can snag for myself. Your SO might have outgrown a blazer or dress shirt. Shall I remind you that oversized clothing is so in right now? This is your chance to be thrifty and save your money. 
3. Invest in an affordable pantsuit 
A classic pantsuit is 100% a staple in everyone's business wardrobe. While they tend to be expensive, you can still find an affordable set from lower-end retailers — it's quality material (don't worry, girls). I recommend H&M and ASOS for a steal on some great pantsuits!
4. Look out for deals and discounts on your favorite brand's websites
I know I don't always take notes in class when I'm on my laptop. If you're bored out of your mind, I suggest checking out your favorite stores online to see their current deals and sale section. 
5. Repeat different pieces but never a whole outfit
Don't be caught repeating an outfit! Meanwhile, wearing pieces multiple times isn't completely frowned upon — it's considered genius, especially if you know how to mix and match well. You will have your colleagues thinking you always have new clothes when, in reality, you're just very style savvy!
6. Treat yourself to new clothes if (and only if) you've saved up enough funds
There's nothing wrong with splurging every now and then. However, you have to put quite a few factors — more like 99 problems and they're all money-related — into consideration before treating yourself. Make sure that you've saved up enough funds to avoid eating instant Ramen for a whole week. 
Follow these six style tips and tricks to live your best life as your office's fashionista. You don't have to break your bank account to achieve that professional chic vibe with your outfits.