5 Shoe Options For Graduation That Aren't Heels
We get it: not everyone wants to wear heels to graduation. Depending on the height, they'll make your feet sore, could give you blisters and might cause you to pull a Jennifer Lawrence as you walk across that stage to get your diploma. As much as heels might deliver some killer style to those graduation gowns, we're here to show you that there are some stylish options that might be less of a pain (literally) than heels. Here are five non-heel shoe options that you can rock at graduation.
Camel slides
These are the classic go-to for dressy shoes that aren't heels. They're classy and easy to walk in. This pair by Steve Madden is around $80 and comes in both camel and black, in case you'd rather go that route.
Gladiator sandals
For something a little more unique, gladiator sandals are a fun way to show off your style with your graduation gown. They come in a bunch of different heights, from stopping at your ankle to hitting just below your knee, and they're colors mostly range from brown to black to nude. For a shorter pair, these nude ones from Nordstrom Rack are super chic. For a more daring pair, try these black ones on for size.
Sparkly sandals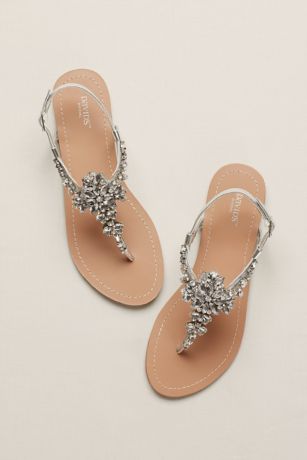 If you're all about the bling, a pair of sparkly sandals is a good alternative to heels. This silver pair from David's Bridal will sparkle just as bright as you on your big day. Plus, they're only
$30! Sounds like a win-win to us.
Black flats with cutouts
Say hello to your new favorite shoes. Ballet flats are the obvious alternative to heels in dressy situations, but they can become kind of predictable. Throw in some cutouts, though, and black flats are fresh again. This $30 pair from Torrid is especially cool with its diamond-shaped cutouts all over the shoe. These are perfect for the girl who wants a new take on a classic.
Wingtips
If you're aiming for a more old-school take on a classy, non-heeled shoe, look no further than the wingtip. They make any look feel polished and pulled together, which totally describes you since you're graduating! We love this black patent leather pair. They're elegant without being over-the-top, which is perfect for graduation.
It's totally okay to be the girl who doesn't wear heels to graduation. As much as we love heels, it's hard to pretend they're comfortable. With these shoe options, though, you can have both comfort and style. And most importantly, you can get that diploma without worrying about tripping.