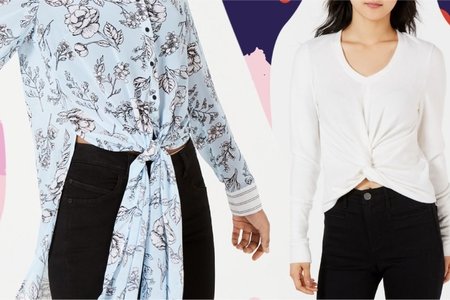 5 Additions to Your Wardrobe That Will Take You From Going to Class to Going Out
This is a sponsored feature. All opinions are 100% our own.
I get it—you're taking 18 credits, interning and babysitting all while trying to maintain some semblance of a social life. If you've ever found yourself heading to your 8 a.m. in your night-before bodycon or hitting the bars in your favorite campus sneaks, XOXO has come to your rescue with the perfect transitional pieces that adapt to your busy schedule. Here, my favorite pieces to get you through your day and night.
Jesus sandals, but make it fashion. The Bailor Stretch Sandals feature super stretchy bandage detail for cross-campus comfort, plus chic leather detail to elevate your look once you head downtown.

Pair this legit comfy crop with black jeans and a jean jacket for your freezing lecture hall, then shed your denim to master that collarbone-bearing, 90's night out look.

The jig is up—exactly zero people enjoy wearing uncomfortable clothing on a night out, so can we all agree to dress up perfectly minimal, lightweight sweaters with jeggings and skater skirts all summer long? Please and thank you.  

Wearing a statement top to hit the town with your girl gang tonight? Throw this chic duster on top to stay cute and comfy in your 101.  

Business in the front, party in the back. Tuck it in to high waisted jeans or trousers when you're in class or at your internship, then untuck and let your freak flag fly once the sun sets.