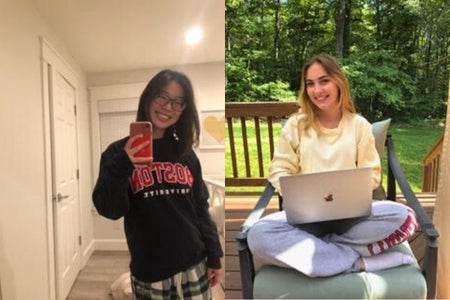 Photos Courtesy of Libby Egan & Reagan Sanborn
10 College Women on Rethinking Campus Style After Months of WFH Outfits
There's a new normal for college students these days. Instead of exploring cities and traveling to new countries, we are all still at home daydreaming about missed vacations. Instead of hanging out with friends and staying out late, we FaceTime with friends for hours and go to bed early. Instead of going to work or walking to classes in our best outfits, we struggle to find the motivation to change out of sweats.
While some of us have chosen to forgo the jeans and blouses and succumb to the comfort of full-time pajamas (*cough cough* me), many college women have decided to take advantage of remote learning and create cute and casual lounge outfits. Here are 10 college women who have turned their closets into cozy and cute collections, changing the rules of campus fashion as we know it.
Sue Saco, Boston University '17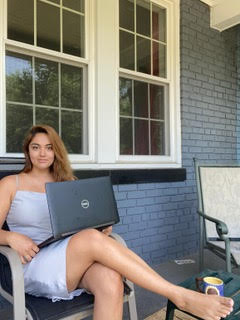 Photo Courtesy of Sue Saco
I am an enrollment manager for Johns Hopkins University Advanced Academic Programs located in Washington, DC! Luckily, my Zoom meetings are video-optional. However, sometimes if I get called on and have to turn on my camera, I always want to look presentable. So usually I throw on a dress since it is easy, comfy, and no bra is required. My go-to is this long, silver, silky midi dress because it is light-colored and it looks good and professional on camera. It is also perfect for sitting outside in the humid DC summer!
Jazmyn Gray, Boston University '23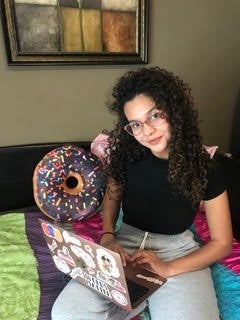 Photo Courtesy of Jazmyn Gray
I definitely dress extra comfy when I'm working from home. I usually wear sweats or leggings and a plain, basic top because I know that's what people will see during video calls. It's also super easy to dress up a basic top and throw on a blazer or sweater as needed. I usually wear a little bit of makeup, too, because that's part of my routine in the morning and how I hold myself accountable. I can't take a nap if I'm wearing makeup.
Riya Moorthy, University of Delaware '23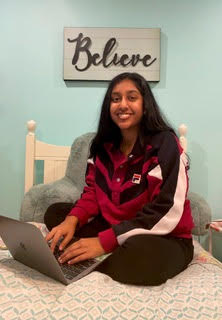 Photo Courtesy of Riya Moorthy
This was my outfit for today! I have never been one to dress up for classes in person, and that continued with the switch to Zoom. I definitely go for a more comfortable look than fancy. Every day I throw on leggings and a sweatshirt before I run downstairs to my 8 a.m. Chemistry lecture.
Reagan Sanborn, Boston University '22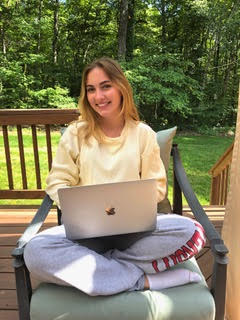 Photo Courtesy of Reagan Sanborn
Getting ready in the morning helps me start the day off right and get out of my morning fog. I always like to ~keep it casual~ with some sweatpants and either a comfy summer sweater or just a T-shirt. I find that simply adding accessories like earrings or putting on mascara makes me feel a little more put together. My favorite thing lately has been trying out new nail polish colors!
Libby Egan, Boston University '23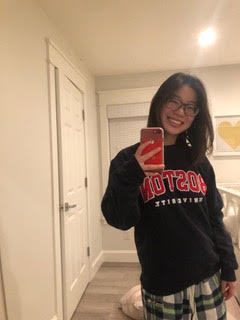 Photo Courtesy of Libby Egan
When I'm on Zoom, I take advantage of the fact that I'm mostly out of view and end up normally wearing pajamas or sweats. Although a three-hour time difference from Boston is not bad, my 10 a.m. classes that turned into 7 a.m. classes definitely affected my outfit choices. I think that because the camera is centered around my face, my usual outfit choice is workout gear if I plan to run or do a Chloe Ting video after class.
Christina Altomara, Stevens Institute of Technology '23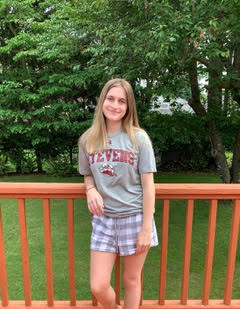 Photo Courtesy of Christina Altomara
I have been in a very relaxed state of mind, which has been reflected in my clothing. I tend to complete my work for the day in my pajamas, which usually consists of a T-shirt and shorts. When it comes time for a Zoom call, I like to keep it a little more formal, but still casual on the top while staying in my pajama pants.
Arden Grant, Boston University '23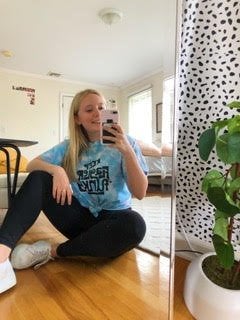 Photo Courtesy of Arden Grant
I'm normally one of those people who likes to dress up for classes, so since Zoom was such a weird thing, I had no idea what to wear at first. But I ended up wearing basically the same few outfits the whole time at home. The one I wore the most consisted of leggings and a graphic or tie-dye shirt, because I still wanted to feel like I was kind of keeping up with trends (like tie-dye). If I really felt like being more put together/normal, I would add a necklace or a few rings to spice it up!
Neha Patel, Boston University '23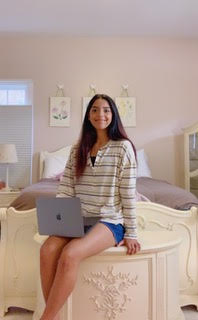 Photo Courtesy of Neha Patel
This is my go-to Zoom outfit! I feel more productive when I am not wearing pajamas, but I also want to stay super comfortable during online classes. This top is so soft and oversized which I love. The shorts look like they are denim, but they are actually a nice cotton material, which makes them much more comfy than regular jean shorts.
Hannah Wichard, Ithaca College '23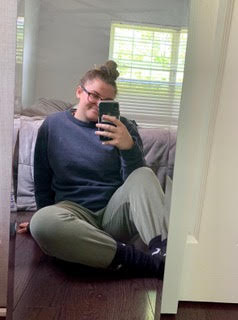 Photo Courtesy of Hannah Wichard
My go-to outfit is whatever is most comfortable! My normal wardrobe usually consists of leggings and sweats, so I didn't really have to make many adjustments. I usually go for the typical sweatpants and sweatshirt, always with my glasses on and my hair in a bun.
Gabriella Vicidomini, University of South Carolina '23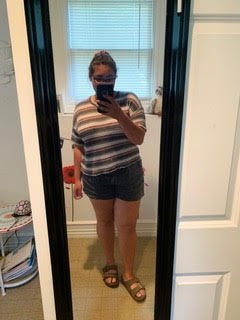 Photo Courtesy of Gabriella Vicidomini
My go-to outfits during home time for Zoom and work have been "snappy-casual"— not quite business casual, but still comfortable enough to be presentable. I don't have enough motivation to wear professional clothing if I'm working at home, but I do like to change out of my pajamas to try to retain some sense of normalcy. I keep pajamas for lounging and relaxing while I do my work in my "snappy casual" clothes.
I don't know about you, but these amazing college women have definitely inspired me to embrace my coziest self this summer and into fall.