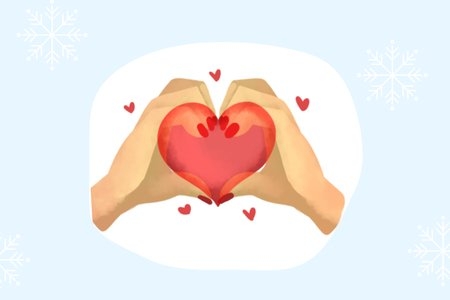 12 Winter Date Ideas That Are Actually Super Romantic (& Don't Break the Bank)
This article has been syndicated from Chasing Daisies, an InfluenceHer Collective Member. Read the full post here.
If life was like the movies, we'd spend the winter skating under twinkly lights or sipping wine in front of a fireplace while the snow falls outside. But let's be real: our toes freeze within a few minutes on ice, and when the snow falls, most of us actually have to go outside and shovel. Romantic, right?
Luckily, there are tons of different winter date ideas that feel like new ways to have fun and bond during the cold, dark months. Date night is one of my favorite nights of the week (or month – let's be real, no one has time for a legit date every week). I've spent the season finding really fun activities that have helped me through winter!  Here are my top winter date ideas to try on those cold weekend nights.
With a super trendy yet romantic vibe, wine bars are huge right now. You can find a decent one in almost any city or even town (Yelp is usually spot-on for this). If you've never been, a wine bar is typically a low-lit, cozy restaurant (think intimate but high-end) where you can do wine flights and snack on carbs. Actually so ideal, TBH.

2.

Super cheap and cozy Airbnb

Another fun overnight date is to grab an Airbnb last minute for as little money as possible. My favorites are always the tiny cabins with fireplaces. Bring up some food and hang out for the night. If you book a few hours before you can sometimes get an awesome deal.

Make a list of all the different types of restaurants in your area then get one drink and one appetizer at each. I hate going "out to dinner" because the night gets kind of dismal when you get the check, but this is super fun because it's not over until you want to go home!

If you're into basketball, hockey, ice skating, or basically any other sport that takes place the winter, hit up a game for a change of pace. I'll sometimes grab two tickets to a college game to keep the cost down, but still get the excitement of the crowd.

Get into some comfy PJs and break out the games for a fun night in! Pick a few medium length games (board and card games are both good), pour a few glasses of wine, and order some pizza – this can shadily turn into one of the most entertaining nights in a while.

We love our Wednesday trivia despite the fact that we've never won and probably never will!  Show up early, grab a hightop, and snack on some nachos while you try to answer questions together – if your score is horrible (I swear I've never got a question right), you just have to order a few extra drinks to make up for it.

Similar to game night, cuisine night is just changing up your normal at-home routine. Make it a little extra special by dressing trendy and whipping up some ritzy drinks popular for your chosen cuisine.

The local bowling alley is never overcrowded, has an occasional black light show, offers bumpers (huge), holds a lot of weirdly fun games in the attached arcade, and has a small bar with beer and wine and a pizza joint right next door. The one thing with these types of winter date night ideas is that you have to be actually into the activity to enjoy it.

9.

Beer flights at a local brewery

Hanging out at your local brewery can be super fun. You get a chance to try a bunch of new drinks, and after taste testing, you can order your favorites with a side of bar snacks. Definitely a cool date idea, especially if one or both of you are into craft beer.

I always check Groupon to find a decent cooking class – they're offered surprisingly often and can be really fun if you pick out a dish ahead of time! It's a super fun activity to do with a group of couples as well.

Spend the day getting pampered and relaxing together! Grab a healthy breakfast before, then head to the spa early to use any amenities available. Book a couple's massage, change into comfy clothes, and really get to relax.

Local comedy shows are SO underrated. Find a tiny place where you'll have a good seat but won't spend a fortune in tickets. This is a great excuse to get a little dressed up for a budget event! Although you can technically go to a comedy show any time of the year, it's one of our favorite winter date ideas specifically.
Read the full post here.
Are you an aspiring influencer or blogger? Apply to join Her Campus's community of millennial and Gen Z influencers today!
Follow @InfluenceHerCollective on Instagram.