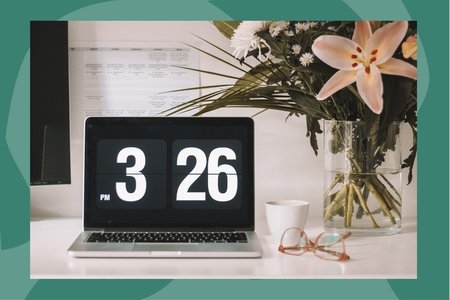 With online classes being the new norm, snuggling up in bed and scrolling through Tik-Tok has also become my new norm. Being back at college but not on-campus every day can easily make your "college experience" feel like a quick little vacation from the reality of classes and due dates, but that doesn't always have to be the case. With my extreme lack of motivation during the first week of classes, I decided to at least attempt to find some ways to put down Tik-Tok and get started on the immense amount of homework that is quickly about to turn into late assignments if I don't get it together ASAP. So, without further ado, here are a few (hopefully) helpful tips to get back into college-mode!
For the first time, pretty much ever in my life, I decided to use my desk as its meant to be used: to do work. Yes, I would rather be in my bed sitting criss-cross applesauce while attempting online learning, but I quickly realized while falling asleep during my online lectures last week that it probably wasn't my best move. So, although it may be way less comfortable, grab a blanket and a strong coffee and I promise that you'll be MUCH more attentive in classes. Plus, taking notes is so much easier at a desk!

2.

ACTUALLY attend class!

Try to not just be physically present, participate! Although I'm usually the last person to put my hand up in class to participate or ask questions, I find it so much easier to participate in online classes. Typing out questions and messaging them to your professor can be much less stressful than having to talk in front of 50+ students in a lecture hall.

3.

Write EVERYTHING down.

So, if you're anything like me, I usually use my planner for about a month and then I honestly just get bored of it and find new, unreliable, ways to remember due dates. But, when you're cooped up in your apartment all day, having a schedule to balance classes, assignments, work schedules, and free time can help balance out the lazy habits you might have picked up while in quarantine.