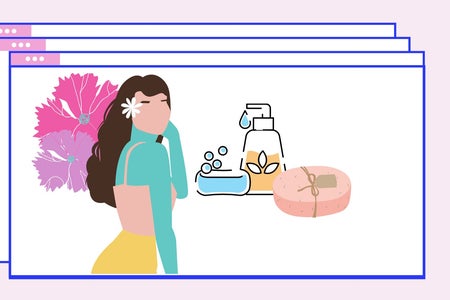 Skincare Products You Should Try
So, let me start this article off by saying, I am by no means a skincare expert; in fact, I'm really sort of beginning my skincare journey myself (and at the age of 21 at that, crazy, I know). Since we're all in quarantine for who knows how long (hopefully not much longer), I figured I could get my skin right before we're allowed to step outside and mingle with society again. So without further ado, let me tell you all about some new products I've been trying out, what they're intended to do for your skin, and what I think of them so far.
1.

First Aid Beauty Pure Skin Face Cleanser

So this is (obviously) a facial cleanser that, according to First Aid Beauty, is, "an airy cream that gently cleanses the skin. The formula is infused with a blend of botanical antioxidants to help stave off abuse of the elements. It is well suited for anyone with sensitive skin". I've been using this face wash twice a day for about 3 weeks now, and I have to say I do like it. My skin feels very fresh and clean after each use. I will warn you though that I tend to have pretty normal skin overall, so the results might vary from person to person. On the other hand, First Aid Beauty is a brand that really has those with sensitive skin in mind, so if that's something you struggle with, you may want to give it a try.

2.

First Aid Beauty Ultra Repair Cream

This is a very popular face moisturizer from FAB that according to the brand, "helps hydrate dry, parched skin. Temporarily help relieve minor irritation and itching due to eczema and other conditions". It's also labeled as an "intense hydration" skin protectant. Personally, I can't get enough of this moisturizer. I've been looking for something to help tackle the dry flakes around my nose and just a good moisturizer overall, and for me this is it. My face feels hydrated and smooth after each use. I never feel like I have to keep applying more throughout the day because my skin feels dry. For me, this is a moisturizer that works.

3.

The Ordinary Hyaluronic Acid 2% + B5

For a while, I stayed away from this brand. All of the chemical names and formulas and what not made my head spin a little bit; I felt like I was back in high school chemistry class trying to identify some formula or equation (I haven't taken chemistry in like four years, forgive me). Basically, I felt like this brand was too advanced for me, someone who knows a limited amount about skincare. Luckily, I decided to do more research, and it turns out that The Ordinary is a pretty fantastic brand. More specifically, their hyaluronic acid has definitely made a difference in my skin's appearance. According to the Ulta website, it's supposed to hydrate the skin and is suitable for all skin types. I apply a few drops to my face twice a day, before I do any other step in my routine, leave it on for about 10 minutes, and I must say, this product has actually benefited my skin greatly. I highly recommend this product to anyone who may be curious about trying it out!

While browsing the skincare section of Ulta (you know, pre corona, when you could still do that sort of thing), I was looking for a cheap, effective face mask, and lo and behold, I came across the Korean-born brand, TONYMOLY. Now what I like about this brand is that, for starters, their individual sheet masks are pretty cheap in my opinion ($3.75 per mask). Secondly, they had so many varieties of masks to choose from. On my first purchase, I decided to try the Honey mask for nourishing, the Aloe mask for moisturizing, and the Tea Tree mask for skin smoothing. I feel like the packaging is pretty straightforward, it tells you what type of mask it is and it's intended use. After trying these ones, I was officially sold on the brand and decided to snag the Rice mask for clear skin, as well as the lavender sleep mask. I will say I'm not super crazy about the lavender mask, as I didn't see any major results from it. Overall though, I think that TONYMOLY face masks are a cute, affordable option if you're looking to add a mask into your skincare routine.
So in conclusion, these are all the new skincare products I've been trying out during this quarantine time! I would also like to add, The Ordinary, as well as First Aid Beauty, are in fact vegan and cruelty-free brands. As for TONYMOLY, they state in the F.A.Q. portion of their website that none of their products in the U.S.A are tested on animals. These are just more facts to consider if that means anything to you. I just once again want to state that I am by no means a skincare expert or professional, this is merely my experience and opinion on these products and brands. If you're experiencing major issues with your skin, it may be best to talk to an esthetician or dermatologist to come up with some solutions. I think that these are some great products to try as well as great brands to support, and I hope that this article helped someone. Enjoy!