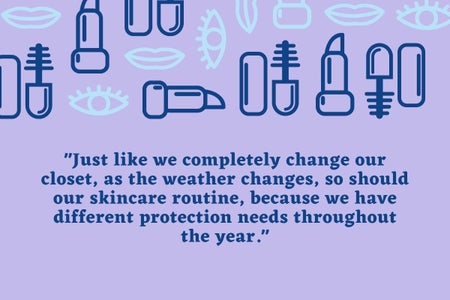 Design by Lani Beaudette / Canva
Transition Your Skincare Routine From Summer To Fall
My favorite time of the year is here, and with a new season comes a new skincare routine. Just like we completely change our closet when the weather changes, we should also switch up our skincare routine because we have different protection needs throughout the year. When the temperature drops outside and we turn on our heaters, our skin will inevitably feel dry 24/7 without the proper skincare routine. But where to start and what to change?
Kevin Laminto
Swap foaming cleansers for creamy ones
Although foaming cleansers are ideal for the summer because they help with oil control, we want the opposite during the fall and winter. It is beneficial to switch over to creamy cleansers that will help clean and keep our skin hydrated at the same time. 
College pocket-friendly recommendations: Cetaphil Gentle Skin Cleanser ($7), Honest Beauty Gentle Gel Cleanser ($13), CeraVe Hydrating Facial Cleanser ($15).
Reduce exfoliants
Because the skin is much drier during the colder months, exfoliating should be reduced to avoid breaking down protective layers of the skin. It is also important to note that the skin naturally exfoliates every 28 days, so it is not necessary to accelerate the process during the cold months. 
Vitamin C serum
More than any other time of the year, Vitamin C is extremely important during fall and winter. Vitamin C helps to improve skin tone unevenness, rough texture, dark spots, fine lines, acne scars and overall dullness. 
College pocket-friendly recommendations: The Ordinary Ascorbic Acid 8% + Alpha Arbutin 2% ($10), CeraVe Vitamin C Serum with Hyaluronic Acid ($21.99, on sale for $15.69), Valo Vitamin C Glow Boost Essence with Hyaluronic Acid ($24.99, on sale for $16.03). 
Use lip moisturizers to prevent chapped lips
We all know how annoying and painful it is to deal with chapped lips, so to avoid this, add lip moisturizers to your routine. 
College pocket-friendly recommendations: Aquaphor Lip Repair ($3.99, on sale for $3.19), Vaseline Lip Therapy Lip Balm Tin ($7.57), CBD Lip Service Nourishing Lip Conditioner SPF 15 ($15).
Add an eye cream
Believe it or not, the first area that is impacted by the change of weather is our eyes. By adding an eye cream, you ensure that you are directly hydrating this area and avoiding wrinkles and fine lines. 
College pocket-friendly recommendations: The INKEY List Retinol Eye Cream ($10), e.l.f. Cosmetics Illuminating Eye Cream ($10), ACURE Radically Rejuvenating Eye Cream ($17).
Thicker moisturizer to increase hydration
On the same note as a hydrating cleanser, it is of extreme importance to moisturize and keep the skin hydrated as much as possible. 
College pocket-friendly recommendation: The Ordinary Natural Moisturizing Factors + HA ($7.70), Bliss What a Melon Water Jelly Hydrator for Combination Skin ($22, on sale for $16.50), Sweet Chef Superfood + Vitamins Boost Moisture ($19).
Continue to use sunscreen
Just because the weather has dropped and it is not as sunny outside, it does not mean that our skin is not equally affected by UV rays during the fall. Because of this, it is necessary to complete your skincare routine by applying sunscreen. Sunscreen application is always a good first step to your makeup routine.
College pocket-friendly recommendations: Paula's Choice Clear Oil-Free Moisturizer ($8 travel size), Hello Bello Mineral Sunscreen SPF 50 ($9). Babo Botanicals Daily Sheer Non-Nano Zinc SPF 40 Fragrance Free Mineral Sunscreen ($15).
Stay tuned for my article on how to properly layer skincare products for the most effective results.