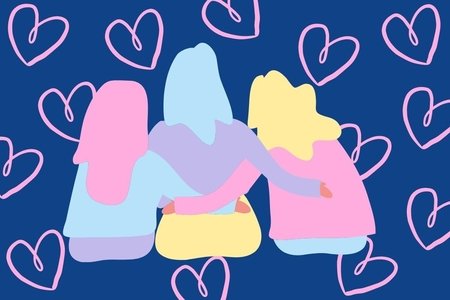 Design by Lani Beaudette / Canva
I'm A Barbie Girl In An Inclusive Barbie World
As a 61-year-old woman, Barbie has done a lot. She has been an astrophysicist, a dog walker, a chef, a judge and so much more. Even Ken, her faithful companion, has dabbled in new styles other than country club member and surfer-boy-chic since his debut in 1961.  
Although the mission of Barbie's founder, as stated in the history section of the Barbie Website, was to "allow young girls to play out their dreams," it took awhile for the doll to represent all body types and ethnicities. Throughout the years, Barbie's career path options were flourishing, but there continued to be a lack of cultural diversity in her plastic, yet not so fantastic world.   
When the first Barbie doll made an appearance in 1959, she was offered as either a blonde or brunette, and red hair was added two years later. The introduction of Christie, in 1968, paved the way to a more inclusive brand. However, it was not until around a decade later Mattel, the company behind Barbie, introduced the first diverse line of dolls, representing women of different backgrounds as "Barbie" themselves. According to an article published on Medium, "for more than 30 years, Barbie didn't get much more inclusive than that."
It was not until 2016 when the brand truly got a makeover. In an effort to be more inclusive and to break the mold of Barbie's conventional beauty standards, Mattel launched three new body types, as well as more skin tones, hair textures and eye colors. The collection was called The Barbie Fashionista Collection, and included 29 unique dolls, according to Bustle. Mattel explained its decision to produce this line of diverse dolls with a quote on Barbie's website, "Barbie has continued to evolve over the years to better reflect the world girls see today, adding more diversity for endless storytelling possibilities." It was about time, but there were still miles to go on the road to make Barbie more representative of the children and adults who are inspired by the fashion and doll icon. 
The brand took that leap in the last couple of years. Since 2016, more Fashionistas have been added to the line, including dolls with no hair and disabilities. In the UK, the two best-selling Barbie Fashionistas have wheelchairs, according to Stylist. A doll with Vitiligo, a skin condition that occurs when pigment-producing cells stop functioning, was also added to the family of fashionistas. Dermatologists were involved in the process to ensure accurate representation. 
The Fashionistas, now a collection of 176 dolls with nine body types, 35 skin tones and 94 hairstyles, are not only a diverse group but as their name suggests, quite fashion-forward. The Barbie Website is overwhelmed by bright outfits inspired by trendy accessories and clothes such as shiny hoop earrings, tie-dye and vibrant patterns. It is so fun it looks like a party, one that celebrates every young person for who they are and what they want to be.