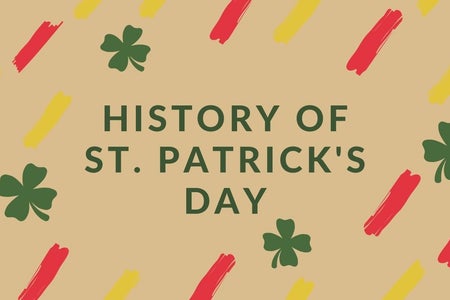 History Of St. Patrick's Day
(Editor's note: During this time of uncertainty, Her Campus at WVU writers are looking back on brighter days.)
No matter if your ancestors came from Ireland, March 17 is celebrated by millions worldwide as a day of fun, luck and all things green, but today's spin on the holiday is a bit different compared to its roots.
Lads, Colleens and leprechauns alike began celebrating St. Patrick's Day over 1,000 years ago on the "the anniversary of his death in the fifth century," according to History. 
St. Patrick, born in Roman Britain, is the patron saint of Ireland and is credited with bringing Christianity to the country. According to History, his death day, March 17, falls during the season of lent and was initially celebrated by waiving the ban on meat. 
The Irish would attend church in the morning and throw lavish parties in the evening, drinking, dancing and feasting to celebrate their national apostle. 
Over the years many symbols and icons have gained an association with the holiday, but one very special symbol can be tied to the saint. Today, clovers and shamrocks are festively added to T-Shirts, home decorations, necklaces and other fashion accessories to celebrate the holiday and spread lucky cheer; however, it is said St. Patrick himself explained the Holy Trinity using the three leaves of the native Irish clover. 
Although the clover can be traced to the times of St. Patrick, not all marks of the Irish can be historically backed up. Leprechauns, arguably the best-known Irish symbol, were first depicted wearing red, according to CBS News. In fact, the mischievous fable characters were not sporting green until the 20th century when the color began to draw an association with St. Patrick's Day.  
Although St. Patrick's Day is not a national holiday in the United States, Americans love to celebrate Irish pride. According to History, it all started "When the Great Potatoe Famine hit Ireland in 1845." It was then Irish Catholics began flooding into America to escape their poor living conditions. At first, however, immigrants struggled to find jobs and were often depicted unfavorably as drunk and violent people through cartoons in local newspapers. 
Regardless of how they were being portrayed, Irish Americans soon found their strength in numbers and were quickly celebrating with annual St. Patrick's Day parades. "In 1848, several New York Irish Aid societies decided to unite their parades to form one official New York City St. Patrick's Day Parade" explains History. "Today, that parade is the world 's oldest civilian parade and the largest in the United States, with over 150,000 participants."
Seeing green means something a bit different this time of year. St. Patrick's Day celebrates cultural identity and remembers the past, but most importantly, it brings people of all ages together. Its rich history is a cheerful gift that keeps on giving, and with all the festivities it brings, we are lucky to celebrate.
--
Edited by Kenzie Dye