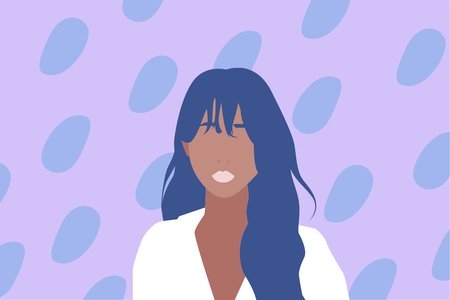 I Found a Hair Stylist — Her Name is TikTok
TikTok, as we all know, has been one way to pass the time during our self-quarantine. I know I have spent hours on the app learning new things, and trying to perfect all of the popular dances. One genre of videos that has been getting popular is hairstyle tutorials — girls cutting their own bangs, dying their hair, trying different hairstyles and, especially, heatless curls. I have compiled five TikTok's below to help you master your curls!
1. Heatless bathrobe curls
I'm sure you've heard all about this awesome heatless bathrobe curls trick. Just take the bathrobe belt, make sure your hair is dry, put it in the center of your head and twist the sections of your hair around it in opposite directions. Lastly, secure it with a hair tie at the end and sleep to create this super trendy look. I tried this one myself, and the curls turned out surprisingly well — maybe even better than with a curling iron! This seems to work on thin and thick hair.
2. Heatless sock curls, first method
These heatless curls use one of my favorite accessories to wear: fuzzy socks! I never imagined I'd be wearing them in my hair, but there's a first time for everything. Separate your slightly damp hair into four or six sections, then wrap each section of your hair around a sock. Finally, secure the twists with scrunchies, and get your beauty sleep!
3. Heatless sock curls, second method
This one is similar to the one above, except it uses only two regular tube socks. This method is very simple: separate your hair into two sections, twist each section around the sock and roll the sock up over the hair to hold it. This one will have you feeling a little goofy, but it's completely worth it!
4. Heatless bun curls
Many people put buns in their hair to go to sleep anyways, so you might as well get some cute curls out of it! For this one, you'll need hair ties, bobby pins and two socks tied together. Put your hair in two pigtails, dampen it a little, slip the ponytail through the sock and wrap it around. This one is super comfy to sleep in and leaves you looking gorgeous the minute you wake up.
5. Heatless straw curls
Have you ever thought about getting a perm? Well, these heatless curls will help you do that without needing a hair salon. All you need is some plastic straws and rubber bands! Wrap sections of your hair around the straws, secure them with the rubber band, leave it for a couple hours, and you've got yourself some crazy curls. This one is a bit more time-consuming, but it can spice up your look in a very fun way.
TikTok is all the rage, and now so is your hair. If you try out any of these heatless methods post a picture on Instagram, and tag @hercampuswku!