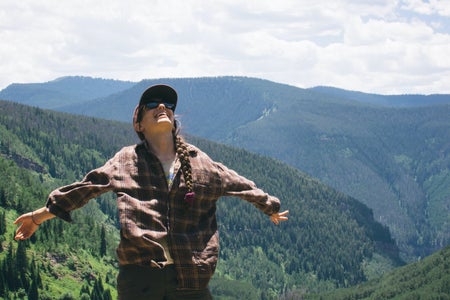 Cameron Smith / Her Campus
What I'm Thankful For This Year
The year 2019 has been one for the books! Like many of you, I have experienced a lot of high highs and low lows, but Thanksgiving is a time to remember all the good that there is in the world. Below are some of the many things I am grateful for from each month, and I hope you are too!
January 6th: The most diverse group of lawmakers was elected into the 116th United States Congress.
12th: Missy Elliot became the first female rapper to be inducted into the Songwriters Hall of Fame.
February
12th: A group of rare black panthers was spotted for the first time in 100 years in Kenya.
28th: Etsy announced that all online orders from that day would be carbon neutral shipments. By doing this, they took the equivalent of the emissions of 11,965 cars off the road for an entire year!
March 26th: Michelle Obama's book Becoming became a bestselling memoir with over ten million copies sold!
28th: New York became the second state (after California) to ban single-use plastic bags.
April 12th: Lori Lightfoot became the first black female and gay mayor of Chicago.
17th: Beyonce released Homecoming on Netflix.
19th: Lizzo released her fire album Cuz I Love You, giving us new girl songs to rock out to!
May
8th: England went a week without using a coal-fueled power station for the first time in 137 years due to an increase in the use of renewable energy. 
17th: Taiwan became the first Asian country to legalize same-sex marriage.
24th: Brazil's Supreme Court ruled to make homophobia and transphobia crimes.
June
6th: New York City's police department issued a formal apology for the actions of the department during the raid on Stonewall Inn on its 50th anniversary.
9th: Ali Stroker became the first actress who uses a wheelchair to win a Tony award.
July 
3rd: The CROWN Act was signed into law in California. This law makes it illegal to discriminate or police the hair of black people and the styles they feel confident wearing. It prohibits discrimination based on hair style and hair texture.
7th: Nigeria joined the African Continental Free Trade Area in an effort to create the world's largest free trade area.
7th: The U.S. Women's soccer team won its 4th World Cup.
10th: Taylor Swift was named the world's highest paid entertainer by Forbes Magazine. 
August 8th: Burger King started selling its meatless Impossible Whopper!
21st: Nigeria went three years without a reported case of polio.
28th: Greta Thunberg arrived in New York after traveling in a sailboat across the Atlantic Ocean to protest climate change.
September
3rd: Walmart made a public statement saying that it would no longer sell handguns.
17th: Indonesia raised the minimum female marriage age to 19 to make child marriages illegal.
20th-27th: An entire week was filled with Global Climate Strikes, varying in locations around the world.
October 8th: Montgomery, Alabama elected its first black mayor in 200 years.
13th: Simone Biles won her 25th medal, becoming the most decorated gymnast in history. 
31st: The U.S. House of Representatives voted to formalize the impeachment of President Trump.
November 4th: The largest commutation in U.S. history released 462 non-violent inmates from Oklahoma prisons. 
7th: Queen Elizabeth II committed to buying clothing without the use of real fur.
While doing research for this article, I read about many hateful, horrific and terrible events that have happened over the past year. It is easy to focus on sickening events that have occurred in the year 2019, but there are also countless stories of joy, acceptance and love. There is good in the world — we just need to find it.