The First Male Cheerleaders are Taking on the Super Bowl
The Super Bowl is one of the most popular television events of the year. Whether it's the game itself, the iconic advertisements, the Puppy Bowl beforehand or potentially another batch of sad Tom Brady memes, there are lots of reasons fans are looking forward to this Sunday. However, for the first time in 53 Super Bowls, viewers tuning in on Sunday night will see male cheerleaders alongside women for the Los Angeles Rams.
Quinton Peron (left) and Napoleon Jinnies (right) will be the first male cheerleaders to ever perform in a Super Bowl. Peron and Jinnies were already two out of the three first male dance style cheerleaders to perform in the NFL, the third being Jesse Hernandez of the New Orleans Saints. Peron and Jinnies have been performing all season with the Rams since making the team this past March.
This is not the first time, however, that the Rams organization has made historical and progressive strides. Back in 2014 the Rams, then still the St Louis Rams, also made history by being the first team to draft an openly gay player, Michael Sam. The message of inclusivity and diversity spread by the Rams organization is one that every team in the NFL should take cues from.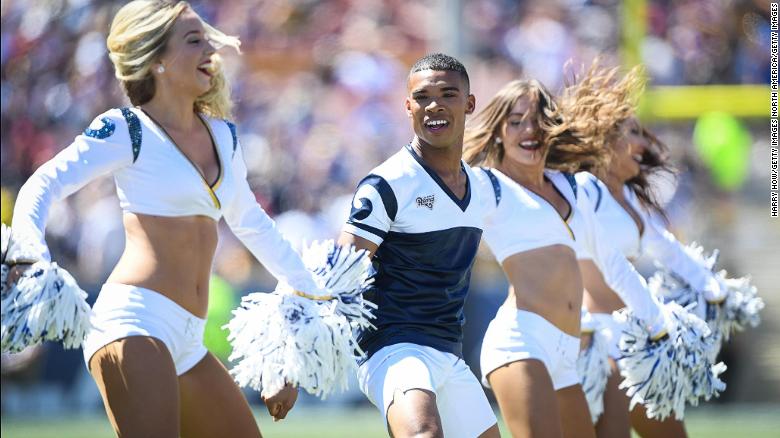 The importance of representation for these talented men runs no risk of being overstated. Beyond just the ways that the opportunity has changed Jinnies and Peron's lives, they also now hold the position to inspire countless others who previously may have shied away from the chance to pursue their own dreams. While there is no rule against men trying out for these cheerleading positions, Peron and Jinnies recall just not feeling like they could. This was just further shown by the example of Quinton Peron's mother asking him if he was even allowed to be a cheerleader when he expressed his interest to her. However, hopefully with these first steps out of the way we will begin to see more and more representation and diversity across the entire league.
All Tom Brady jokes aside, no matter what happens at the game the Rams have already gained a major win for progression and diversity. And hopefully they will add to that with a Super Bowl win. Against Tom Brady. :)