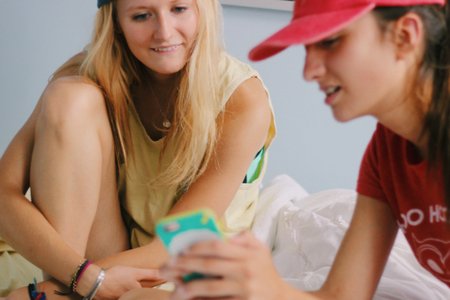 Anna Schultz / Her Campus
8 Gen Z Things I Taught My Mom Over the Summer
"What does LMFAO mean?"
"Who is Cardi B?"
"I like that Havana na na na song on the radio."
These are all texts I have received from my mom over the past year. While these texts are funny to look back on, I can't help but place a palm to my face in embarrassment in the moment. Over the summer, I made it my mission to immerse my mom into a society full of ever-changing trends, modern technology and pop culture.
This show may possibly be the best thing I taught my mom about this summer. She instantly got hooked on the Fab Five and each of their personalities. She couldn't help but smile and laugh at all of JVN's iconic one-liners and over-the-top outfits. She was inspired by Tan France's "French tuck", which became her go-to fashion trend of the summer. She also thought that Bobby deserved way more screen time than he was getting. As an avid HGTV watcher and admirer of Say Yes To The Dress, this show was the perfect combination for my mother — and it soon became her binge-worthy show of the summer.

"Is this Shawn Mendes?" my mom asks as we jam out to "Sucker" on the radio. I glare at her in disbelief, yet am not shocked by my mother's naivety. While my mom knew who the Jo Bros were, she did not know much about them or their music. Nick, Joe and Kevin (and Frankie!) turned from names into people. The Amazon documentary Chasing Happiness allowed my mom to get an inside perspective into the boy band that dominated my childhood. By the end of the summer, she was able to quote lyrics from songs like "Sucker" and "Cool".

Mom jeans, oversized blazers, midi skirts, cheetah print and anything highwaisted: these are just some trends that are being seen all over retail stores, Instagram and college campuses. I taught my mom all about how 90s and early 2000s clothing is making a comeback. While my mom was confused as to why someone would want to wear biker shorts with a crop top, she was accepting of the midi skirts, graphic concert tees, and flare jeans — along with many other trends. She even searched her closet for me and dug up some 90s treasures.

Cardi B, Nicki Minaj and Ariana Grande are all extremely talented individuals, but to my mom, they're all the same person. Over the course of the summer, my mom learned the difference between the three artists and how to tell their music apart for the most part. My mom still gets confused by "7 Rings", as Ariana Grande raps in it which instantly makes her believe that it's Nicki Minaj.

Thrift stores have seen an influx in individuals visiting their stores in recent years as clothing prices increase and trends are changing faster than ever. Thrifting also allows for an environmentally friendly alternative to fast fashion. Having found many clothing items at thrift stores myself, I decided to take my mom with me to see if she could find hidden gems amongst the rows of used clothes. To my mother's dismay, she was able to find two items — both of which she wears on a regular basis.

Okay, this is a basic one, yet I found that my mom got confused by the two communication concepts quite often. This summer, I continually had to differentiate email and text. While both are done electronically, the response time and language when replying is very different. I reiterated multiple times to my mother (and my father as well) that the two conversation methods are not one in the same.

Over the summer, my mother decided to get an Instagram. My mom's first post got four likes in total, two being from strangers. She was confused by how they had found her and why they were liking her picture. I explained that her profile was public and anyone could see and find her Instagram. Within minutes, my mom had taken the post down and vowed to never post on Instagram again. A month later, I tagged her in a post and my friends started requesting to follow her. Again, my mom was confused. I told her that she was tagged and people could click on her account through my profile and find her. Needless to say, she doesn't go on Instagram much anymore and declined my friends' requests. Hey, what can I say, at least she knows how to use the app.

Every year, new words (or old words with new meanings) begin to surface and ingrain themselves into society. Words like ratchet, dead and basic have become a large part of the Gen Z vocabulary. While these slang words are well known by those ages 10-25, my mother on the other hand is clueless to the new terminology. Over the summer, I taught my mother that a text stating "I'm dead" was just another way of saying "I'm dying of laughter", and that she did not need to be concerned that my friend was actually dying. In addition, we went through an article by O magazine that defined each slang word to help my mom get a grasp of the Gen Z vocabulary.
While teaching my mom all about Gen Z things was a challenge, it was rewarding in the end. My mom may still call a text an email every now and then or think that Ariana Grande is in fact Nicki Minaj, but her knowledge of Gen Z material has grown immensely. She now tells her friends all about the "French tuck" she learned about on Queer Eye, she wears highwaisted skirts that she thought were out of style and even went thrift shopping without me! My mom not only connects with me better now, but other individuals my age as well.