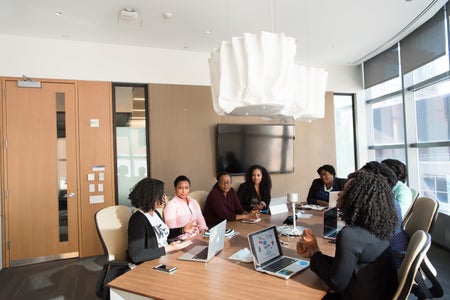 4 Items of Clothes You Need if You Go from Class to Work
Last fall was my first semester where I had a job that required me to dress business casual. The struggle was when I had a class then work and I had to dress cute but did not want to dress too formal. I decided to invest in some quality business casual clothes! Here is what I recommend you should invest in based on my experience.  
At times, I think regular dress pants can get uncomfortable to wear all day long while walking around campus. Paper bag pants are both comfortable and loose-fitting. They also typically look much cuter than a standard dress pant! 

These shoes have been my go to during the winter season! I own the Dr. Marten Chelsea style boot because they are both waterproof, warm and yet still business casual! I have been wearing them almost every day.

3.

Lululemon On the Fly ⅞ Pant

Breanna Coon / Her Campus

This item is a game-changer. They are a combination of both slack and legging. These look professional yet they feel like you're wearing leggings because they are made of legging material. Also because of the material, they never need to be ironed!

I love casual skirts for business casual. Overall, it will make you look put together, yet not too professionally dressed. It is the perfect combination for me!
It can be difficult to find that happy place between business casual and class casual while traveling around campus. With that said, I have found these pieces to be ideal for the busy college woman combining both class and work!