These products are my own personal opinion and is not sponsored.
There are a ton of skincare lines and makeup brands to choose from when we walk into any drugstore or beauty store such as Ulta or Sephora. Sometimes it can feel overwhelming narrowing down to one face wash or moisturizer or foundation, especially when we want to cater to our specific skin type. Our skin is the largest organ on our body, therefore it's vital to take care of it in the best way possible. Below, I've listed some skincare and other beauty products that have worked best for my skin and why they did! 
I have combination skin that leans more towards being dry, so I try to use products that are hydrating and cleansing, without stripping my skin. Most of these products are suitable for combination skin, so if you tend to be more oily, then be sure to check some of these out!
This cleanser has quickly become one of my favorites for a variety of reasons. It's suitable for nighttime and morning use, as it removes all of my makeup after I've double cleansed and also prevents my pores from becoming clogged with oil, dirt, and makeup residue. It lathers well and a small bit goes a long way when washing your face. While it is on the pricey side, I find that since it lathers very well, so it lasts a long time as you do not have to use a lot of this product. It is suitable for all skin types and has ingredients that help to treat acne-prone skin and prevent future breakouts. It contains Vitamins C, E, and K, which have anti-aging properties, lock in moisture, and collagen that plumps the skin. Overall, I have really enjoyed using this product in my morning and night routine. I noticed a change in my skin when I began using it, such as my skin is more supple, and moisturized, and it took care of any breakouts I had prior to using it.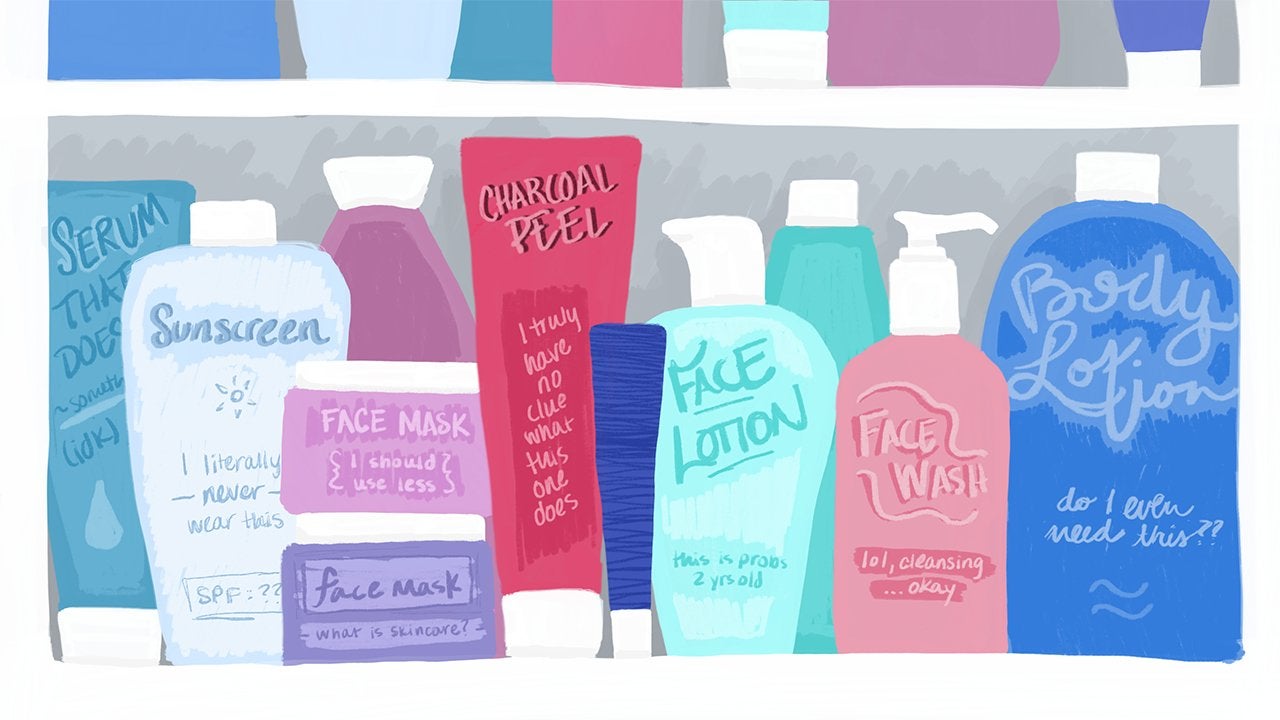 This is a well-known and well-loved cleanser in the skincare community. I typically use this in my morning routine as it brightens my skin, cleans it from the oils that have built up from the night before, and moisturizes it for the day. It is fragrance-free, which makes it ideal for sensitive skin as well. It contains hyaluronic acid and ceramides which makes it most suitable for dry skin. Cerave has many other washes that are aimed toward oily skin types as well, so if this does not work for you, there are others in the skincare line that might! I really enjoy this face wash and it has been a staple in my skincare routine for the past three years now.
Sunscreen is essential in my everyday makeup routine, especially living in a climate where the sun is almost always out. I love this sunscreen as it is easily accessible and affordable, and works well for my skin. While some SPF tends to leave a greasy residue, I find that this is not the case with this one. I always use it in my morning routine after cleansing and I find that it sits nicely under my makeup throughout the day. I tend to use sunscreens that contain Zinc Oxide as an active ingredient, rather than Avobenzone, as I find these mineral-based ingredients are better for my sensitive skin. Avobenzone is also known to be an endocrine disruptor, so I have avoided sunscreens that contain this ingredient. Overall, this is a suitable and affordable sunscreen for combination skin types!
https://www.neutrogena.com/products/makeup/makeup-remover-melting-balm/6819614.html
Cleansing balms are my holy grail when it comes to skincare—I find that they are the only products that truly make my skin feel cleansed and that I've removed all of my makeup. I have included two different cleansing balms, one that is high-end and one that is a drugstore brand, that I found have worked best for me. The Clinique cleansing balm is fragrance-free and does a great job at taking off the top layer of makeup. While it is a solid balm, it quickly becomes smooth and silky once rubbed onto the face to remove the makeup. It easily dissolves eye and face makeup, without leaving a greasy residue on the face. After this, you can follow up with a cleanser for a double cleanse. If you do not want to invest in a higher-end product, the Neutrogena Cleansing Balm works just as well in my opinion—it is fragrance-free and dissolves makeup easily upon application. The Neutrogena balm also contains Vitamin E, which has anti-inflammatory properties. I am currently using the Clinique balm in my routine, but have used both on and off over the years. They both work very well for my combination to dry skin and my skin feels completely cleansed after using these.
https://www.neutrogena.com/products/makeup/healthy-skin-radiant-cream-concealer/6819616XX.html?dwvar_6819616XX_color=1
I have been using this concealer consistently for the past year and a half, and I truly do not think I will ever switch. This concealer contains peptides that are essential for anti-aging and preventing breakouts. The concealer is creamy without being too heavy, so it's very buildable in case you need more coverage. I also have found that this is one of the only concealers that does not oxidize on my skin. Oxidizing is what happens when concealers or other skin products begin to turn an orangish hue after being applied to the skin. This concealer does a great job at covering blemishes, such as acne scars and my dark undereye circles. It makes my skin look a bit brighter and evens out my skin tone as well.